All We Love Fire Partner Stores are INDEPENDENTLY OWNED & OPERATED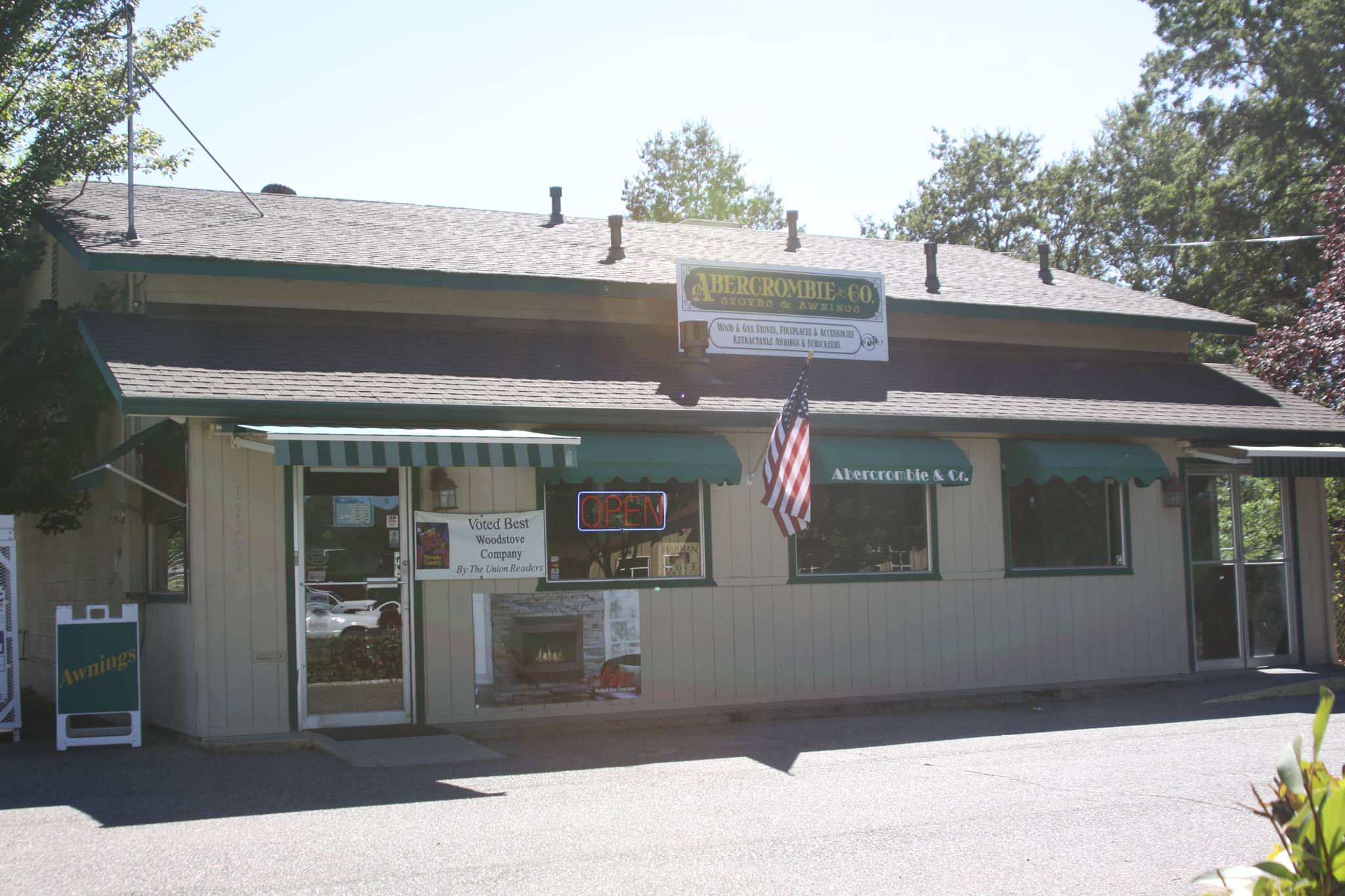 Visit Our Website
Abercrombie and Co. Stoves and Awnings have always had one common goal, customer satisfaction ! A satisfied customer is your best advertising campaign. Our showroom is very much a home feel as customers have described and since we are truly a family run business that's just the feel we offer. We service everything as well as all brands in the marketplace. In our store we offer wood, gas, electric and pellet stoves, inserts and fireplaces. We also have been in the retractable awning, sunscreen business since 1987 and have installed well over 2,000 units which add an extended shady cooler living space. Among other offerings we have umbrellas, patio fire tables electric overhead heaters a wide array of beautiful gifts for home and garden.
Company History
The company has been located in Nevada County since 1984 initially as a chimney sweep company which we still do and from customer requests we started installing liner systems and installing new wood stoves and then there was no turning back, a retail store and employees and vehicles, insurance, etc. oh my! Now on 32 years and love the direction we are headed, even the 2 1/2 year old grand baby Stella is greeting customers!
Facilities & Showroom
Our showroom is apprx. 1,500 sq. ft. which is bigger than it feels with 43 units on floor and 32 burning units. We have a warehouse space of 3,200 sq. ft. and a spacious parking lot in beautiful Penn Valley
Services We Provide
We are a very thorough and knowledgeable service department and have the highest referral rate for service in the area with thousands of service customers that seem to all call in October:) We service all makes of wood and gas units.
Some of our services include:

Fireplace Installation
Insert Installation
Stove Installation
Gas Log Installation
Gas Appliance Service
Pellet Stove Service
Wood Appliance Service
Chimney, Flue Cleaning
Chimney, Flue Installation
Chimney Liners
Chimney Crowns
Chimney Caps
Chimney Chase Tops
Chimney Rain Pans, Shrouds
Limited Chimney Masonry Work
Complete Masonry Work
Firebox Rebuilding
Custom Fireplace Installation
Fireplace Mantel, Surround, Wall Treatment Installation
Certifications / Affliliations
HPBA Member
HPBA Pacific
NFI Certified
Penn Valley Ca Chamber of Commerce member
Contractors CSL:657912
Product Summary
Ambiance fireplaces and inserts, Valor gas fireplaces,inserts and stoves, Pacific Energy/ Town and Country wood and gas stoves, fireplaces and inserts, Regency wood and gas stoves, inserts and fireplaces, Valcourt wood fireplaces, Enerzone wood stoves and inserts, Kozy Heat gas fireplaces, stoves and inserts, Hwam wood stoves and inserts, Amantii electric fireplaces, Dimplex electric stoves and fireplaces, Enviro wood, gas and pellet stoves, fireplaces and inserts, Astria high efficiency wood fireplaces. KE Durasol retractable awnings and Sunscreens, Nu Image retractable awnings and sunscreens, ABC Sun control retractable awnings and Sunscreens, Stobag retractable awnings, BDM gas patio firetables.
Brands We Carry (Partial List)
Fireplaces & Inserts
Valor, Ambiance, Kozy Heat, Pacific Energy
Stoves
Pacific Energy, Valor, Regency, Kozy Heat
Other
Amantii, Hwam, Enerzone Valcourt, Retractable awnings Sunscreens and gifts for the home and garden, patio heaters and firetables, umbrellasVisit Our Website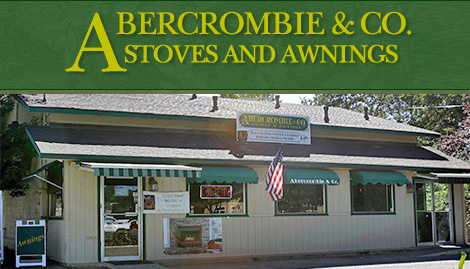 Our Address:
17593 Penn Valley Drive
Penn Valley, CA 95946
Contact: Jim Chiesa
Office Phone: (530) 432-2499
Email: abercrombieandco@att.net
Website:
http://abercrombieandco.com/
Contact Us Now!

(530) 432-2499
Send Us a Message
We Service the Following Areas
Fireplace, Stove, & Insert Store serving:
Penn Valley CA 95946
Grass Valley CA 95945 - 95949
Nevada City CA 95959
Yuba City CA 95991 - 95992 - 95993
Marysville CA 95901
Auburn CA 95602 - 95603 - 95604
Colfax CA 95713
Alta CA 95701
Dutch Flat CA 95714
Gridley CA 95948
Wheatland CA 95692
North San Juan CA 95960
Meadow Vista CA 95722
Applegate CA 95703
Weimer CA 95736
Rough and Ready CA 95975
Smartsville CA 95977
Browns Valley CA 95918
Nevada County, Placer County, Yuba County, Sutter County