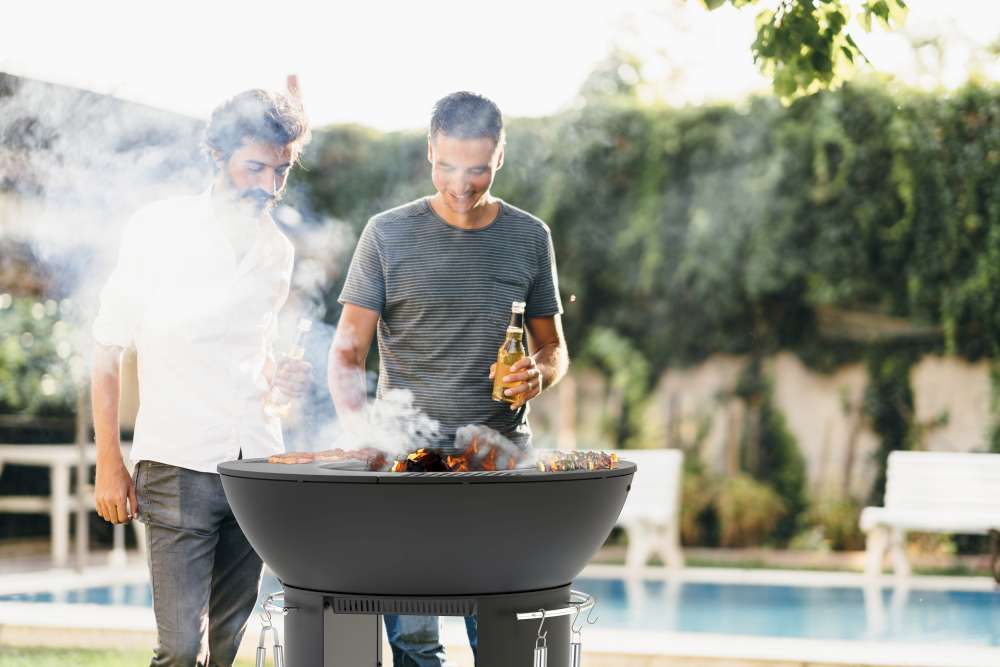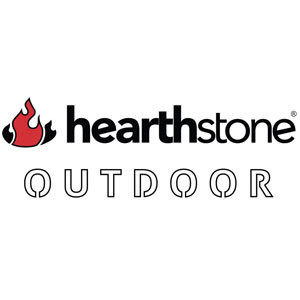 When it comes to heating, HearthStone has a long and extremely impressive story.  HearthStone has earned a solid reputation of excellence.  They produce a superior product.
HearthStone has now taken their expertise from your family room to your outside living area!  HEARTHSTONE OUTDOOR is an exciting, new line of quality products that highlights a terrific understanding of how heat, engineering and design work together.
THREE PATIO OVEN SIZES!
Your culinary talents are about to take a major step forward!  HEARTHSTONE OUTDOOR Patio Ovens are convenient and easy to use.  These ovens feature an insulated arch that reflects heat from the fire.  This heat can be generated from either wood or gas!  Your choice!  Thick firebrick absorbs and retains the heat, and is an ideal cooking surface for meats and vegetables, pizza and breads.  You can even plan on s'mores or simply roasting hotdogs!
HEARTHSTONE OUTDOOR Patio Oven's take about 20 minutes to heat up.  Just enough time to prepare the menu, grab a beverage and discuss the upcoming game with family and friends!
Like HearthStone's soapstone stoves, these ovens will last for years and years.  The ovens are engineered to withstand the heat from the inside and whatever Mother Nature delivers outside.  Professional quality and easy to use, the Patio Oven's come in three sizes.  Enjoy the convenience of the built-in thermometer, oven door and cooking shelf.  You'll be baking, roasting and broiling delicious meals in no time.  Experiment and see how creative you can be with your patio oven!  And you better prepare yourself for a new nickname, probably something like:  The Patio Master!
HEARTHSTONE OUTDOOR patio ovens are installed on a non-combustible surface.  The stone counters of your outdoor kitchen are perfect for the countertop model.  An optional base will transform the oven into a free-standing appliance, complete with wheels for easy moving on the patio.
Check Out These Features:
Oven thermometer for consistent temperature control.
Cooking shelf for convenient staging & checking food.
Removable oven door for easily regulating temperature.
Durable powder coat finish to withstand any weather.
Insulated oven heats up evenly & quickly.
441 stainless steel internal panels withstand high cooking temps.
Weatherproof stainless steel oven face.
Weatherproof stainless steel chimney.
Weatherproof stainless steel chimney cap that lasts.
Optional oven base.
Optional tool rack & tool set.
Storage shelves for efficient organization.
Caster wheels with chocks.
Impressive Fire Pit Options!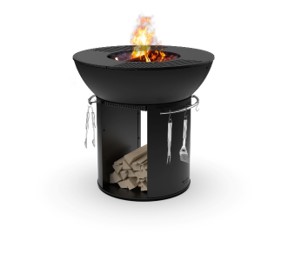 In addition to Patio Oven's, HEARTHSTONE OUTDOORS has introduced an exceptional fire pit.  This is no ordinary fire pit.  It's much more.  Made from long lasting and heavy duty cast iron, your family will be enjoying this fire pit for years.  Just over three feet in diameter and 19" high, a cleverly designed cast iron base keeps the fire off the ground and helps to keep the logs burning.  Or if you prefer, use the 38" high cooking stand.  It puts the grill at the perfect height for cooking!
Personalize your fire pit by adding cooking rings, an open grill, a solid griddle or the unique soapstone grilling stones.  Each quarter of the cooking top can be customized or interchanged to suit your entertaining style and needs.
Which combination would work on your patio and satisfy your requirements?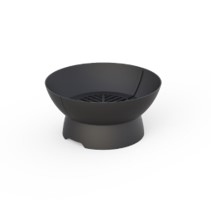 Fire pit with cast iron base and grate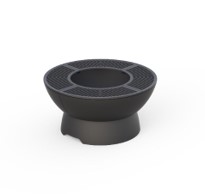 Fire pit with cast iron base and grate and enameled cast iron cooking grill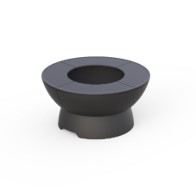 Fire pit with cast iron base and grate and enameled cast iron cooking griddle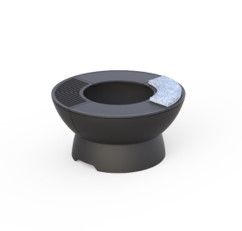 Fire pit with cast iron base and grate 2 griddle, 1 grilling and 2 soapstone grill stones
We all know there's something about enjoying a fire with family and friends.  We've laughed and cried, told stories, broken bread and discussed life's lessons around a fire.  Quality times with terrific memories just got better . . . . see the HEARTHSTONE OUTDOOR Fire Pits and Patio Ovens, available at your WE LOVE FIRE dealer.
Find a Local Store
Hearthstone Outdoor Gallery of Ideas
See more of the WE LOVE FIRE Gallery of Ideas