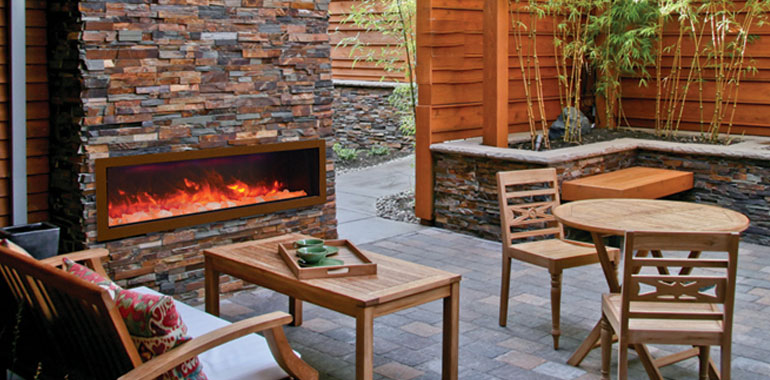 You'll be surprised by the high quality of outdoor electric fireplaces and not just for the heat they give off. They're also brimming with style and create the perfect cosy ambiance.
Look like gas or wood fireplace
Now, with the advance of technology, and electric fire and flames can look like the real deal! In fact, you could easily be fooled into thinking you were looking at a gas or even a wood fireplace.
You just need an electrical connection
Choose from various sizes, styles and finishes. You can even have your outdoor electric fire in a pit or on a table. They're so easy to install and you don't need a chimney or a structure of any kind. You also don't need a gas supply, which can be a problem for some properties. In fact, all you need is an electrical connection.
Zero maintenance
With an outdoor electric fireplace, you can have a lovely outdoor heating solution to create a convivial atmosphere and to take the chill off those cooler evenings. Electric fireplaces are eminently safe and are good for the environment. There's zero maintenance and they come with an easy-to-use, handy remote control.
For more information, contact a WE LOVE FIRE retailer near you.
Find a Local Expert