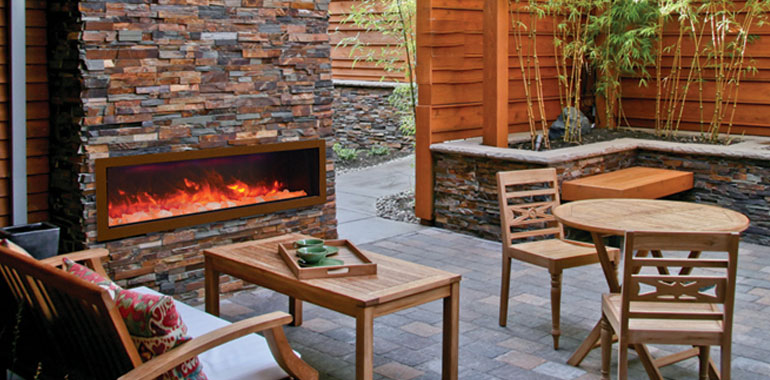 Today's busy lifestyles require products that are easy and convenient to use.  If you're planning an outdoor living area or thinking about expanding the one you have, an electric outdoor fireplace should be at the top of your 'wants' list.
The latest electric fireplace technology is astounding!  There are several sizes of outdoor electric fireplaces available in traditional or linear models.  All come equipped with super easy-to-use remote controls.  And, all come equipped with several combinations of lighting effects that are incredibly impressive.  Need a little extra heat for those chilly evenings?  It's one click away!
With an outdoor electric fireplace, there's no gas line, no chimney pipe and no venting required.  That means no smoke to bother you, your guests or your neighbors.  No odors to be concerned about.  And, no routine maintenance to put on you "to do" list.  All that's necessary is an electrical connection.
Outdoor electric fireplaces are very popular.  They're the right option for you, because they...
... are environmentally friendly.
... are safe and easy to use.
... have impressive effects and technology.
... are quick and easy to install.
... are inexpensive to operate.
... have models that match your lifestyle.
Contact your WE LOVE FIRE dealer for design ideas and more information.
Find a Local Store