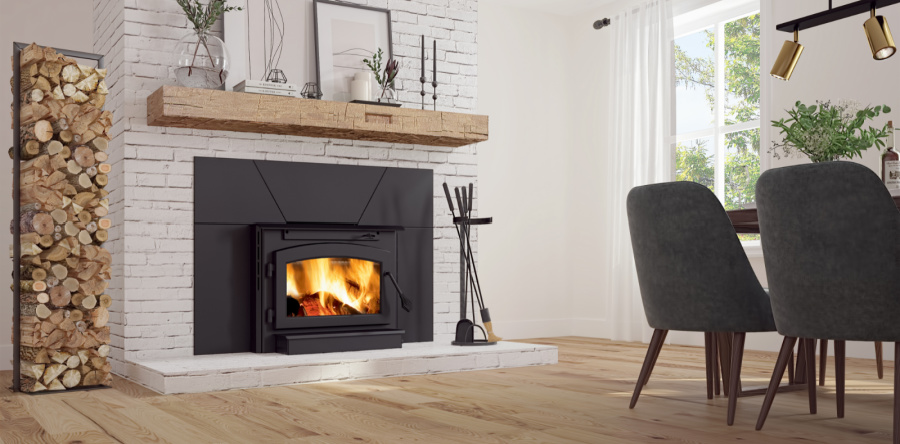 Do you have a home with a masonry or an inexpensive zero clearance fireplace?  If so, the odds are high that a wood burning insert can be installed and you can enjoy significant heat from the wood you burn.  If a warm family room, devoid of cold drafts from the old, leaky fireplace sounds like something you're interested in, you're a great candidate for a wood burning fireplace insert!
HEAT OUTPUT
With an old wood burning fireplace, you will likely have little, if any control on the amount of air that goes to the fire.  That means short burn times, poor efficiencies and no control over the amount of heat delivered to the room.  Nearly all the heat from an open burning fireplace is being pulled up the chimney.  A wood burning fireplace insert can fix all of that.
An insert is basically a wood burning stove, without legs, that has been engineered to slide in to your wood burning fireplace.  Most manufacturers will make a small, medium and large wood burning insert.  So, depending on the size of your existing fireplace your WE LOVE FIRE dealer will have a unit that's a good fit.  Most people want to get the largest insert possible.  The larger the insert, the more heat you get and the longer the burn times will be.
Controlling the heat from a wood burning insert is simple.  Most inserts use a primary air control, that is, a conveniently located easy-to-use slide or knob.  By turning or sliding this control, more air means a hotter fire, shorter burn times but more heat.  Less air means less heat and longer burn times with a load of wood.
INSTALLATION
The installation of a wood burning insert can be some of the trickiest work performed by your WE LOVE FIRE expert.  A flexible 6" stainless steel pipe is lowered down the chimney and maneuvered through any offsets in the chimney.  As the heavy steel or cast iron insert (likely in the 200 – 400 lb. range) is carefully slid into the fireplace opening without damaging the hearth, the liner is secured to the flue collar on the insert.  Space is at a premium in the firebox.  Normally, there is only an inch or two of space to work with to make the liner connection.
The damper is either removed or disabled in order to get the liner to the insert.  And finally, decorative surround panels are installed to cover up the rest of the fireplace opening on both sides and the top.
Once the installation is complete, instead of a fireplace that might have an efficiency in the single digits, now you have something that's capable of delivering 20,000 to 45,000 BTU's of heat to your home!

COSTS
Many wood burning fireplace insert projects will be in the $5000 - $8000 range, installed.  Your WE LOVE FIRE expert is available to evaluate your particular situation and recommend high performing equipment from Ambiance®, Supreme, HearthStone and Napoleon.
POPULAR UPGRADES
Wood burning inserts will provide radiant heat to the home, but most WE LOVE FIRE dealers are advocates of variable speed fans on the equipment.  These come on and shut off with a heat sensitive switch and provide that element of convective heat in addition to the radiant comfort you'll enjoy.
Wood burning inserts makes seldom used fireplaces new again.  A wood burning insert is a terrific upgrade and investment in your home.  An insert eliminates that cold draft from your old fireplace and chimney.  A wood burning fireplace insert will allow you to enjoy that warmth and level of coziness others will marvel at.
One other point, consider adding a new, updated mantel above the insert.  You'll give the focal point of your home an entirely different look and feel!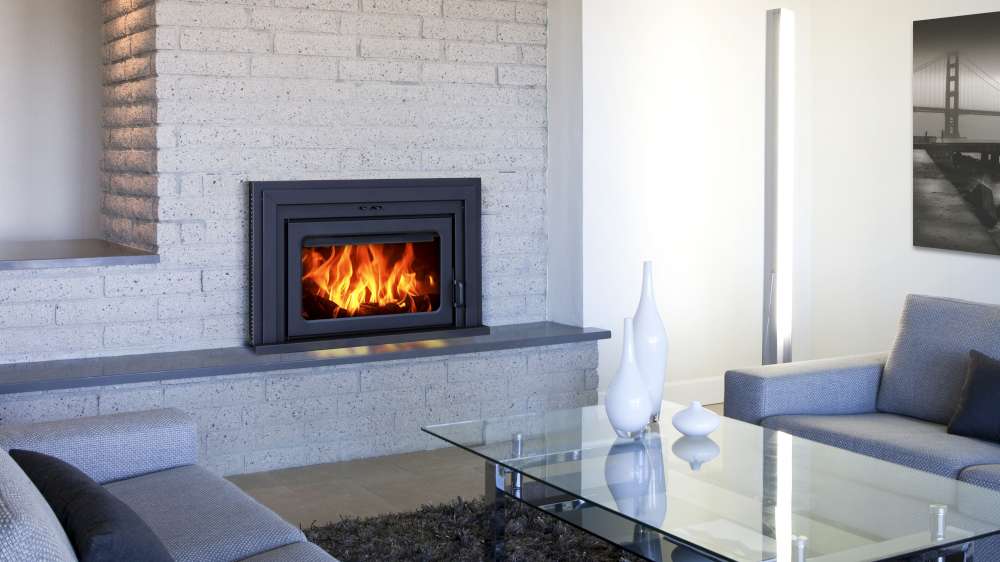 For more information, please contact a We Love Fire dealer near you.
Find a Local Store