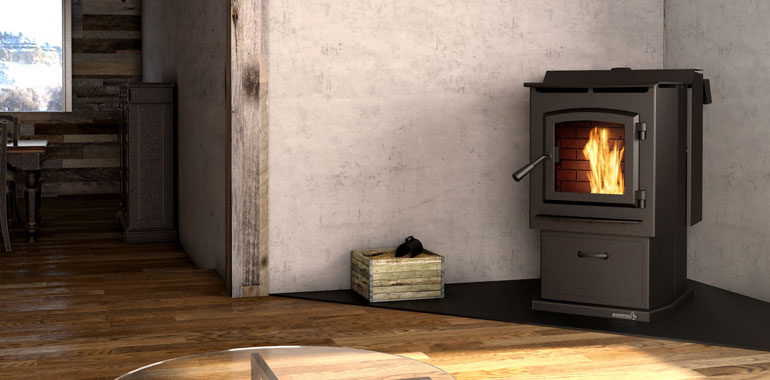 Perhaps you don't want to be without a good wood fire but handling logs puts you off? In this case, you should opt for a pellet stove. These are increasingly popular and give you the best of all worlds by combining heat output, running economy, reduced manual labour and environmental friendliness.
What are wood pellets?
Wood pellets are about an inch in length and roughly the same diameter as a pencil. They're made from fully recycled materials, which are sawdust and compressed wood remnants. Then, the pellets are packed in 40-pound bags for easy handling and storage.
How do pellet stoves work?
Pellet stoves need electricity to run. You load the pellets into a hopper (a container) usually at the top or back of the stove. An auger takes the pellets from the hopper to the burning 'pot' or platform. The speed at which the pellets are delivered controls the strength of the flames and the amount of heat given off. The faster the speed, the bigger the fire and the greater the heat. Likewise, the slower the speed, the smaller the fire and the less heat is given off.
Most automatic pellet stoves give off convection heat. The air in the room circulates via heat exchange tubes. Once the air has been heated, a convection fan distributes the air throughout the room. An exhaust fan removes any remaining combustion waste through a chimney or vent through the outside wall.
An environmentally friendly option
A pellet stove has three main features that make it beneficial for the environment. Firstly, the fire burns within the combustion chamber, which makes it very efficient. Secondly, pellets generally create far less ash than wood and give off less creosote. Thirdly, pellets are naturally made from recycled materials.
Expensive to buy but affordable ever after
At first glance, the cost of a pellet stove may seem high. In addition to the price you'll pay for a good quality appliance, you'll need to include the cost of professional installation and also take into account venting. Your heating bills will then be much lower and affordable because the price of the pellets is fairly low and, unlike wood, you can buy them in small quantities.
The WE LOVE FIRE retailer partner stock the Enerzone and Hearthstone brands of pellet stoves.
For more information, please contact a WE LOVE FIRE retailer partner near you.
Find a Local Store