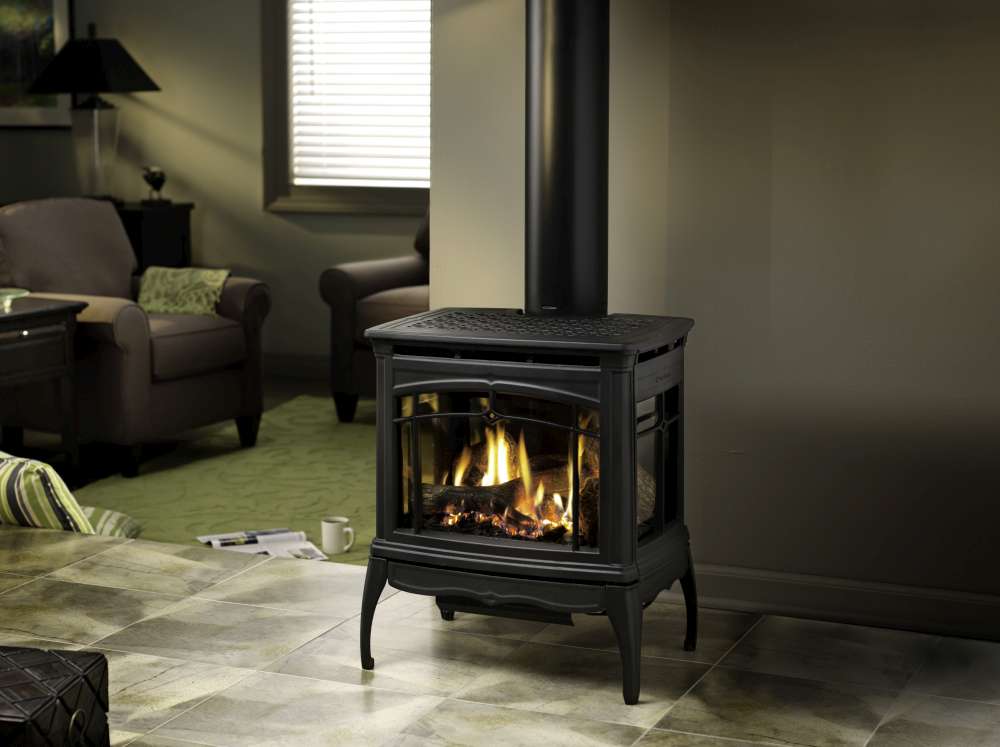 If you're thinking of adding a gas fireplace to your family room, man-cave or great room, there are many good reasons to consider a free-standing gas stove instead of a fireplace.  Let's briefly discuss several of them and get your reaction!
CONVENIENCE
A natural gas or LP gas stove offers the same realism and operational conveniences their gas fireplace cousins offer.  No more wood to cut, split, stack, haul, and dry.  No more ashes to deal with.  No more chimney maintenance.
Gas stoves can be operated manually with the on/off switch typically mounted on the back of most units.  Or if you prefer, an on/off thermostatic remote control is available to turn the stove on and off or to maintain a constant temperature in the room.
Is reliability of power an issue in your area?  If power is out, a heavy 200 lb (ca. 91 kg). hunk of steel or cast-iron stove makes a sensational radiant heater!
Now, most customer's will want to install fans on their stove.  But did you know a gas fireplace radiant heat can only escape from the front glass? Whereas a gas stove radiates heat from all sides. A definite advantage, wouldn't you say?
HEAT OUTPUT
Like their fireplace counterparts, gas stoves have adjustable valves that will vary the heat output.  Most gas stoves will have burners in the 20,000 – 40,000 BTU range.
INSTALLATION
A free-standing gas stove uses the same co-axial venting components that gas fireplaces use.  Stoves can be vented out a sidewall of the house, or vertically through the roof.
A gas stove will take up less space than a gas fireplace.  Generally speaking, an area less than 3 feet (0.91 m) x 2 feet (0.61 m) is all the floor space that's necessary.
On the other hand, by the time a gas fireplace is framed into a wall and finished off, count on an area six feet wide x two feet deep, or more depending on the hearth.
And speaking of hearths, many gas stoves today do not require a hearth.   They can be installed directly on a hardwood floor!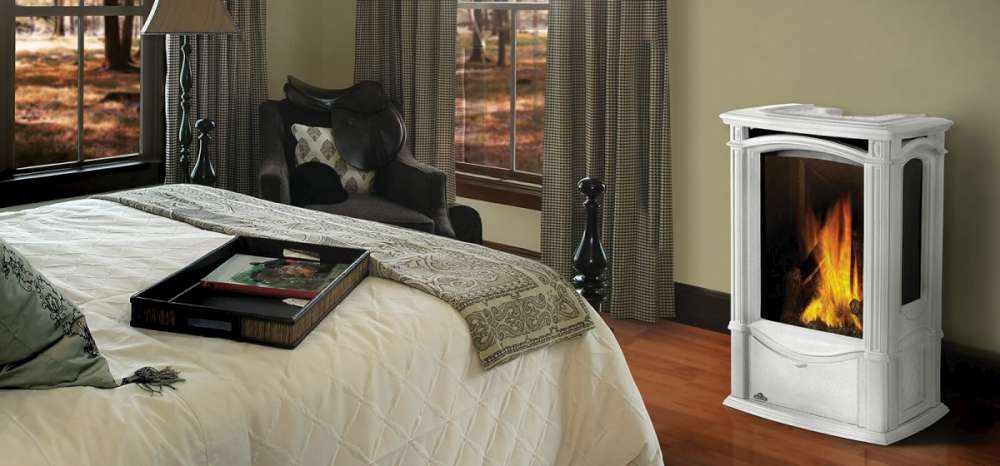 TO REPLACE A WOOD STOVE
There are many gas stoves that have been tested and approved to replace a wood burning stove.  The venting system is the key in this type of situation.  Your nearby WE LOVE FIRE expert can utilize your existing chimney as a conduit for the venting system.
Consider that for a minute:  Remove your old wood burning stove and replace it with a new gas stove.  The "look" will be the same, the heat output similar, but no more dirt, bark, bugs, ashes, and chimney cleaning to deal with!
COST
The equipment and installation costs for a gas stove will be similar to a gas fireplace.  Likely in the $4000 — $6000 range, depending on equipment, options, and installation details.  A gas supply line will be necessary and a wall outlet to plug in the variable speed fan.  Little if any finishing costs will be required, although many install a hearth pad and cultured stone or some other covering for the wall(s) behind the equipment.
Your WE LOVE FIRE dealer has equipment in the showroom that you can experience first-hand.  It's probably time to stop by and get details on the project moving forwards, don't you think?
Find a Local Store