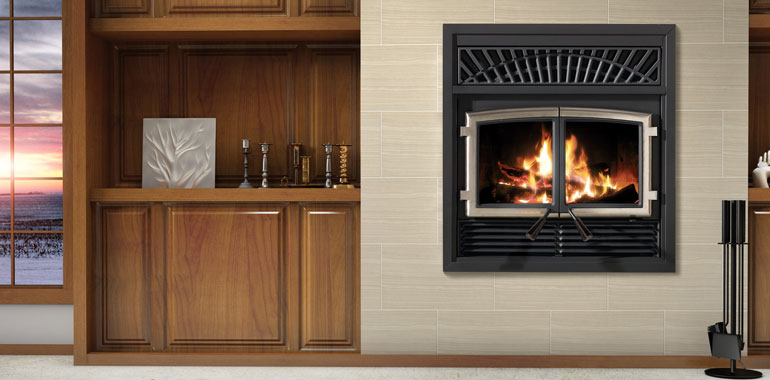 Wood burning fireplaces are timeless classics in a home. Over the years, they've evolved and changed a lot and today's wood burners can be traditional or modern in style, depending on your taste. The beauty of these factory-made fireplaces is that you can choose where to put them and spend according to your budget. Basically, they adapt to suit your home!
Stone fireplaces
Traditional stone fireplaces are built brick by brick at the same time as your house. They're expensive to make and to maintain but, on the other hand, they last as long as the building itself.
One drawback of stone fireplaces is that it's hard to control the airflow feeding the fire. This makes stone fireplaces inefficient compared to some factory-built ones. It produces a great flame, creating a unique ambiance without too much heat.
For safety reasons, all fireplaces must have their own chimney.
Factory-made fireplaces
Factory-made fireplaces, also known as zero clearance fireplaces, provide homeowners with an affordable alternative whether it is for a new construction or if the home was initially built without a fireplace.
They're typically more convenient and flexible and can be placed almost anywhere, fitting in perfectly with your decor. Also, their performance is much better than stone fireplaces, which means they're cheaper to run.
Many zero clearance fireplaces are designed to heat large areas and can even heat your entire home. They have EPA certification and are fitted with sealed doors combined to a mechanism to control the air intake.
Quality and price
It's better to opt for quality materials and components when choosing your fireplace to ensure durability and much more. This rule also applies when choosing your fireplace installer and will help you avoid stressful situations and wasting time and money. Our retailer partners often uninstall fireplaces because they've worn out ahead of time.
Installation
How can you tell who a qualified professional is? You need to search for trained and certified installer as they know the codes of practice and regulations to follow for your safety. Also, they'll make sure that the manufacturer's warranty is valid in case there's a problem. In the USA, NFI certifications is recognized as the best practice. In Canada, WETT certification is the body who trains installers of wood fireplaces.
Choosing the right wood
Different types of wood burn in different ways. Hardwood burns more efficiently with hotter embers. Conifer or softwood burns quickly and at high temperatures. If available where you live, for a longer-lasting and more efficient fire, choose hardwood.
For more information about our own Enerzone and Hearthstone brands of wood burning stoves, contact your nearest WE LOVE FIRE retailer partner.
Find a Local Expert