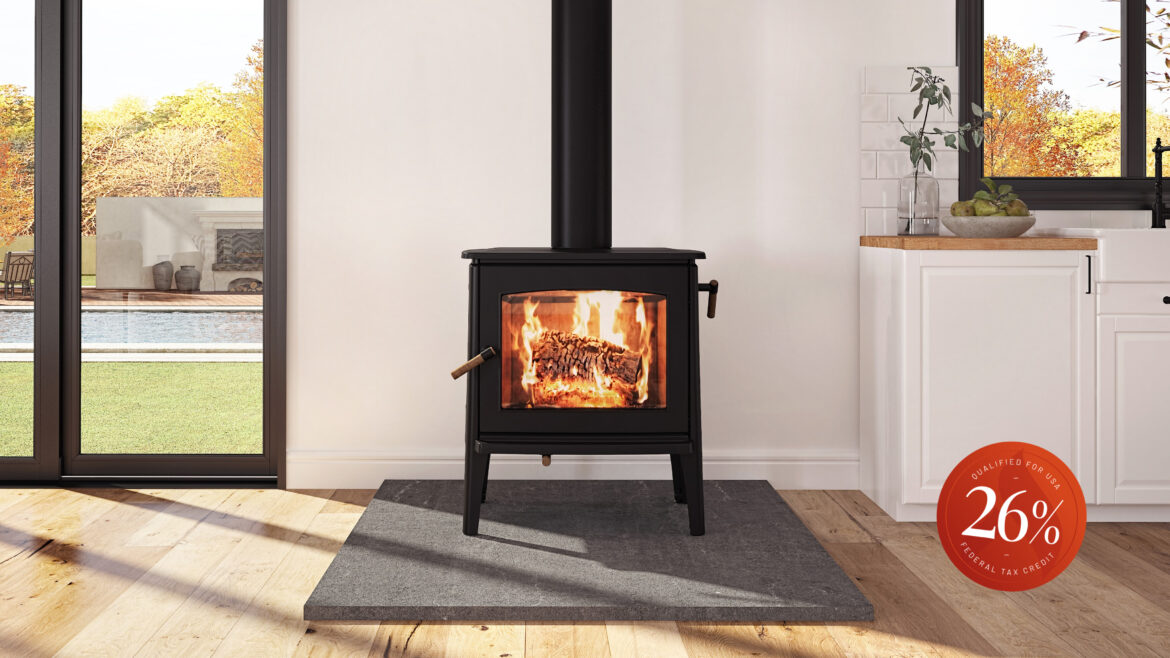 Is it time to replace your old, worn-out wood burning equipment?  Does burning wood for energy independence, environmental or lifestyle reasons appeal to you?  If so, there are some great reasons to make that equipment choice a new, highly efficient, free-standing wood burning stove.
SUPER EFFICIENT
Today's wood burning stoves comply with the 2020 New Source Performance Standards (NSPS) issued by the U.S. Environmental Protection Agency (EPA).  These are emission and pollution controls standards that wood burning stove manufacturers must meet or exceed.
Meeting this EPA standard means this is the best performing wood burning equipment ever manufactured!  Operated properly, these stoves burn dry seasoned wood so cleanly, you will see very little, if any smoke coming out of the chimney!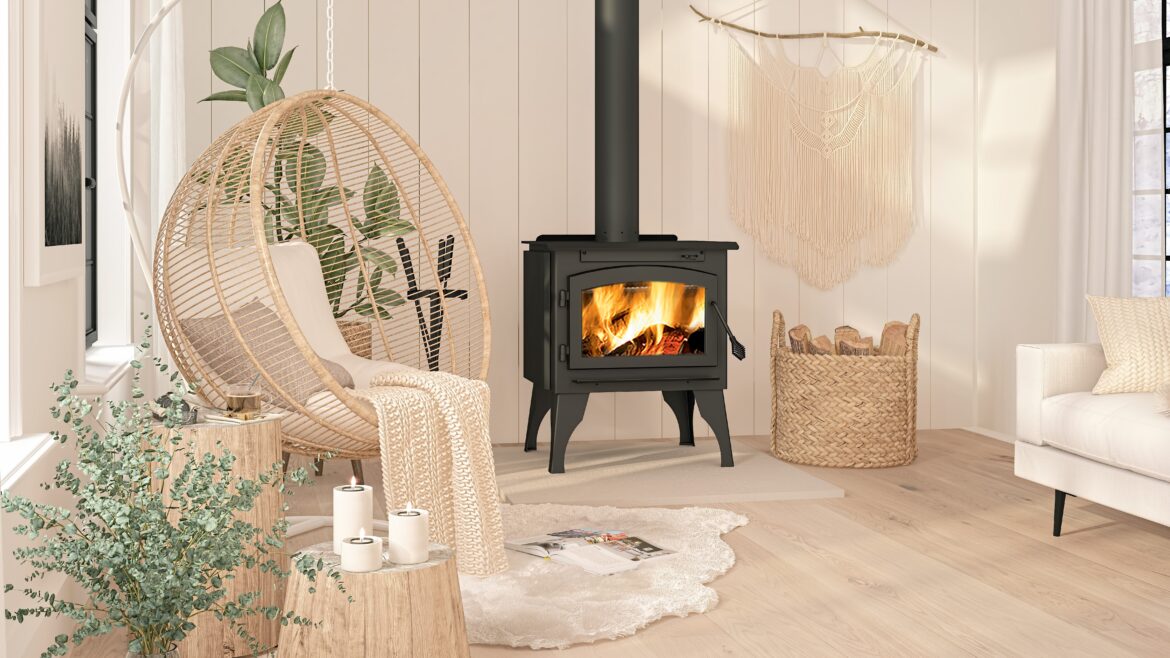 HEAT OUTPUT
The heat output from any wood burning appliance, is a function of the size of the firebox, how much wood in the firebox and the amount of combustion air that is allowed in the firebox.  Wood burning stoves with outputs of 10,000 – 50,000 BTU/hour are now commonplace.
Wood burning stoves have precise air control and sealed, gasketed, heavy-duty steel or cast-iron doors.  Burn times of seven, eight or nine hours are quite typical for non-catalytic stoves and between sixteen and 24 hours for catalytic stoves. Heat is easily adjusted with the air control.  More air directed to the fire means more heat in your home.  By reducing the amount of air to the fire, there's less heat in the room, but longer burn times.
INSTALLATION
Each wood burning stove model has specific clearance requirements.  These clearances are minimums.  More is better when it comes to clearances to combustibles!  Specifics are published in the owner's manual.
A 6" chimney is the standard for most stoves today. This includes stainless steel insulated chimneys or a masonry chimney with a six-inch liner.  It's always best to size the chimney to the same diameter of the stove's flue collar.
A non-combustible hearth pad is required for all wood burning stoves.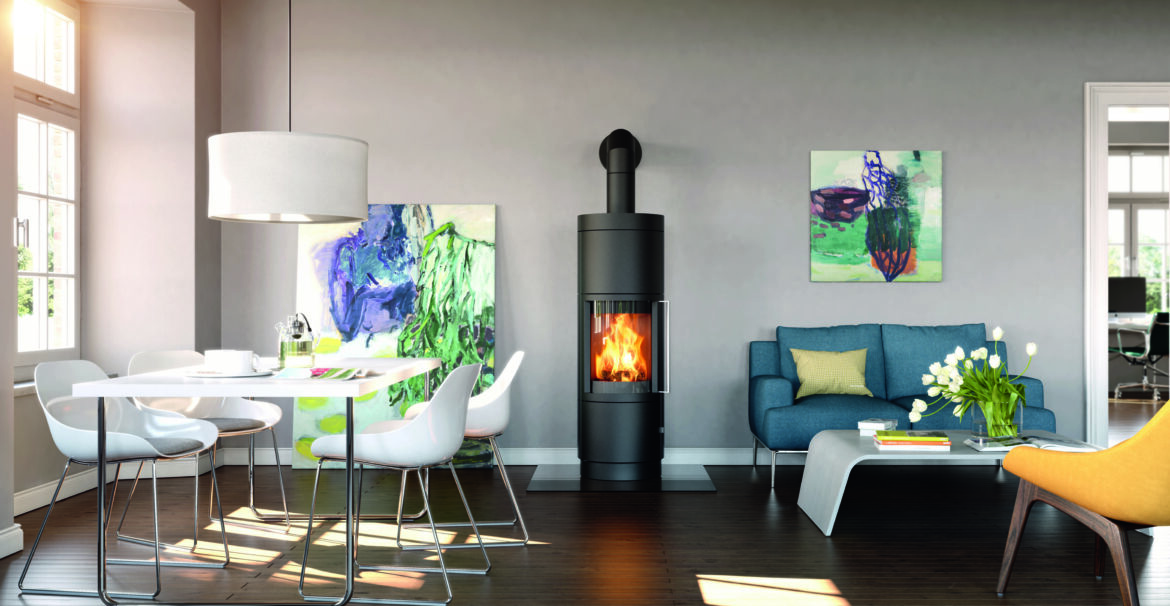 STOVE SIZES
Wood burning stoves are made of either cast iron, soapstone or steel.  You can shop your WE LOVE FIRE expert to view many models on display.
Stoves come in several sizes.  Note the size of the firebox is expressed in 'cubic feet'.  The larger the firebox (in cubic feet), the more wood it will hold, the longer the wood will burn and the more heat it will produce.
Keep in mind, this is not an exact science.  There's a ton of variables.  Generally speaking, fireboxes of 1.6 cubic feet and smaller will heat up to 1000 square feet of space.  Fireboxes up to 2.8 cubic feet will heat up to 2000 square feet and the largest fireboxes, over 2.9 cubic feet will heat up to 3000 square feet of well insulated space.  Your WE LOVE FIRE dealer is happy to assist you with sizing an appliance for your situation.
POWER OUT – NO PROBLEM
Another appeal of a free-standing wood burning stove is that no electricity is needed to enjoy the wonderful radiant heat.  Many customers also install a convection fan on the back of their stove.  The combination of convective and radiant heat is remarkable!
Another point worth mentioning; a fireplace radiates heat only off the front glass door.  Wood burning stoves are much more effective as radiant heaters.  When a 300, 400 or 500 lb. stove gets hot, you will absolutely love that heat radiating from all sides.  So, if power goes out in January, you and your loved ones are going to be warm and toasty!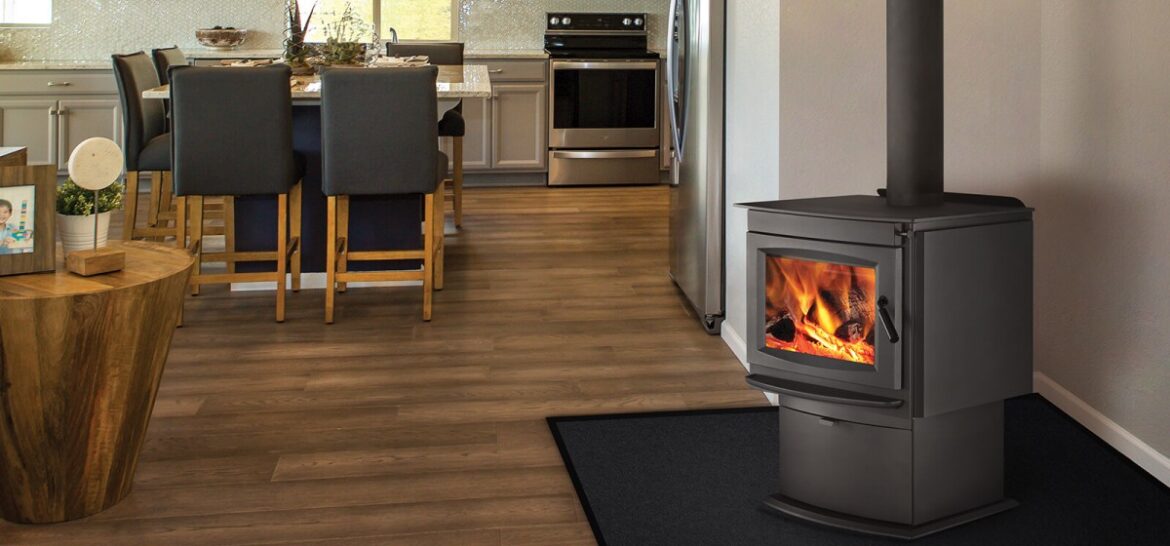 WOOD SUPPLY
The question often comes up, "What's the best type of wood to burn?" [LINK to article of same name]  The best type of wood, hands down, is D-R-Y wood.  Cut it, split it, stack it, cover it and protect it from the rain and snow.  Let the sunshine and wind dry it for a year.  Invest in a moisture meter to check the moisture content of the fuel.
COSTS
A new EPA certified wood burning stove will range in price from $2000 - $5000.00.  Add a chimney system, and you'll likely be in the $5000 - $8000 range.  An installation normally takes about a day.  Costs for a zero clearance, wood burning fireplace will be similar. But remember, there are no finishing costs associated with stove installations.  All the brick or cultured stone work associated with a fireplace project can often double the cost.
There are many great stoves on the market today.  Your nearby WE LOVE FIRE expert represents two of the very best wood burning stove lines in the industry, Ambiance®, HearthStone and Napoleon.  We look forward to meeting you, answering all your questions and getting your wood burning stove project moving forward!
Find a Local Store