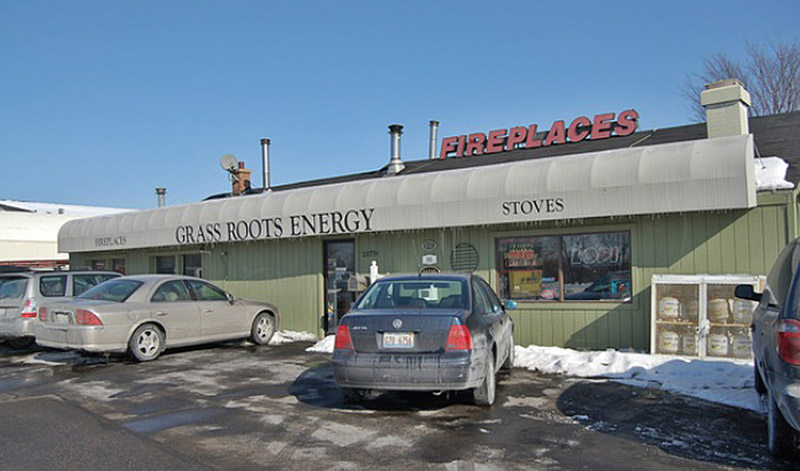 Visit Our Website
Grass Roots Energy Inc. has been serving the greater Chicago area for over 40 years. With over 4000 sq. ft. of indoor showroom space, we display the best of the best in fireplaces, wood stoves, fireplace doors, gas fire pits and more. We have over forty functional burning displays so you can see great products operate before you choose to buy them. We have a large stock of merchandise in our inventory allowing our customers to go home with their products, often on the day of purchase.
Our staff has firsthand experience when it comes to installation. Most of our sales staff has installed many of the products displayed. We pride ourselves on product knowledge and our ability to answer the technical questions. We have our own installation crew with 50 combined years of experience behind them. We would be happy to install your products for you, but if you are a do-it-yourself kind of person, then you have found the right shop. We have walked countless customers through the installation process, so stop on in; we'll keep a fire burning for you.
Company History
Grass Roots Energy Inc., born out of the late 70's energy crisis, was opened as an alternative energy destination store. In the early days, the main focus was to supply our customers with wood stoves and fireplace inserts. Our first location was in Hampshire, Illinois. As the business grew, a second location was established in Wauconda, Illinois. The Wauconda location turned out to be central to the northern Chicago-land growth center. The Hampshire location was sold off in the early eighties and allowed us to focus on the growing market from one central location. After all these years, we still serve the needs of our Hampshire customers who travel over thirty miles to see us. They reminisce about the Hampshire store and share fond memories of warm gatherings around the wood stove they purchased from Grass Roots Energy Inc.
Over the years, we've have come to be known as the wood burning experts of the Northern Chicago-land area. While we embrace this distinction, we have grown our product selection. We are a leader in the sales and installation of gas fireplaces, gas burning fireplace inserts, wood burning fireplace, and anything heath related. We are eager to help our customer continue the tradition of creating fond memories around a safe warm hearth. We are here to serve your needs as a destination store for many years to come.
Facilities & Showroom
Our showroom looks modest from the front, but is packed with exciting products from one end to the other. Customers always comment that they are surprised with the breadth of selection. We have ten different rooms, each with its own product theme. The gas stove room, the wood stove room, the fireplace door room, and more. Outside we have pergolas, lawn furniture, fire features and more!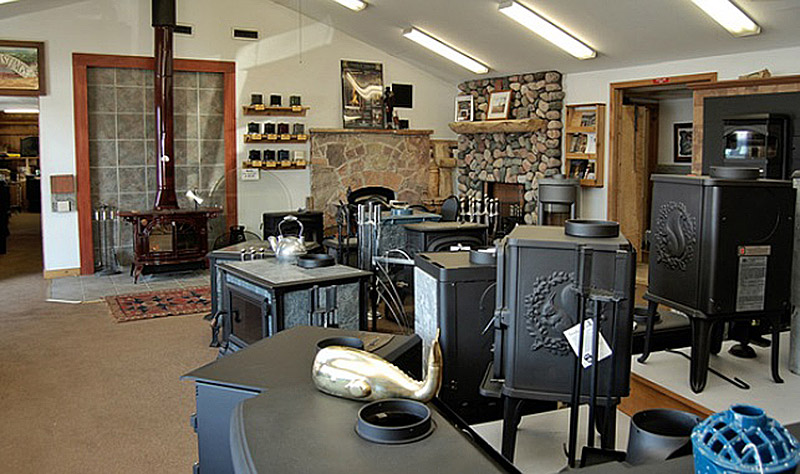 Services We Provide
We have our own service & repair personnel. Our people are insured & knowledgeable on all types of fireplaces & stoves. We repair & install fireplaces and stoves and install fire pits. We also clean chimneys, perform stone and brick work, sell and install stone veneers, and offer design consultations on all of the above.
Specialties
We strive to be Green. Our Stoves and Fireplaces are all EPA approved, high efficient, and clean burning. You will not find any of our products in a big box store.
Turn to us for the best selection of affordable fireplace inserts, stoves, or custom fireplace designs. We have everything you need to make a comfortable and warm home, so stop by our showroom and speak with our experts who specialize in everything hearth-related!
Some of our services include:

Fireplace Installation
Insert Installation
Stove Installation
Gas Log Installation
Gas Appliance Service
Pellet Stove Service
Wood Appliance Service
Chimney / Flue Cleaning
Chimney / Flue Installation
Chimney Liners
Chimney Caps
Chimney Crowns
Chimney Chase Tops
Chimney Rain Pans / Shrouds
Limited Chimney Masonry Work
Custom Fireplace Installations
Fireplace Mantel, Surround, Wall Treatment Installation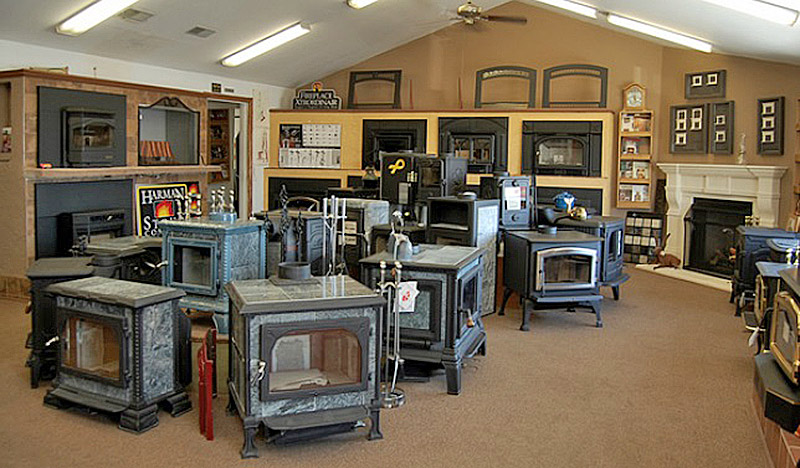 Product Summary
We have the largest display of fireplaces in northeastern Illinois. During the season, we have wood burning products & gas products that can be lit year round. Customers can find wood burning, gas, pellet & electric fireplaces, along with free-standing stoves & inserts for existing fireplaces. We also offer fireplace accessories, tools, screens & glass doors, gas logs sets, outdoor fire pits, wooden patio furniture and more!
Brands We Carry (Partial List)
Fireplaces and Inserts
Ambiance, Amanti, Enerzone, Fireplace X, Hearthstone, Jotul, Majestic, Mendota, Regency, Sierra Flame, Supreme, Valcourt, Vermont Castings, White Mountain Hearth
Stoves
Amanti, Enerzone, Hearthstone, Jotul, Rais, Regency, St. Croix, Sierra Flame, Supreme, Vermont Castings, White Mountain Hearth
Stone Veneer:
Natural Stone Veneer, Fond du Lac Stone, Realstone Systems, ProVia Manufactured Stone, Centurian Manufactured Stone
Other:
Rasmussen Gas Logs, Stoll Industries Fireplace Doors, Mantels, Design Specialties Fireplace Doors. Ablaze and Zentro Smokless FirepitsVisit Our Website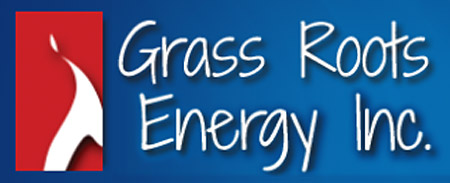 Our Address:
28751 N Route 12
Wauconda, IL 60084
Contact: Mark Johnson
Office Phone: (847) 526-5888
Email: stoveking@grassrootsenergy.com
Website:
http://grassrootsenergy.com/
Hours:
Monday: 10:00 - 5:00
Tuesday: 10:00 - 5:00
Wednesday: 10:00 - 5:00
Thursday: 10:00 - 5:00
Friday: 10:00 - 5:00
Saturday: 9:00 - 4:00
Sunday: Closed
Contact Us Now!

(847) 526-5888
Send Us a Message
"*" indicates required fields
We Service the Following Areas
Premier Fireplace Store serving Northern IL & Southern Wisconsin, including:
Antioch 60002
Arlington Heights 60004 – 60005 - 60006
Barrington 60010
Buffalo Grove - 60089
Bull Valley 60051
Carpentersville - 60110
Cary 60013
Crystal Lake - 60012 - 60014 - 60039
Deer Park 60010
Dundee 60118
Elgin IL - 60120 - 60121 - 60123 - 60124
Grayslake 60030
Gurnee 60031
Harvard 60033
Hawthorn Woods 60047
Hebron 60034
Highland Park - 60035 - 60037
Hoffman Estates 60169 – 6079 - 60192
Huntley 60142
Island Lake 60042
Johnsburg 60051
Lake Forest 60045
Lake Zurich 60047
Lake Villa 60046
Libertyville 60048
Lindenhurst 60046
McHenry 60050 – 60051
Mount Prospect 60056
Mundelein IL - 60060
Palatine 60038 – 60055 – 60074 – 60078 0 60094 - 60095
Richmond 60071
Rolling Meadows 60008
Round Lake Beach IL - 60073
Schaumburg IL - 60159 - 60168 - 60173 - 60179 - 60193 - 60194 - 60195 - 60196
Spring Grove 60081
Vernon Hills IL - 60061
Wadsworth 60083
Wauconda IL - 60084
Waukegan IL - 60079 - 60085 - 60087
Winthrop Harbor 60096
Wonder Lake 60097
Woodstock IL - 60098
Zion IL - 60099
Bristol WI - 53104
Burlington WI - 53105
Delevan WI - 53115
Genoa City WI - 53128
Kenosha WI - 53143
Lake Geneva WI - 53147
Pell Lake WI - 53147
Pleasant Prairie WI - 53155
Powers Lake WI - 53159
Salem WI - 53168
Silver Lake WI - 53170
Trevor WI -53179
Twin Lakes WI - 53181
Williams Bay WI - 52191
Wilmot WI - 53192