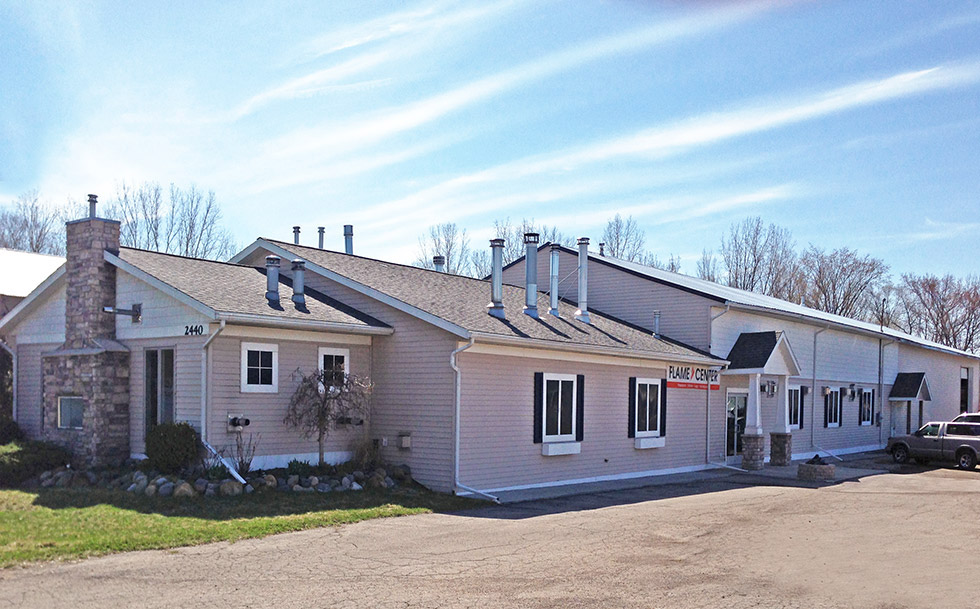 Visit Our Website
Flame Center is a full service, installing Fireplace, Stove and grill dealer, serving the West Michigan area. We have a full showroom, with several live burning displays, plus much more. We sell, install, and service Hearth products from the innovators of the fire industry. We not only work with indoor fire, but also specialize in outdoor fire. Our Showroom, has displays in all sorts of design directions. If your taste is a modern direction, craftsman, traditional, or whatever you have seen on Houzz.com or Pinterest, we can help you create your dream fireplace! We are fireplace professionals that can help with any question that can arise during construction and design. It's important that the fireplace look good, but most importantly, provide you with warmth, and ambiance permanently!
Company History
Flame Center was started by two professional fireplace installers, with several years of experience in the fireplace industry. They looked at how other stores were conducting business, and decided to model their store in a manner that was pleasing to the customer experience. This includes a professional showroom layout, finished displays, professional staff, and that Flame Center Crews do all the own installs and service work. With over 11,000 installs now, of fire in peoples houses, our record is perfect. We install fire! It needs to be done right! So, trust the professionals at Flame Center, to do your fireplace installation.
Facilities & Showroom
Flame Center's Fire decor Showroom is conveniently located in Hudsonville Michigan, which is located Close to Grand Rapids and also all of the Lakeshore area, From Muskegon, Grand Haven, Holland, to South Haven. The 4000 square foot showroom showcases all forms of fireplace design, with full working vignettes various forms of stone facing, tile, and even modern Clean Line Living displays. The showroom layout, allows the customer to see the beauty of a real wood fire, and the most realistic gas fires you'll see. Our showroom is on Chicago Drive, which connects Grand Rapids to Holland and the Lakeshore communities. We have become the "Go-To" store in West Michigan for all aspects of fire installation. Our showroom has displays not only of live burning fireplaces, but also live burning displays of pellet stoves, wood stoves, gas stoves, and electric fireplaces. We also stock Grills year round, and have displays of outdoor kitchen equipment, gas grills and outdoor firepits!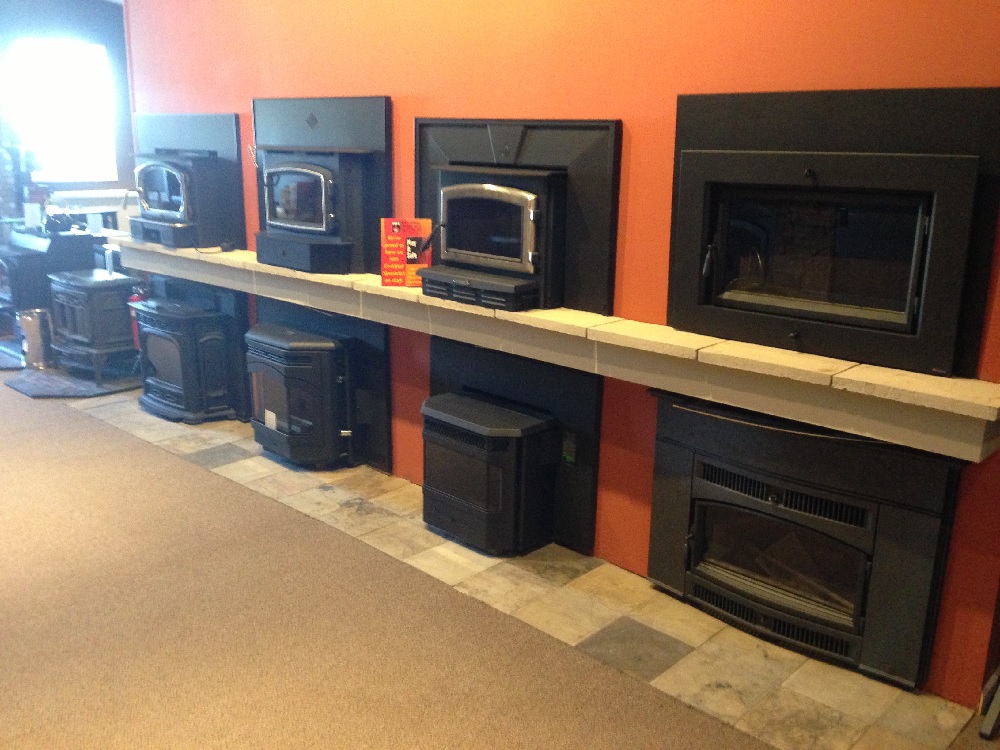 Services We Provide
Our factory trained service technicians and department services everything we sell. We strive to offer service on all vented gas fireplaces and stoves. The issues arise, when the manufacturer has gone out of business, on some brands we never sold. Our brands are solid companies, that we are fully competent are going to back us up with parts and tech advice. Unfortunately, there are tens of thousands of fireplaces installed in West Michigan, by other stores, where parts aren't available anymore. That's why buying good equipment, like we sell, is important to your prolong satisfaction and enjoyment of your fireplace or stove from Flame Center.
Specialties
We are the fireplace store in West Michigan that can say all the following:
We only sell and install products from the best manufacturers.
We are licensed and insured installers
We only install firepalces and stoves with our own crews.
We service everything we sell.
We can handle all aspects of the fireplace design, from beginning with a house print, to final completion. If that means helping you understand the entire fireplace procedure, we can do it.
Some of our services include:

Fireplace Installation
Insert Installation
Stove Installation
Gas Log Installation
Gas Appliance Service
Pellet Stove Service
Wood Appliance Service
Chimney / Flue Installation
Chimney Liners
Chimney Chase Tops
Chimney Rain Pans / Chimney Shrouds
Custom Fireplace Installations
Fireplace Wall Treatment Installation
Certifications / Affiliations
HPBA - Hearth, Patio, & Barbecue Association - member since store was started in 1999
NFI Trained and Manufacturer Certified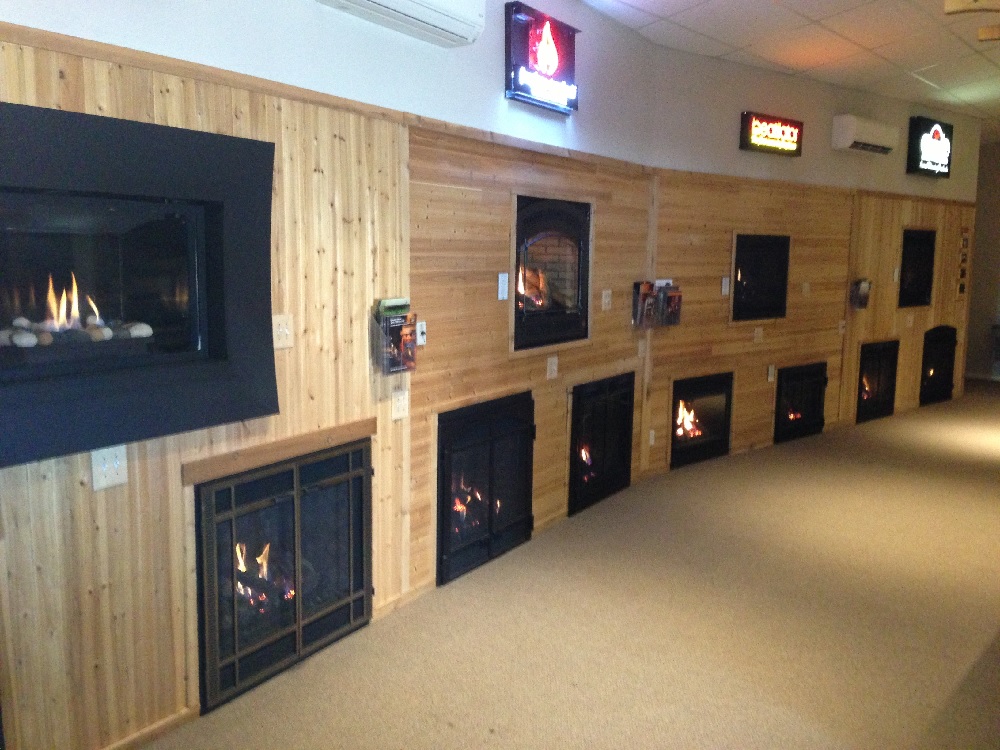 Product Summary
We are a full service, installing Fireplace, Stove and Grill dealer for all our brands. In gas products, those brands are Kingsman, Marquis, Intrigue, Fireplace Extrodinair, Lopi, and Napoleon. In Wood fired products, we sell and install Fireplace Extrodinair, Lopi, Enerzone, Napoleon and Harman stove. In Pellet fired products, we sell, install and service Harman, Enerzone and Lopi.
We are a firm believer in servicing backing up what we sell with great service.
Brands We Carry (Partial List)
Fireplaces & Fireplace Inserts
Kingsman, Marquis, Intrigue, Fireplace Extrodinair, Lopi, Napoleon, Enerzone, and Lopi
Stoves
Harman, Enerzone, Lopi and Hearthstone
Other
Napoleon Grills, Phoenix grills, Hearth Products Controls Professional Firepits, Louisiana Grills
Visit Our Website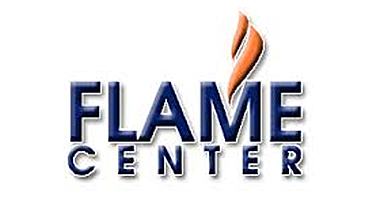 Our Address:
2440 Chicago Drive
Hudsonville, MI 49426
Contact: Blake Huisingh
Office Phone: (616) 662-4400
Email: blake@flamecenter.com
Website:
https://www.flamecenter.com/
Contact Us Now!

(616) 662-4400
Send Us a Message
"*" indicates required fields
We Service the Following Areas
Grand Rapids MI 49503 - 49504 - 49505 - 49506 - 49507 - 49508 - 49546 - 49548 - 49525 - 49534 / Hudsonville MI 49426 / Holland MI 49423, 49424 / Grand Haven MI 49417 / Byron Center MI 49315 / Saugatuck MI 49453 / South Haven MI 49090 / Fennville MI 49408 / Douglas MI 49406 / West Olive MI 49460 / Muskegon MI 49440 - 49441 - 49442 - 49444 - 49445 / Zeeland MI 49464 / Allendale MI 49401 /Rockford MI 49341/ Ada MI 49301 / Caledonia MI 49316 /Wayland MI 49348 / Walker MI 49534 - 49544 - 49504 / Standale MI 49504 - 49534 / Comstock Park MI 49321 / Holland MI 49423 - 49424 / Grand Haven MI 49417 / South Haven MI 49090 / Allegan MI 49010 / Lowell MI 49331 / Plainwell MI 49080.
We install in all areas of West Michigan, along the Lake Michigan Lakeshore from Muskegon to South Haven, east to Lansing. If you are in West Michigan, we can help!