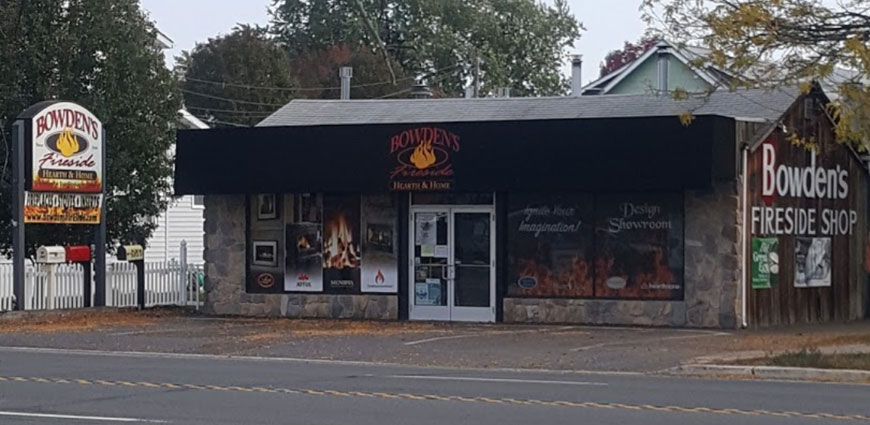 Visit Our Website
When it comes to experience look no further. Our staff has a combined 75 years of experience in the Hearth and Fireplace Industry. We will listen to your needs and goals before pointing you in the right direction. We are your one stop shop for everything for your fireplace and chimney. We install everything we sell - no subcontractors here. Our services include gas fireplace tune up and repair, chimney cleaning, chimney relining, cap installation and so much more. We are constantly striving to be ahead of the competition with all that we do. In fact, we are the only company around that offers the fireguard joint repair process for your chimney. Call us today to find out more.
Company History
In 1904 the Bowden family owned a piece of land on Broad Street in Trenton. They tried to sell but could not. So they decided to build and with a small stock of furniture a small business was born. By the 1930's they were selling floor covering, venetian blinds, table pads, awnings and combination storm windows and doors. Along the way, Bowden's got into lighting fixtures and Baldwin brass. In 2009, the grandson sold Bowden's Fireside to the current owner Tom Hurst. A new regrowth has begun. Bowden's Fireside now offers everything for the fireplace/stove.
Facilities & Showroom
Over the last four years, our showroom has been 95% redone to update the look and feel of our facility and to showcase the new products that we now offer. Within the next few weeks, we will be redoing the front exterior of the store to complete our transformation. Our showroom houses 6 wood burning inserts displays, 12 wood stove displays,3 gas stove displays, 5 gas insert and 5 direct vent gas fireplaces. We have 3 burning vented gas logs displays and 2 vent-free displays. Homeowners can also view 9 different glass doors and a wide range of freestanding screens. We offer anything and everything that you would need for your fireplace or stove.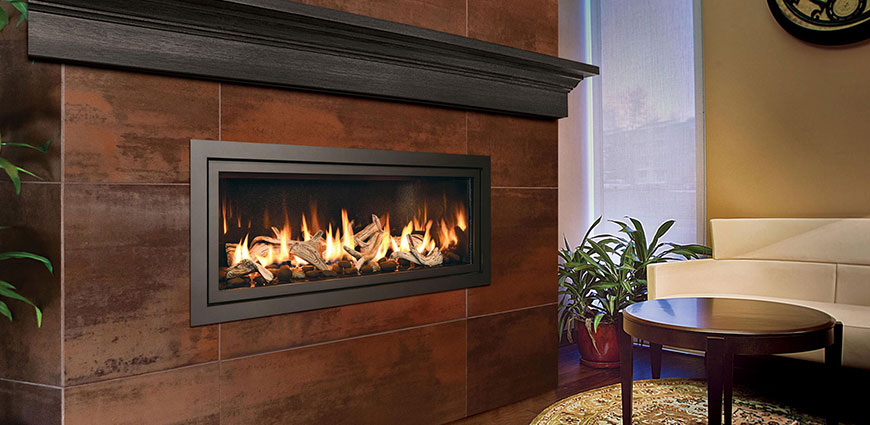 Services We Provide
Our full-service company offers a number of services from installation to repair and cleaning.
Gas Service - installing beautiful gas fireplace systems is both an art and a science. Certified installation staff to properly install and turn up your systems. Over 50yrs of combine experience.
Chimney Service - CSIA certified chimney sweeps inspect and sweep chimneys of all kinds, oil, wood and gas. When necessary, we use video inspection camera equipment to examine hidden parts of the flue. We treat your home as if it were our own by using the best vacuum in the industry.
Chimney Relining - can help prevent deadly carbon monoxide from penetrating through your unlined or deteriorating chimney. The liner keeps carbon monoxide, moisture and smoke and creosote and other products of combustion from seeping through the brick and mortar of your chimney and leaking into your home.
Cap Installation, Crown Repair, Chase Cover Replacement & Waterproofing - helps to prevent nesting birds and animals, debris, rain and snow from entering the chimney. Also helps in keeping moisture from entering and causing problems.
Dryer Vent Cleaning - lint build up slows down the air flow which raises the temperature and the possibility of fire. That means the dryer has to work harder to compensate for the reduction of air flow. We'll also perform a thorough sweep, searching for issues that might interfere with optimal operation.
Making you dream of a fireplace in your home a reality from start to finish. You tell us your dream and we will make it come true.
Some of our services include:

Fireplace Installation
Insert Installation
Stove Installation
Gas Log Installation
Gas Appliance Service
Wood Appliance Service
Chimney, Flue Cleaning
Chimney, Flue Installation
Chimney Liners
Chimney Caps
Chimney Crowns
Chimney Chase Tops
Chimney Rain Pans, Shrouds
Limited Chimney Masonry Work
Firebox Rebuilding
Custom Fireplace Installations
Fireplace Mantel, Surround, Wall Treatment Installation
Certifications / Affiliations
HPBA - Hearth, Patio & Barbeque Association
CSIA - Chimney Safety Institute of America
NFI - National Fireplace Institute
BBB - Better Business Bureau
MAHPBA - Mid-Atlantic Hearth, Patio & Barbeque Association
NCSG - National Chimney Sweep Guild
IBG - United Buyers Group
NASS - North American Solar Stores
Product Summary
We offer a number of hearth and home products like wood stoves, fireplaces and insert, gas stoves, fireplace and insert, vented and vent-free gas logs, mantel shelves and full surrounds, fireplace screen, tool sets, glass doors, wood holders, bellows, ash holders, and just about everything else you could think of for the fireplace. Homeowners will also find mailboxes, address plaques, wood fire pits, grills, rubs and BBQ sauce.
Brands We Carry (Partial List)
Fireplaces & Inserts
Jotul, Mendota, Fireplacextrodiare, Vermont Castings, SBI, Lopi
Stoves
Jotul, Lopi, Enerzone, Blaze King
Other
RH Peterson, Gaines, Whitehall, BlueGrass Woods, Collinswood, Stoll, PilgrimVisit Our Website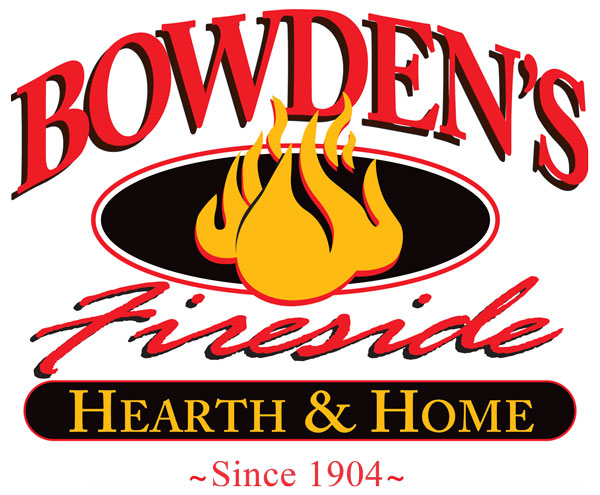 Our Address:
1731 Nottingham Way
Hamilton, NJ 08619
Contact: Tom Hurst
Office Phone: (609) 586-3344
Email: tom@bowdensfireside.com
Website:
https://www.bowdensfireside.com/
Hours:
Monday: 9:00 - 4:00
Tuesday: 9:00 - 4:00
Wednesday: 9:00 - 4:00
Thursday: 9:00 - 4:00
Friday: 9:00 - 4:00
Saturday: 9:00 - 1:00
Sunday: Closed
Contact Us Now!

(609) 586-3344
Send Us a Message
"*" indicates required fields
We Service the Following Areas
Top Hearth & Fireplace Store serving New Jersey and Pennsylvania
Hamilton NJ - 08619
Princeton NJ - 08540
West Windsor NJ - 08550
Mercerville NJ - 08619
Princeton Junction NJ - 08550
Robbinsville NJ - 08691
Trenton NJ - 08601
Ewing NJ - 08618
Monmouth NJ - 08852
Kendall Park NJ - 08824
Hightstown NJ - 08520
East Brunswick NJ - 08816
North Brunswick NJ - 08902
East Windsor NJ - 08520
New Brunswick NJ - 08901
Cranbury NJ - 08512
Belmar NJ - 07719
Old Bridge NJ - 08857
Edison NJ - 08817
Perth Amboy NJ - 08861
Plainsboro NJ - 08536
Lawrenceville NJ - 08648
Skillman NJ - 08558
Allentown NJ - 08501
Hopewell NJ - 08525
Lambertville NJ - 08530/ New Brunswick NJ - 08902
Titusville NJ - 08560
Yardville NJ - 08620
Cream Ridge NJ - 08514
Jackson NJ - 08527
Pennington NJ - 08534
Yardley NJ - 19067
Newtown NJ - 18940
Washington Crossing NJ - 18977
Langhorne NJ - 19047
Morrisville NJ 19067
Yardley PA - 19067
Newtown PA - 18940
Upper Makefield PA - 18940
Washington Crossing PA - 18977
New Hope PA - 18938
Langhorne PA - 19047
Fairless Hills PA - 19030
Levittown PA - 19056
Tullytown PA - 19056
Fallsington PA - 19056
Bristol PA - 19007
Solebury PA - 18963