Visit Our Website
Our Business is Hearth, Heating & Air Conditioning, Indoor Air Quality, and Outdoor Grilling. We have the biggest showrooms in the area that each feature over 50 burning fireplaces and a wide range of Gas Grills and Charcoal BBQ's from Quality Manufacturers. We carry the area's largest selection of Brands in Heating, Cooling, and Air Quality. We Sell, Install, and service all the products in our portfolio, and back-up everything we do with our Company Promise.
Company History
Bast Home Comfort is a family owned and operated business serving the Southwestern Ontario region. David Bast began its operations in 1988 where the business had its origins in a small storefront on Hazelglen Drive in Kitchener.
In 1990, a need for larger premises brought on a move to 620 Davenport Road in Waterloo, where its corporate office and Waterloo showroom has remained to this day. In almost 30 years of business, the company has undergone four major expansions, including May of 2000, when a second retail location on 471 Hespeler Road in Cambridge was opened.

Services We Provide
At Bast Home Comfort our mission is to provide you with a quality, professional installation that you can be proud of and enjoy for years to come. Part of that commitment is the experience and knowledge of our fully liscenced, in-house service team. We can service almost any brand of gas furnace, central air conditioner and gas fireplace.
We strive to service the equipment in your home with honesty and integrity and will work with you to ensure your total experience with BAST is something we both can be proud of.
Our strategy has always been to focus on selling quality products installed neatly and professionally at a fair price. Our knowledgeable in store staff are there to help you with any question that you might have. Expert, licensed technicians form the base of each work crew while abiding by safety rules and code compliance. We have a dedicated Service Department that has the ability to repair most makes of fireplaces, furnaces and central air conditioners. We always service the products that we sell and 24-hour emergency service is available to customers who have purchased their equipment from Bast.
Some of our services include:

Fireplace Installation
Insert Installation
Stove Installation
Gas Log Installation
Gas Appliance Service
Pellet Stove Service
Wood Appliance Service
Chimney / Flue Cleaning
Chimney / Flue Installation
Chimney Liners
Chimney Caps
Chimney Chase Tops

Product Summary
Wood, gas, pellet fireplace inserts; Wood, gas, electric fireplaces; Wood, gas, pellet heating stoves; Hearth Accessories; Grills; Fireplace Glass Doors; Gas Logs; Fire Pits
Brands We Carry (Partial List)
Fireplaces
Valor, Marquis, Town & Country, Kingsman, Supreme, Valcourt, Jotul, Ambiance, EnerZone, Astria, Solas, Dimplex, Amantii
HVAC
Lennox Heating & Central Air Conditioning, Vanee Ventilator & Filtration Systems
Grills
Ambiance, Napoleon, Crown Verity, Big Green Egg, Broil-King, Bradley
Stoves
True North Stoves, Security Chimney & Stove PipeVisit Our Website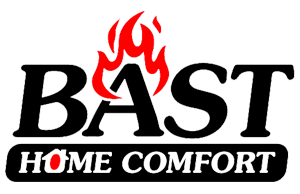 Our Address:
471 Hespeler Rd. 
Cambridge, ON N1R 6J2
Contact: Matthew Bast
Office Phone: (519) 621-0379
Email: sales-cambridge@basthomecomfort.com
Website:
http://www.basthomecomfort.com
Hours:
Monday: 10:00 - 6:00
Tuesday: 10:00 - 6:00
Wednesday: 10:00 - 6:00
Thursday: 10:00 - 6:00
Friday: 10:00 - 6:00
Saturday: 9:00 - 4:00
Sunday: Closed
Contact Us Now!

(519) 621-0379
Send Us a Message
"*" indicates required fields
We Service the Following Areas
Kitchener, ON
Elmira, ON
Cambridge, ON
Ayr, ON
Guelph, ON
Fergus, ON
Tavistock, ON
Paris, ON
Milverton, ON
Stratford, ON
Woodstock, ON
Arthur, ON
Brantford, ON
Acton, ON
Listowel, ON