All We Love Fire Partner Stores are INDEPENDENTLY OWNED & OPERATED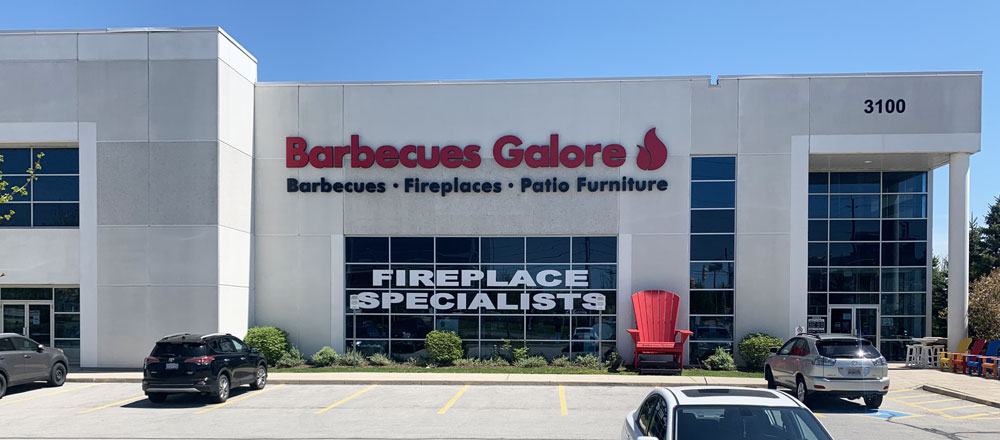 Visit Our Website
Barbecues Galore has been Canada's fireplace experts since 1979. From our humble beginnings in the wild west of Calgary to currently operating five stores across Canada with two in Calgary, and one each in Burlington, Oakville, and Etobicoke, Ontario; we have been selling and installing fireplaces from top quality brands such as Valor, Amantii, Dimplex, and Napoleon, to list a few. The Burlington, Ontario location was established in 2003 along with the Oakville location in the same year. This location is conveniently located for anyone located in the Milton, Hamilton, Mississauga, and GTA area.
We aren't just fireplace experts, we are Canada's barbecue experts too! You can rely on Barbecues Galore when it comes to the best selection of gas, charcoal, electric, and built-in barbecues. We don't just sell them when they are in season like the big box stores, our experts will have you find the barbecue, fireplace, or anything patio (furniture, fire tables, heaters, and more) you need year round. Our showrooms showcase the very best fireplaces, barbecues and patio furniture that the world has to offer. That may sound a little arrogant, but we pride ourselves on it. If it isn't top quality we don't put it in our stores. Visit us today to see if for yourself!
Company History
Barbecues Galore started out as a wholesale company in Calgary, Alberta called Tradex Supply which still exists today. Tradex started operating a retail store under the name Barbecues Galore in 1979. They've grown to have five stores in total. Two located in Calgary and three in Ontario; one in each Burlington, Oakville, and Etobicoke.
Facilities & Showroom
We have five great locations to meet the needs of our ever-expanding fireplace customer base in Canada. Check out any of our locations to see the best selection of home & hearth products on the market! Plus – talk to any of our experts to have all your fireplace questions answered. Our Burlington location has a square footage of 13,000 square feet and nice high ceilings.
Services We Provide
Our services include:
Fireplace Installation (includes installing a fresh fireplace from scratch, installing gas insert, stove installation, or gas log installation)
Fireplace Service & Repair
Gas line Installation
Barbecue Assembly (includes test-fire and 18-point inspection)
Barbecue Delivery & Installation (we'll show you how to use your new barbecue and even take away your old one!)
Some of our services include:

Fireplace Installation
Insert Installation
Stove Installation
Gas Log Installation
Certifications / Affliliations
HPBA - Hearth, Patio & Barbeque Association
TSSA - Technical Standards & Safety Authority
BBB - Better Business Bureau
Product Summary
Fireplaces - Electric, Wood & Gas, Stoves - Wood & Gas, Fireplace accessories & cleaners, Barbecues - Gas & Charcoal - (Weber, Napoleon, Broil King, Jackson Grill, Summerset Grills, DCS, Twin Eagles, Crown Verity, Lynx), Built-In Kitchen Components, Patio Furniture - Cast Aluminum, Wicker and Resin, Patio Heaters, Cookbooks, Sauces & Spices, Drinkware, Barbecue Accessories
Brands We Carry (Partial List)
Fireplaces & Fireplace Inserts
Regency, Valor, Enerzone, Renaissance, Dimplex Electric
Stoves
Valor, Regency
Other
R.H. Peterson Log Sets, Chesney Log SetsVisit Our Website
Our Address:
3100 Harvester Road
Burlington, ON L7N 3W8
Office Phone: (905) 639-5952
Email: burlington@barbecuesgalore.ca
Website:
http://www.barbecuesgalore.ca
Contact Us Now!

(905) 639-5952
Send Us a Message
We Service the Following Areas
Burlington, ON
Oakville, ON
Mississauga, ON
Milton, ON
Georgetown, ON
Hamilton, ON
Dundas, ON
Ancaster, ON