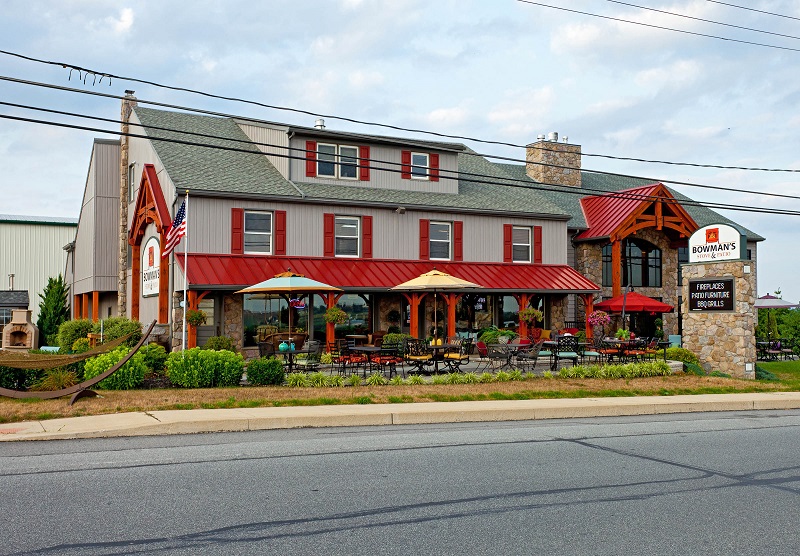 Visit Our Website
Bowman's Stove & Patio has been serving the area for over 36 years. We offer the area's largest selection of hearth and patio products. Our beautiful, recently expanded showroom features only the finest selection of stoves, fireplaces, patio furniture, BBQ grills & retractable awnings. Our experienced staff is ready to help you select your dream stove or fireplace, or help you select furnishings for your outdoor room.
Company History
The current owner, Lester Bowman, started the business in 1977. He needed a wood stove for his house, so he responded to an ad in the newspaper looking for Fisher Stove dealers. He purchased 6 to become a dealer. He put one in his house for heat and soon sold the rest. The business grew from there. In 1981 he purchased the current location. Patio furniture was soon added to the product mix to stay busy in the spring and summer.
In March 2011, the new expanded and renovated showroom opened. We expanded because more space was needed for patio furniture and an elevator was needed to make all three floors accessible. A two-story addition, plus a basement for storage, was added to the existing 3-story showroom. This almost doubled the square footage to approximately 15,000 square feet. The rest of the existing store was also renovated.
Now half our business is stoves & fireplaces and the other half is outdoor furnishings and accessories.
Facilities & Showroom
Our recently expanded and renovated showroom in Ephrata, PA has 3 floors and is approximately 15,000 square feet. The 3 floors are accessible by an elevator. The showroom has great curb appeal. The outside front of the store is very unique and inviting, with a prominent new main entrance. There is a large two story, stone, wood-burning fireplace with a gas log set at the front entrance. Behind the fireplace is an inviting sales/service counter.
Hearth products are all organized by product type and fuel type. All our direct-vent gas fireplace and wood fireplace displays have finished stone veneers or mantels. All the gas fireplaces are burning displays. The fireplace inserts are all displayed in the same area on beautiful 2-tier stone veneer walls. All the gas models are burning displays so customers can see the fire.
Most of our freestanding stoves are displayed on raised platforms so the customers can view them easier. All 10 of our freestanding gas stoves are burning displays.
We converted our third level to be a clearance area. It's full of closeout stoves and fireplaces, as well as patio furniture and accessories.
Services We Provide
We install and service all products we sell. Our own employees perform all installations. We have a dedicated technician to service all our gas appliances. Another service technician services all wood and pellet appliances as well as does installation. All installers and technicians have at least 10 years experience. Some have been with us over 25 years.
Specialties
We specialize in Stoves, Fireplaces and Fireplace Insert Sales and Installation, as well as Outdoor Furniture & Accessories
Some of our services include:

Fireplace Installation
Insert Installation
Stove Installation
Gas Log Installation
Gas Appliance Service
Pellet Stove Service
Wood Appliance Service
Chimney, Flue Installation
Chimney Liners
Chimney Caps
Chimney Chase Tops
Chimney Rain Pans, Shrouds
Chimney Masonry Work
Fireplace Mantel, Surround Installation
Certifications / Affiliations
HPBA - Hearth, Patio, & Barbecue Association
ICFA- International Casual Furnishings Association
Lancaster Chamber of Commerce
Product Summary
We sell and install gas, wood, coal & pellet stoves, fireplaces and fireplace inserts, as well as related hearth accessories, such as fireplace tool sets, screens, hearthrugs, steamers, wood holders, etc. We also offer fireplace mantels and surrounds.
We sell deep seating and dining patio furniture and related outdoor products such as gas and wood fire pits, umbrellas, and other accessories. We sell and install retractable awnings. We offer gas and charcoal BBQ grills and outdoor kitchen components.
Brands We Carry (Partial List)
Fireplaces & Inserts
Mendota, Kozy Heat, Hearthstone, Blaze King, Enviro, Real-Fyre, Marquis by Kingsman
Stoves
Hearthstone, Enerzone, Blaze King, Enviro, Vermont Castings, Morso, Kozy Heat
Other
Hanamint, Woodard, Castelle, Telescope Casual, Fire Magic
Visit Our Website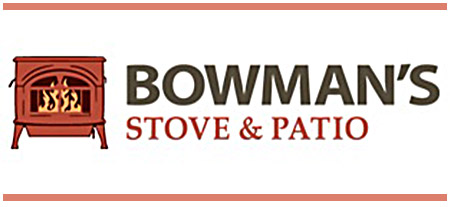 Our Address:
1060 Division Hwy.
Ephrata, PA 17522
Contact: Dustin Bowman
Office Phone: (717) 733-4973
Email: Dustin@bowmansstove.com
Website:
https://www.bowmansstove.com/
Hours:
Monday: 9:00 - 5:00
Tuesday: 9:00 - 5:00
Wednesday: 9:00 - 5:00
Thursday: 9:00 - 5:00
Friday: 9:00 - 7:00
Saturday: 9:00 - 4:00
Sunday: Closed
Contact Us Now!

(717) 733-4973
Send Us a Message
"*" indicates required fields
We Service the Following Areas
Central Pennsylvania's Prime Choice for Fireplaces, Inserts & Stoves - Wood, Gas, Pellet & more! - Serving:
Ephrata PA - 17522
Lancaster PA - 17601 - 17602 - 17603 - 17611
Reading PA - 19601 - 19602 - 19604 - 19605 - 19606 - 19607 - 19608
Lebanon PA - 17042 - 17046
New Holland PA - 17557 -
Lititz PA - 17543
Hershey PA - 17033
Harrisburg PA - 17109 - 17110 - 17111 - 17112 - 17113 - 17103 - 17104
York PA - 17402 - 17403 -17404 - 17406 - 17408
Downingtown PA - 19335
West Chester PA - 19380 - 19382
Exton PA - 19341
Manheim PA - 17454
Cornwall PA - 17016
Morgantown PA - 19543
Myerstown PA - 17067