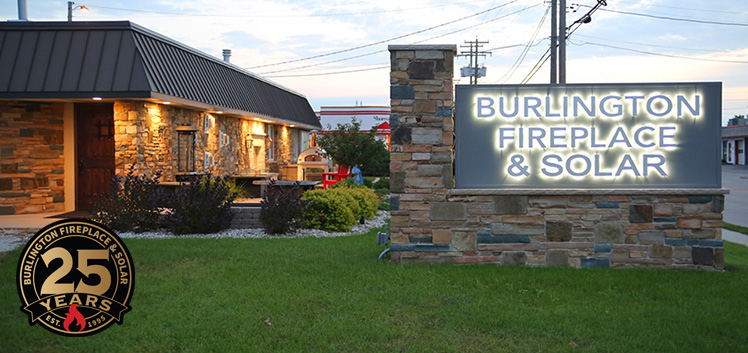 Visit Our Website
Built and maintained since 1995, Burlington Fireplace & Solar is a family-owned fireplace business located on the north side of Burlington, WI. Serving a wide range of south-east Wisconsin and north-east Illinois, Burlington Fireplace can do it all; Designing/consulting, installation, and fireplace servicing/cleaning of wood, gas, pellet, electric, and outdoor fireplaces. Stoves, fireplaces, and inserts are just a few of the different areas we work with and install on a daily basis. In-house installers and masons allows us to take projects to the next level with stone, tile, etc., as well as a mantel & hearth needed to make many projects complete. In addition to fireplace projects, BBQ grills, grill islands, fire pits, and even fully-installed PV solar arrays are a few more types of projects we install on a daily basis.
We understand that custom work and coordination is key in any project, so we have people on staff dedicated to each customer, giving people a one-on-one experience and go-to person. Knowledgeable, continually trained staff can help answer questions in ways other places such as hardware stores and big box stores simply cannot.
We are always happy to help people no matter where in the buying process and certainly would love to earn anyone's business if given the opportunity.
Company History
Burlington Fireplace started and remains the dream of owners Rich and Terese Hendrickson, along with recent college graduate sons, Rich Jr. and Nolan. Integrating previous HVAC knowledge and machine-shop skill into the world of fireplaces, Burlington Fireplace is able to deliver a well-rounded and full fireplace experience.
Facilities & Showroom
Our brick and mortar location resides on the north side of Burlington, WI on Milwaukee avenue (hwy 36). The beautiful showroom includes over fifty displays of wood, gas, pellet, and electric fireplaces, stoves, inserts, log sets, doors, and mantels. The showroom also includes a wide assortment of various gas, charcoal, and pellet grills, grill islands, and displays of in-house stone-work, tile, hearth stones, and accessories. Anyone interested in a fireplace or grill project of any sort should stop by our showroom to see products up close and to get ideas flowing.

Services We Provide
We maintain, service, and clean fireplaces, stoves and inserts of any kind. In-house, certified staff is equipped to sweep chimneys, clean gas fireplaces, inspect new homes, etc. Custom requests are also accepted! Our service team travels most anywhere in the south-east WI & north-east IL area.
Specialties
We specialize in custom installations and projects. From start to finish, each job is handled and coordinated by us to stay organized and keep the project moving along. We can do most everything in-house - from the sale to the demo, permits, rough framing, installation, venting, electrical, gas lines, ventilation requests, stonework/tile/brick/facing, mantel, hearth, and service after the project has been completed. Every job is different and we encourage custom projects! We also offer custom design including stone, tile, shiplap, marble/granite, and other facing materials in coordination with mantels and hearth stones to make a customer's ideas become reality.
Some of our services include:

Fireplace Installation
Insert Installation
Stove Installation
Gas Log Installation
Gas Appliance Service
Pellet Stove Service
Wood Appliance Service
Fireplace Inspections
Chimney, Flue Cleaning
Chimney, Flue Installation
Chimney Caps
Chimney Chase Tops
Chimney Rain Pans, Shrouds
Limited Chimney Masonry Work
Custom Fireplace Installations
Fireplace Mantel, Surround, Wall Treatment Installation
BBQ Grill sales
Custom grill islands
Solar PV installations
Certifications / Affiliations
NFI - National Fireplace Institute
MREA - Midwest Renewable Energy Association
NASS - North American Solar Stores
HPBA - Hearth, Patio & Barbecue Education Foundation
Burlington Chamber of Commerce
Waterford Chamber of Commerce
Product Summary
Fireplaces, stoves, inserts, and log sets that come in various fuel types such as wood, natural gas, LP, pellet, and electric. Each has their own upside and we can help you decide what works best in your situation. In addition to fireplaces, we also carry a wide array of gas, charcoal, and pellet grills along with outdoor fireplaces, fire pits, and fire tables.
Brands We Carry (Partial List)
Fireplaces & Inserts
Ambiance, Kozy Heat, Fireplace Xtrordinair (FPX), Lopi, Marquis, Kingsman, Napoleon, Enerzone, Valcourt, Hearthstone, Jotul, Valor, Amantii, & European Home
Stoves
Enerzone, Jotul, Hearthstone, Lopi, Kingsman, Kozy Heat
Grills
Napoleon Gas Grills, Pit Boss Pellet Grills, Louisiana Pellet Grills, Primo charcoal ceramic grills/smokers, Housewarming outdoors custom grill islands
Other
Outdoor Greatroom Fire Pits, Design Specialties fireplace doors, Stoll fireplace doors, Rasmussen Gas logs, MagraHearth mantels, Log Style mantels, Norstone ledge stone panels, Minuteman Tool SetsVisit Our Website

Our Address:
857 Milwaukee Ave.
Burlington, WI 53105
Contact: Richard Hendrickson Jr
Office Phone: (262) 763-3522
Email: richg@burlingtonfireplace.com
Website:
https://www.burlingtonfireplace.com/
Hours:
Monday: 9:00 - 5:00
Tuesday: 9:00 - 5:00
Wednesday: 9:00 - 5:00
Thursday: 9:00 - 5:00
Friday: 9:00 - 5:00
Saturday: 9:00 - 2:00
Sunday: Closed
Contact Us Now!

(262) 763-3522
Send Us a Message
"*" indicates required fields
We Service the Following Areas
We service the following counties:
Racine County, WI
Kenosha County, WI
Milwaukee County, WI
Walworth County, WI
Rock County, WI
Jefferson County, WI
Waukesha County, WI
Dodge County, WI
Washington County, WI
Ozaukee County, WI
Lake County, IL
McHenry County, IL