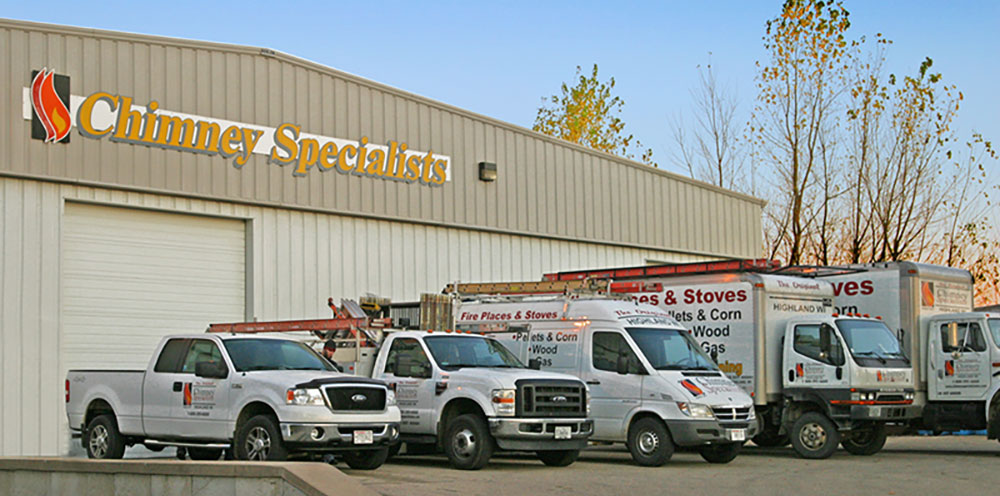 Visit Our Website
Chimney Specialists Inc. in Highland, WI has been providing the highest quality fireplaces, stoves and inserts and chimney cleaning and repair services to the tri-state area since 1977. Chimney Specialists Inc. has always been a family operated business. Our emphasis has always been on customer service and excellence in all fireplace and stove-related issues. A huge selection of products and a highly experienced staff is ready to help you with all your questions and assist you in making an informed decision.
Company History
Chimney Specialists Inc. in Highland, WI began in 1977 by George Briewa. Mr. Breiwa is still the president and owner of the company. The company's roots are in chimney cleaning and repair. But over the years, the organization has grown considerably to include a full service stove and fireplace products shop, specializing in wood, gas, pellet, electric and oil stoves, fireplaces, inserts and also solar electric and solar hot water systems. Outdoor wood burning boilers and forced air furnaces are also available. Thousands of customers in southwest Wisconsin, northeast Illinois and northwest Iowa have benefited from the services and products offered by Chimney Specialists.
Facilities & Showroom
The Chimney Specialists Inc. campus features three showrooms and three warehouse facilities. Our showrooms are bursting with over 40 models of wood, gas & pellet stoves and fireplaces. Half of these are fully operational built-in burning displays that will warm your heart and will add that special atmosphere to your home. Our 12000+ square feet of warehousing space allows us to buy from our suppliers in sufficient quantities that we often have what you are looking for in stock. We have products for every budget. Our fully equipped fleet of vehicles ensures our crews will have the correct equipment for your chimney cleaning and repairs or for that fireplace or stove installation.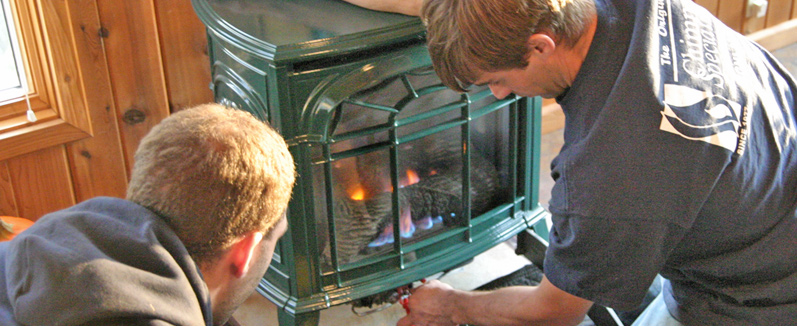 Services We Provide
Our award winning service and installation crews have nationally recognized credentials that ensure a safe and code compliant installation. Rest easy knowing that our certified technicians have the training and experience to trouble-shoot repairs, along with the resolve & commitment to complete repairs or installations in a safe & professional manner.
Some of our services include:

Fireplace Installation
Insert Installation
Stove Installation
Gas Log Installation
Gas Appliance Service
Pellet Stove Service
Wood Appliance Service
Chimney, Flue Cleaning
Chimney, Flue Installation
Chimney Liners
Chimney Caps
Chimney Crowns
Chimney Chase Tops
Chimney Rain Pans, Shrouds
Chimney Masonry Work
Complete Chimney Masonry Work
Firebox Rebuilding
Custom Fireplace Installations
Fireplace Mantel, Surround Installation
Certifications / Affiliations
HPBA - Hearth Products & BBQ Association
Hearth Education Foundation
North Central Hearth Products Association
National Association of the Remodeling Industry
CSIA - Chimney Safety Institute of America
NCSG - National Chimney Sweep Guild
Wisconsin Builders Association
Wisconsin Guild of Chimney Technicians
Dubuque Home Builders Association
Highland Business Association
IBG - United Buyers Group
NASS - North American Solar Stores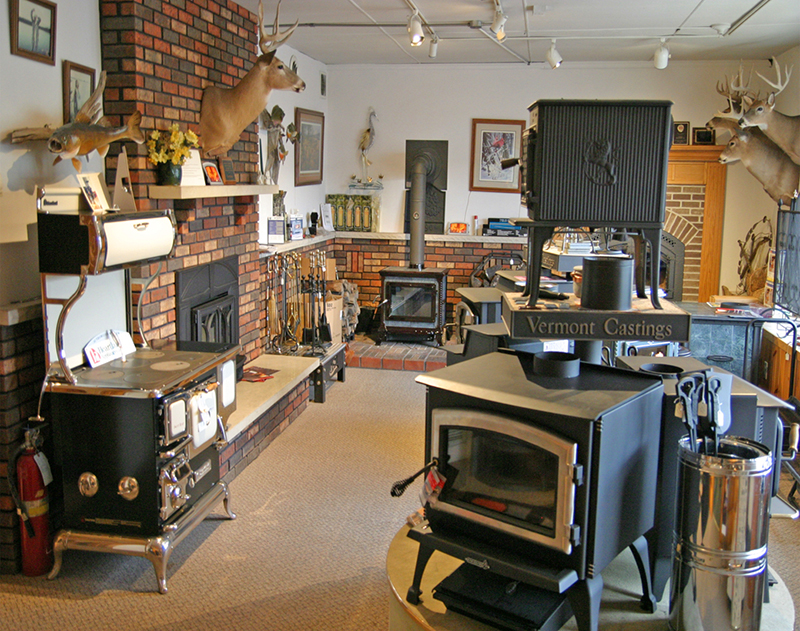 Product Summary
Chimney Specialists Inc. represents the premier suppliers in the stove and fireplace industry. We are an authorized dealer for the best wood burning stoves, inserts and fireplaces available. We have sold thousands of free standing gas stoves, gas fireplaces and inserts. Electric fireplaces and stoves are growing in popularity and we even have a line of decorative free standing stoves that burn #1 & #2 fuel oil! Heat your entire home with a forced air wood burning furnace. Or keep the mess and fire outside with an outdoor wood burning boiler. If it's an insert, stove or fireplace, we will have options that you will not find anywhere else.
Brands We Carry (Partial List)
Fireplaces & Inserts
EnerZone, Kozy Heat, Valcourt, Lopi, Jotul, Avalon, Hearthstone, Fireplace Xtrordinair, Scan, Ambiance, Kingsman, Ortal
Stoves
EnerZone, Kozy Heat, Lopi, Jotul, Avalon, Hearthstone, Scan
Other
Stoll Fireplace Doors & Accessories, Dimplex Electric Fireplaces, PSG & Woodchuck forced air wood burning furnaces, Central Boiler Outdoor Boiler, Heartland Cook Stoves, Solar electric and solar hot Water systems.Visit Our Website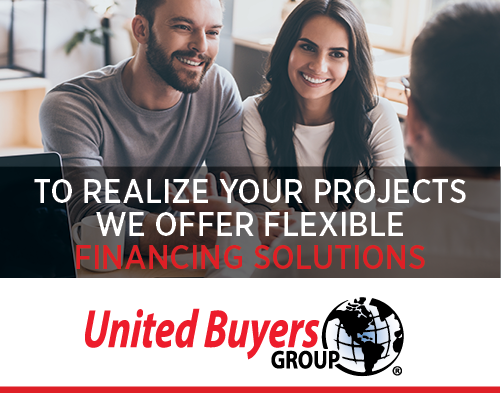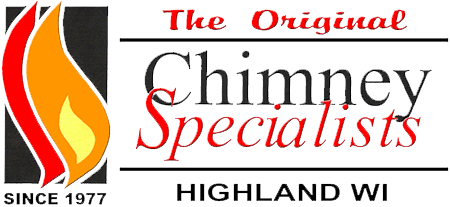 Our Address:
869 N Main Street
Highland, WI 53543
Contact: Curt Breiwa
Office Phone: (608) 929-4887
Toll Free: (800) 395-6660
Email: csicurt@mhtc.net
Website:
http://www.chimneyspecialistsinc.com
Contact Us Now!

(608) 929-4887
Send Us a Message
"*" indicates required fields
We Service the Following Areas
Serving Southwest Wisconsin, Northwest Illinois & Northeast Iowa including:
Platteville WI - 53518
Mt Horeb WI - 53572
Verona WI - 53593
Madison WI - 53717 - 53719 - 53711 - 53713 - 53715 - 53705 - 53706 - 53703 - 53716 - 53714 - 53704 - 53718
Middleton WI - 53562
Muscoda WI - 53573
Spring Green Wi - 53588
Cuba City WI - 53807
Darlington WI - 53530
Mineral Point WI - 53565
Fennimore WI - 53809
Boscobel WI - 53805
Lancaster WI - 53831
Prairie du Sac WI - 53578
Dodgeville WI - 53533
Richland Center WI - 53581
Prairie du Chien WI - 53821
Dubuque IA - 52001 - 52002 - 52003 - 61025
Dyersville IA - 52040
Anamosa IA - 52205
Asbury IA - 52002
Bellevue IA - 52031
Cascade IA - 52033
DeWitt IA - 52742
Guttenberg IA - 52052
Independence IA - 50644
Manchester IA - 52057
Maquoketa IA - 62060
Monticello IA - 52310
Oelwein IA - 50662
Waverly IA - 50677
Galena IL - 61036
Elizabeth IL - 61028
Freeport IL - 61032
Lake Carroll IL - 61046
Mount Carroll IL - 61053
Savanna IL - 61074
Lena, IL 61048
Stockton IL - 61085
Fireplace Store only an hour from Madison, WI