The safety of any fireplace insert depends not only on it being installed and operated correctly, but also on the safety and/or condition of your existing fireplace itself. Before you consider installing a fireplace insert, make sure that your fireplace is not only clean, but that it meets local and national building and safety codes.  A professional inspection will ensure that your fireplace was installed in a way that meets these codes, as well as giving you the complete confidence that burning your new insert in the fireplace will be safe. Four simple steps will make this process much smoother: preparation, selecting the right unit, the installation, and lastly, using your new insert.
A crucial first step in the preparation phase is selecting the proper company to work with. There are many businesses advertising cleaning and inspection services, so how do you make sure you select the right one? I highly recommend looking for a professional with not only NFI (National Fireplace Institute in the USA) Master Hearth Professional certification, but who is also a CSIA (Chimney Safety Institute of America) certified professional. In Canada, look for a WETT certified installer. We vetted fireplace experts throughout the USA and Canada and we most certainly have one fairly close to you. Click here to locate the closest one to you.
As always, check the reviews online and references for any company you are considering.  Knowing the right questions to ask can be a key part of selecting the right person for the job.  In the USA, the code requires a "level 2" inspection of the chimney and fireplace before installing an insert. A professional company that inspects your fireplace and chimney will provide documentation on the inspection as well as for any suggested repairs. Always ask questions if there is anything you don't understand.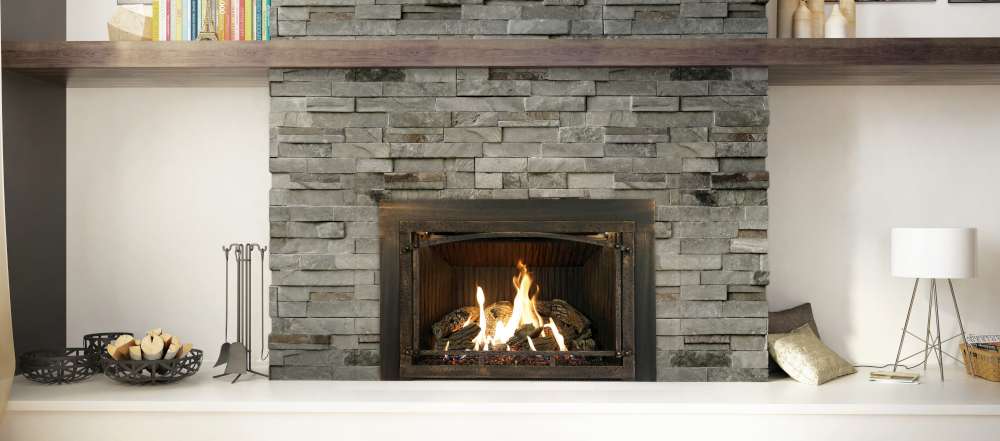 After your chimney and fireplace have been cleaned and inspected, the next step is deciding what insert you should purchase.  The selected product should be tested and certified for the specific type of fireplace in your home, your professional will be able to assist with that as well.  The first question to ask yourself is, "what do I want this insert to do for me?"  Do you want the unit to heat your house or simply provide supplemental heat? Are you looking for savings on your current heating bill? Do you want a heat source in case of an extended power outage? Are you mainly looking for the ambiance of a beautiful fire and any heat is a bonus?  All these questions will help determine what type of insert you would be the happiest with. Different fuel types will have both benefits and requirements, so be sure to let your professional know exactly what you want your insert to do.
Obviously, the insert needs to be installed correctly, which includes meeting local and national safety codes.  I recommend having the chimney relined, this process will ad some initial cost to the project, but without going into lengthy details, relining your chimney will not only be the safest option, but it will ensure that your unit operates at the highest efficiency possible.  The proper installation will not only allow you to use your unit with confidence but will allow you to get the most benefit possible from your investment.
Lastly, don't fall under the cliché category of "I don't need to read the instructions", even if you select a fuel type that you are familiar with, the advances in technology in this industry have changed the way that even wood burning fireplaces perform.  Familiarize yourself with your insert, you won't have to know all the technical details, but read the manual provided carefully, paying special attention to the sections on how to use the unit properly and always remember to avoid taking shortcuts. Observe the safety guidelines, keep your unit clean and serviced properly, and you will be able to safely enjoy your insert for many years!