True story:
You know that kid who always gets picked last for street hockey or baseball? That used to be me… a sad, lonely loser until… smoked salmon changed everything! You see, I was invited to parties mainly because people felt sorry for my wife. One day, I decided to bring a smoked salmon to a party and then, like Cinderella I turned into the belle hunk of the ball!
I became a minor celebrity, everyone wanted me to their party. At first, I thought it was because of my charming personality and witty repartee.
Until… I forgot to bring my salmon. I was told in no uncertain terms never to come back unless I was preceded with a smoked salmon. And in fact, told to bring two salmons instead, so they could overlook my glaring personality flaws. And only if I stood in the coatroom for the duration of the party, as per usual. (However, for 2 salmons I was allowed bathroom privileges. Score!)
The lesson? A smoked salmon covers a multitude of sins.
You too, could experience the warm confines of a coatroom, if you carefully follow my directions below.
Cold vs hot smoke
Cold-smoked salmon is very delicate and moist. Typically, you can buy it vacuumed packed, but it will never be as good as homemade.
For cold-smoking, you must first cure the fish with a salt brine (recipe below), then slowly smoke it between 70-90 °F (20 to 30 °Celsius) for at least 18 to 24 hours (that's 18 to 24 in metric).
If this process interests you, there are a variety of inexpensive 'Cold Smoke Generators' available. Some are simple, others are electric and automated. Talk to your WE LOVE FIRE dealer; they can point to the pros and cons of each unit.
Then, once done, the fish should rest for about 24hrs in your fridge prior to serving.
Hot Smoke
For this article, we will be discussing primarily the 'Hot Smoke' method.
This is probably the one you are most familiar with. Using your BBQ or smoker and favorite wood on low temperature.
Depending on how 'moist' or 'dry' you like your salmon, you will need to adjust your smoking time and temps accordingly. For moist, I recommend 130 to 145 °F (55 to 65 °C) and for dry not more than 165 °F (75 °C). Of course, you know the temperament of your cooking appliance better than I do, so you may need to experiment. If your first experiment doesn't work out too good, save it for your friends with that stinky coatroom. That'll teach 'em!
Brining
If you read my other articles on Low n Slow (and why wouldn't you? I am deeply offended you haven't yet. No smoked salmon for you!). You will note that for smoked turkey (Link), you 'might' be better not to brine.
However, this is not true for salmon. Salmon flesh takes to salty, sweet, and spices like duck to PB and J.
At the end of this article, I share my secret brine recipe which got me the coveted 4.5 out of 5 'coatroom' rating from somewhere in my imagination.
Skin or without skin?
This is entirely up to you. Because we are smoking at low temperature, it will readily take to the fish, skin or no skin.
However, you can make something tasty out of salmon skin. The Japanese call it 'Shaka no kawa yaki'. I think. (Forgive my accent, been a while since I ordered sushi).
Once smoked, take the skin off and brush it with sesame oil and a light sprinkling of sea salt. Then grill until it turns crispy. It's a nice treat but tastes quite 'fishy'. You can crumble it on top of salads and slake your thirst with some sake, for goodness' sake.
Albumin
Albumin is a dirty 7-letter word in the world of smoked salmon aficionados. It's a white gunk like substance that pools on top of your salmon and ruins its look. It doesn't affect the taste, however. Here is what it looks like: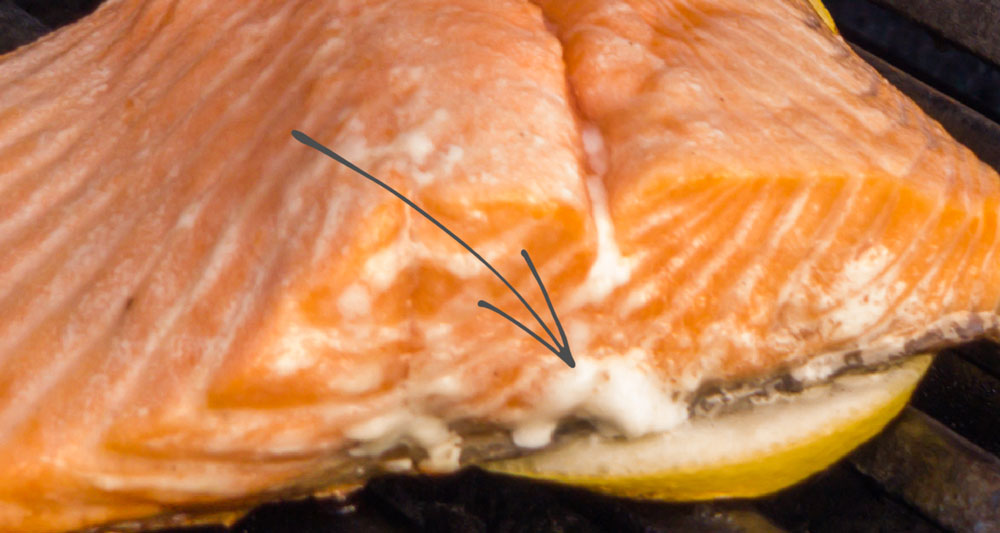 Albumin forms if you put cold salmon immediately inside a hot smoker. This shocks the muscle fibers to contract quickly (for us guys, think of a dip in a cold swimming pool) and squeeze out this liquid, which then congeals on the surface of the fish.
How do you avoid it, you ask? This readership is wonderful. You ask the most probing questions…
After brining, rinse the salmon over cool water and pat the excess moisture with a paper towel. Let the salmon rest uncovered in the fridge for about 24 hours. This will create a pellicle that may slow albumen surfacing and help smoke adhere better.
Better yet, let your salmon rest on the counter for a few minutes to bring it closer to room temperature. (Taking care not to overdo it, you don't want food poisoning). When you start your smoker, immediately place your salmon inside to allow the flesh to slowly get up to temperature.
Bonus! Since we are in a Japanese mood, here is a little haiku to brighten your day:
Summer BBQ
A tasty salmon, inhale!
Ugly albumin
Wood
Salmon is better with milder smoke aromas such as maple, alder, and other.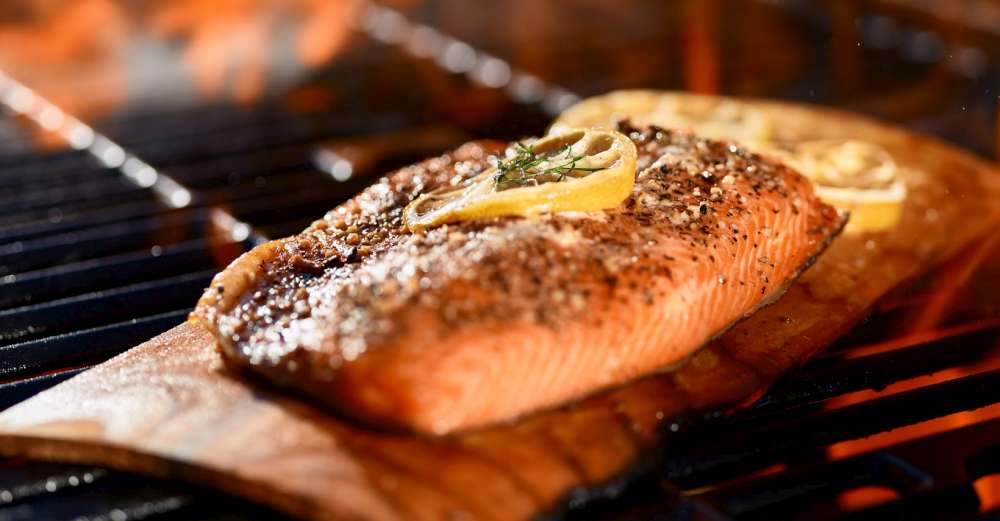 Planking
If you don't have the time or the appliance to smoke, you may want to try cedar planking on your grill. You can find them many places online or at your local WE LOVE FIRE dealer.
Soak your plank for about 1 hour in water (so it doesn't catch fire)
Warm the grill to 350 to 450°F (175 to 230 °C)
Place the soaked plank over direct heat and close the lid.
Once the plank starts to smoke and char, turn it over and place the salmon on it.
Keep an eye on it, so it doesn't overcook.
Presentation
Salmon really benefits from a good presentation. Don't overthink it; some grilled lemon / lime slices, weeds (dill, fennel, or other for decorative purpose).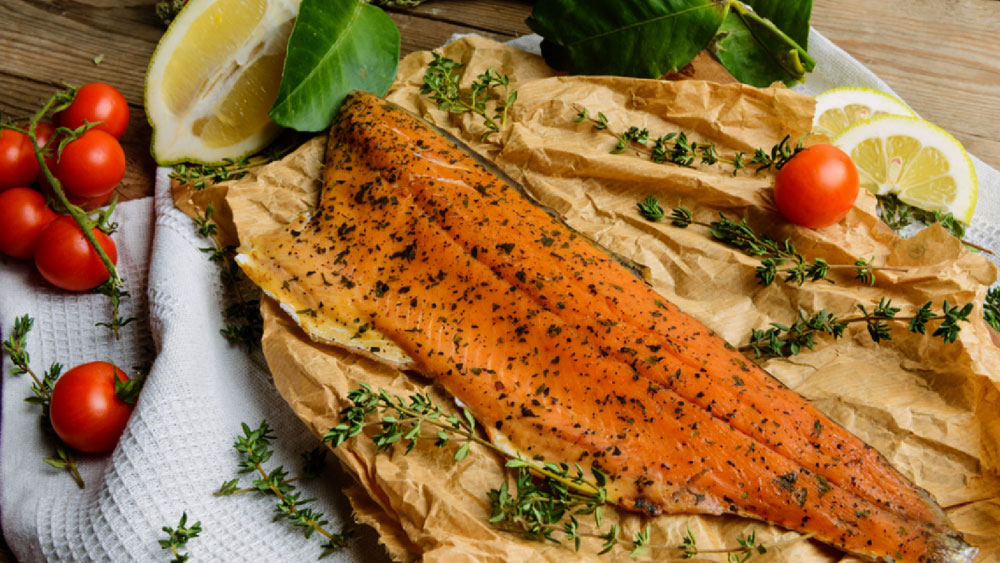 If you have a pale fleshed salmon (typically Atlantic) you may want to color it up a bit by sprinkling smoked paprika or chipotle powder.
A popular and quick presentation is to serve Salmon on a cutting board.
Recipe
At long last! This long-winded article is coming to an end! The best sentence of any speech or article is: "In Conclusion".
Since you held out so long, I will reward you with my recipe. No quantities are provided since you will need to adjust for weight / quantity or taste. I trust your judgement. Also, you can't blame me if something goes wrong.
Southern Comfort / Maple Syrup / Chipotle Smoked Salmon Recipe
Brine:
Mix the salt brine (ratio 1 quart ( 1 l)) of cool water to 1/3 cup (2 ounces (ca. 75 g)) large grain kosher salt. You may forego water and use alcohol (Southern Comfort) and maple syrup instead in the same ratio. Keep in mind, the salmon does not have to be drowning in liquid. As long, as it is covered it'll be fine.
Sweetener — to taste — avoid cheap white sugar. Instead use maple syrup, natural sugar, honey, etc.
Spices — Multicolored whole peppercorns, chipotle either powder or wet, Montreal Steak Spices (it has a lot of salt, take this into your calculation for your salt brine).
Liquor — I find that Southern Comfort adds a nice touch. And once I drink an ounce or two, I also put some in the brine. Full disclosure: I am not, repeat not, currently sponsored by Southern Comfort. Hear that Southern Comfort?
Put your salmon/brine into a plastic bag or nonreactive dish. Let sit in the fridge for a minimum of 4 hours. Overnight is better.
You can rinse the salmon and pat dry and brush with Maple Syrup. Keep some pepper kernels on the salmon. They have softened up, look colorful and are tasty.
Serving:
Think of smoked salmon as the bacon of the sea. It can be used in a myriad of ways: Soups, pizza, dips, pasta dishes, salad, as a garnish or filet. You name it. Leftovers will never go to waste.
But an easy to prepare method is to leave the salmon on its serving plate / cutting board with a soft cheese such as Brie, French bread, good quality crackers, walnuts, capers, various jams / coulis and other sides. Let your guests make their own bite-size slice of heaven.
Follow the steps highlighted above, and I guarantee you will see the inside of some of the fanciest coatrooms in your life.
Shameless plug
I will soon be publishing a table book entitled "Coatrooms of the world". Please send me your email and some cash to reserve your copy.
Until then, I look forward to not poisoning you with more articles on Low n Slow cooking. And please visit your local WE LOVE FIRE dealer for real BBQ advice.