You recently move into a home that has a gorgeous old fireplace. As the cold weather approaches, you are anxious to start up that warm, cozy glow... but there is a problem. There is a hole in your fireplace. A fireplace is the heart of a home. While you may feel you need to replace it or eliminate a damaged fireplace, you might just need to patch the hole or install a fireplace liner, also known as a fireplace insert.
We also recommend you familiarize yourself with the layout and working order of a wood-burning fireplace. "If improperly installed, operated, or maintained, wood-burning fireplaces are potential sources of house fires. " - DIY Network.
WHAT YOU NEED TO KNOW ABOUT PATCHING A HOLE IN YOUR FIREPLACE
Your first option for repairing a hole in your fireplace is to patch it. You can hire a professional to do this, or if you are game, you can do it yourself with a little guidance. There are a few things to consider before you start.
Consider the Scope of Work | It's crucial to consider how large a repair your fireplace needs. A small hole, or damage in the mortar, is a straightforward job. Any considerably sized hole may be too unstable to patch yourself. In this case, you may choose to install a fireplace liner to comply with safety and environmental standards.
Make Sure You Have the Right Tools | Before tackling your fireplace project, consider which materials you plan to use. Ensure that you have the right materials in terms of mortar, trowels and brick.
Mortar - While mortar is a little trickier, is by far the best and most permanent fix for your brick holes. It is, after all, the original material used to build your fireplace. If, however, you are a little nervous, you can opt for an acrylic mortar that will do a fine job as well. For the detailed rundown on which product better suits your needs, consider this how-to guide from DIYHomeOwnerHero.
Trowels - As with any project, the right tool is as essential as the method. Bob Vila suggests, "Pick up some mortar on a large trowel and then, using a pointing trowel, work smaller amounts into the horizontal and vertical gaps between the bricks. You might find it easier to fill the vertical joints with a tool known as a margin trowel. Use the flat edge of the trowel to even out your work and scrape off any mortar you get on the face of the bricks."
Brick - Be sure of your bricks! If you are replacing bricks within the firebox, you will need specialized bricks that withstand the heat. "Unlike regular brick, which is normally made of clay, firebrick is made of refractory ceramic materials. The chemical composition of these materials (which is around 23% alumina and 73% silica, with the remaining 4% being ferric oxide, titanium, and other metallic oxides) means that firebricks can withstand high temperatures – up to 1,700°F – whereas standard bricks begin to degrade at 1,200°F." -
PREPARING TO PATCH THE HOLE IN YOUR FIREPLACE
Remove the old brick and mortar. "If the brick is not needed or past being of any use through damage, the best and easiest method is to drill it full of holes and then knock it out with a hammer and bolster." - DIY Doctor.
Match and cut your new bricks. You can use any bricks to repair your fireplace if you are on a budget or if the repair area is out of initial sight. However, if you plan on doing a high-quality repair, "Sometimes a single type of brick will not give you the full range of colors needed to match the original wall. In this situation, try blending two or more types of brick that work together to give you the range you need."
Match and mix your mortar. Fireplace mortar is slightly different in consistency than regular mortar." Since the mortar will be exposed to heat you can't use standard mortar. The heat will cause it to crack and crumble. You can purchase refractory mortar at most building supply stores and fireplace shops. It can also be purchased on line." - doityourself.com.
Lay your brick. Apply a layer of mortar of 1/16 to 1/8 of an inch thick with a trowel to each brick before you lay it. Use your hand to smooth the mortar between the bricks if necessary.
You may not feel confident enough to fix your fireplace hole yourself, and you may not want to pay someone to do it, masonry workers are few and far between and often expensive. Even with the best patch job, you may not get the permanent and efficient results you want. Consider the easiest solution to fixing holes in your brick fireplace.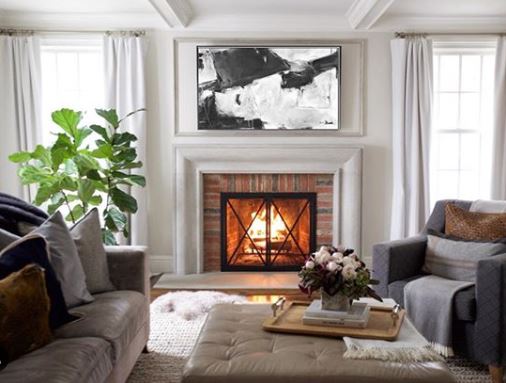 WHAT YOU NEED TO KNOW ABOUT INSTALLING A LINER IN YOUR FIREPLACE
Cost - Installing an insert or liner for your fireplace is one of the simplest and safest ways to fix your fireplace. A liner for a wood-burning fireplace will range from $2000 to $4000, with installation fees running you $750 to $1500 depending on the job. While installing a liner may be more expensive than a DIY fix, there are excellent reasons for choosing a liner.
Benefits - There are substantial benefits to choosing a fireplace liner. A quality fireplace liner "...offers a perfect balance between the efficiency of wood stoves and the beauty of stone or brick facades that are so typical of older fireplaces. Your home will be more energy-efficient and pollute less." - WeLoveFire.com. You get the burning wood you love, efficient heating and support environmental initiatives for upwards of 30 years.
Maintenance - Maintaining your liner requires the same optimal considerations of an original brick fireplace. You will want to clean it regularly and obtain a yearly inspection and sweep to keep your fireplace efficient and safe. So really, there are no downsides.
The Type of Wood you Burn - You may be wondering if fireplace liners, require a specific type of wood. The answer is no. "As with most appliances, hardwood is preferable. Beech, oak, cherry-wood, birch and maple trees are good examples." - WeLoveFire.com.
The choice is yours. You may want to try the DIY approach, but you may decide that this year is the year to invest in optimizing your heat source for efficiency and safety.
It can be challenging to find a reputable and knowledgeable dealer for fireplace liners. We Love Fire is a network of over 290 privately owned fireplace and hearth stores throughout North America. Each one is dedicated and passionate about matching quality heat sources with your family's unique comfort and style preferences. We are waiting for you to let us know how we can help.