After years of loyal service, does your old grill need retirement and require replacement? Before heading to the dealer, make sure you find out about two 2018 novelties, one of which might be your perfect match!
The new Rogue R525 series by Napoleon
For the slightly tighter budgets, the Rogue R 525 by Napoleon is a great mix of power and wonderful functionalities at the best possible price. The Rogue 525 SIB version features three distinct grilling methods; direct or indirect flame, infrared and, as an option, charcoal.
It offers a retractable shelf on each side, great for space saving, a detachable basket perfect for seasoning and sauce, a temperature gauge as well as the renowned wavy grills either made of stainless steel or porcelainized cast iron.
But what actually distinguishes these new Rogue products from its predecessors, is the large number of grills it can produce and the ease with which it cooks them.
Only those three improved models offer such characteristics as, up to 5 burners, enhanced power of 48 000 to 57 000 BTU and a cooking surface that varies between 660 and 754 Ft2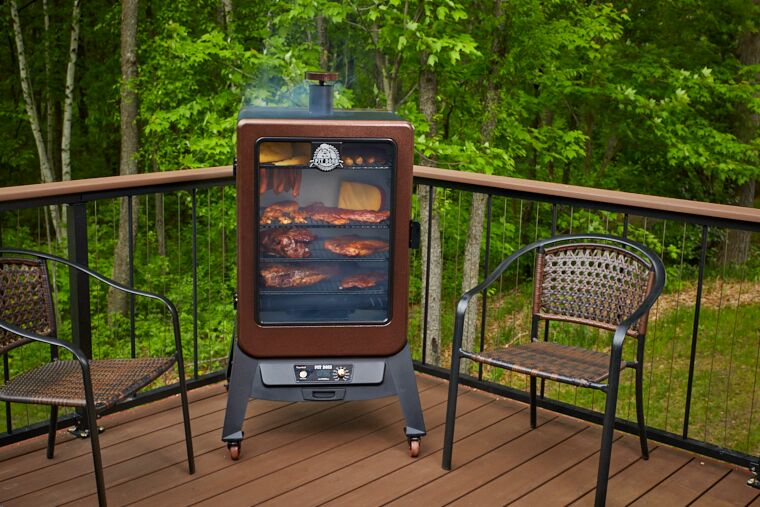 Copperhead 5 vertical smoker with pellets by Pit Boss
Real fans of smoked products will surely fall for the new vertical smoker with pellets by Pit Boss. It features for five porcelain coated racks that, once combined, offer 1820 square inches of  cooking surface and twice as much capacity as traditional barrel shaped smokers. Temperatures ranging from 150 to 450 OF allow for low or high temperature smoking, meaning it can be used for salmon, cheese and dried meats alike.
Among other great features, this smoker will work up to 24 hours without needing to be fed new pellets, it is numerically controlled as well as being equipped with a wide view window allowing for easy monitoring without heat loss.
The Copperhead 5 retails for $699 USD and $899 CAD. Smaller models are also offered.