If you have had your barbecue for several years, time and your delicious grilled meals might have left their mark. How to know you need to change it? Here are 4 signs that do not lie and two options available in this situation.
No matter what type of grill, you must apply the same approach. Inspect your barbecue from the outside to the inside. A simple glance is enough.
Grids and rust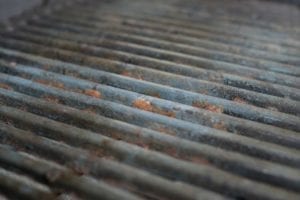 When you will use your barbecue for the first time during spring, check the grates, especially if they are made of cast iron or chrome. With time and the use of a cover, moisture will likely build up inside your appliance. "We've always recommended people, even during winter, to leave their grill outside and not store it inside a shed since the moisture accumulation can lead major pieces to rust," says François St-Martin, director of Maçonnex's Stoves and Fireplaces Division.
If you notice rust on your grates, two cases prevail.
Surface rust can be removed by brushing it.
The rust is so inlaid that the grid has expanded, even doubled in size. If so, maybe it's time to change some parts or buy a new grill if you spot the signs of deterioration that follow.
Damaged deflector
Remove the grids and look at the heating parts. Just above the burners, you will find the deflector, the plate that spreads heat evenly. "When it's punctured by rust, it's not doing its job properly. It brings hotspots, that is to say, places where the temperature is much higher, "explains Mr. St-Martin.
Bigger holes on the burners
Proceed your inspection with the burners. These are small tubes mainly made of stainless steel of good or poor quality depending on the grill. They are designed with small holes that let the gas out when needed. If these holes are enlarged or if they are so big that they now form only one hole, start shopping.
The grill's external structure has been hit
If you tend to use your appliances until the end andown an entry-level barbecue bought at a hardware store, the chances are high that the external structure reflects bad weather and the many times it has been burned. The lid and the pit punctured, the cart becomes a little unstable, and rust builds up.
Replace specific parts instead of buying a new grill?
The internal parts mentioned earlier can be replaced. Universal burners and grids fit in any appliance. As for the deflectors, it is often necessary to replace it with the company's model because of their specific clamping systems. "But these are all temporary pieces to stretch the lifetime of a year or two," says the director.
How much it costs to replace the grills and burner? For about $100, you will be able to use your barbecue for another 12 months. The burner will take a slightly larger share of your budget ($50), since grids can cost between $25 and $50, depending on the material. These amounts are valid for entry-level grills.
For higher quality barbecues, beyond the warranty, a burner and its chrome grate can cost, respectively, between $115 and $150, and $35 and $40. A regulator is approximately worth $20. Usually, for many appliances, stainless steel grids are covered by a lifetime warranty. "In many cases, the only difference when it comes to high-end products is that we can buy directly from the manufacturer without having to go through sub-distributors or importers," says St-Martin.
High-end grills' durability tends to be significantly superior. A homeowner can spread the investment, $1,500 for example, over 10 to 15 years, and sometimes even more, while low-quality barbecues ($500 to $600) usually have a five years lifetime.
For more information, please contact your local We Love Fire dealer.