We've already been fortunate in some parts to feel the heat of the summer sun, and if you know what's good for you, that grill's been going for some weeks now! While we are amidst a rollercoaster of rules and regulations when it comes to social distancing, we can still make BBQ season count – whether it's just for us or for a group of friends and family. Here are a few great tips for setting up your yard and grill to make the most of every sunny day!
THE YARD
Whether it's just for your immediate family or for your friends and family, comfortable and practical seating is a must. You'll also want to make it cozy with a few lights or special features. Here are some simple suggestions to bring your yard to the next level.
Seating
Take half an hour sitting out in your yard and imagine the best BBQ ever. Where are people congregating? Do they hang out by the pool? Do they eat in a formal setting like a dining table, or do you prefer a more relaxed vibe? You don't need to spend a fortune to spiffy up your yard. Even when you don't have guests, you will be able to enjoy and appreciate a styled outdoor living space. Try sourcing the following from online community sale pages, thrift shops or even on sale at local home and hardware stores. Don't forget to space them apart according to social distancing regulations.

A hammock is such an easy addition that adds a pop of colour, a relaxed vibe and a place to unwind all at once.
Plastic Adirondack chairs are ever-practical around a fire pit, beside the pool or even on the deck. Try adding the drink holder accessory for comfy and practical seating.
Do you have a set or two of stairs? Stairs make great informal seating, especially for BBQs. You can add an array of thin seat cushions to make it extra comfortable and cute.
Accessorize
A few pops of colour and lighting can accent your yard in a way that makes it feel magical. Plants and flowers are natural décors, and even your BBQ itself can lend to the design. Here are a few easy ways to spiffy up your yard.

Mini patio umbrellas add shelter from the hot sun while also adding colour and style to your outdoor space. Whether it's by the pool or in a designated kids' area, the break from the heat will be welcomed.
Solar string lights and lanterns. String lights are so affordable. Whether you opt for buying them online or at the dollar store, the soft lighting accent will transform your yard into a paradise at night. Old lanterns can even be upcycled by adding a battery or solar-operated candle inside.
Privacy screening. Privacy is essential for letting loose and feeling like yourself. You don't need expensive privacy screens; you can upcycle pallets (often given away for free on the side of industrial roads) to make a wall behind your seating area. You can also buy flowy sheer curtains at a second-hand store and use them as shelter on your deck or pool area.
Throw cushions and rugs. You can set the tone for your outdoor space with just a couple of outdoor cushions and an area rug. Look for colour, motif, and texture. Whether it's second-hand or on sale from a home hardware store, you'd be surprised how everything ties in with the simple addition of textiles.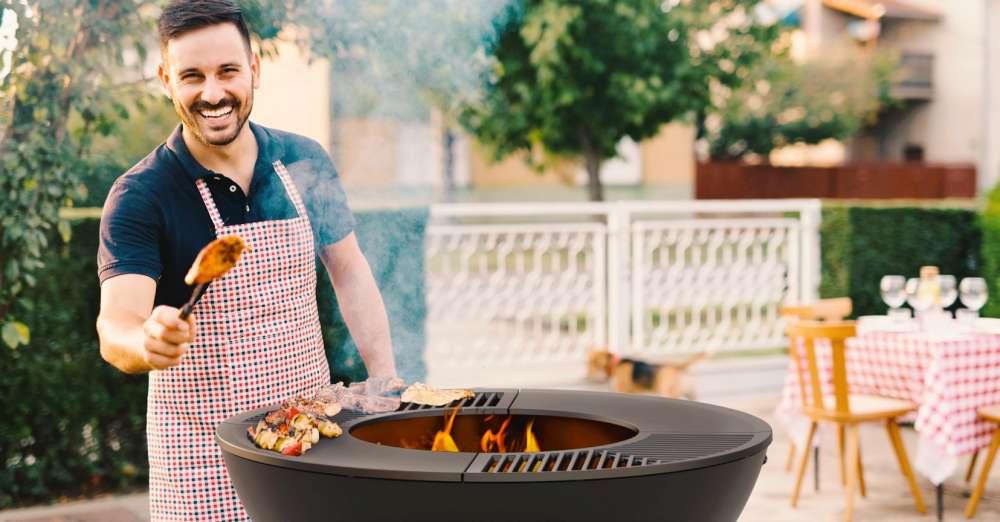 THE GRILL
If you are a serial-griller, you know that your grill choice says a lot about you and your BBQ style. If you haven't found "the one" just yet, let us match your style to a grill for you now. Don't be afraid to try something new either; who knows, maybe you're a charcoal kind of griller after all!
The Hipster. A round charcoal grill is about as fantastic as it gets. Not only are charcoal grills fiercely good-looking, they're oh so groovy in terms of the cook too. Here's what to look for if you're looking to impress the neighbours or if you're just really into grilling over hot charcoal…sorry, I was daydreaming about the smell - back to what to look for in a charcoal grill!

The kettle grill is basically a round tub of steel or porcelain with a removable lid. The great thing about kettle grills is that most are lightweight and portable and require less charcoal.
Kamado grills are made from thick ceramic and have the shape of an egg. They are much heavier than the kettle grills. Kamado grills take 15 minutes to half an hour to heat up to the desired temperature and use hardwood lump charcoal as fuel.

The All-American Go-To. A gas BBQ is about as all-American as it gets. A good gas grill really flexes its muscles and might even make you feel like you've got some to flex too. Make sure you spend a bit of time getting to know your gas BBQ since they usually have a sweet spot. When looking for a gas grill, make sure to consider the following.

Long burner warranties
Good grates
An electric ignition system

The Adventurer. If a typical grill is too "boring" for your liking, you can learn the art of grilling over an open fire. Experiment with different kinds of make-shift grills. Just be sure to respect the regulations of where you live for safety.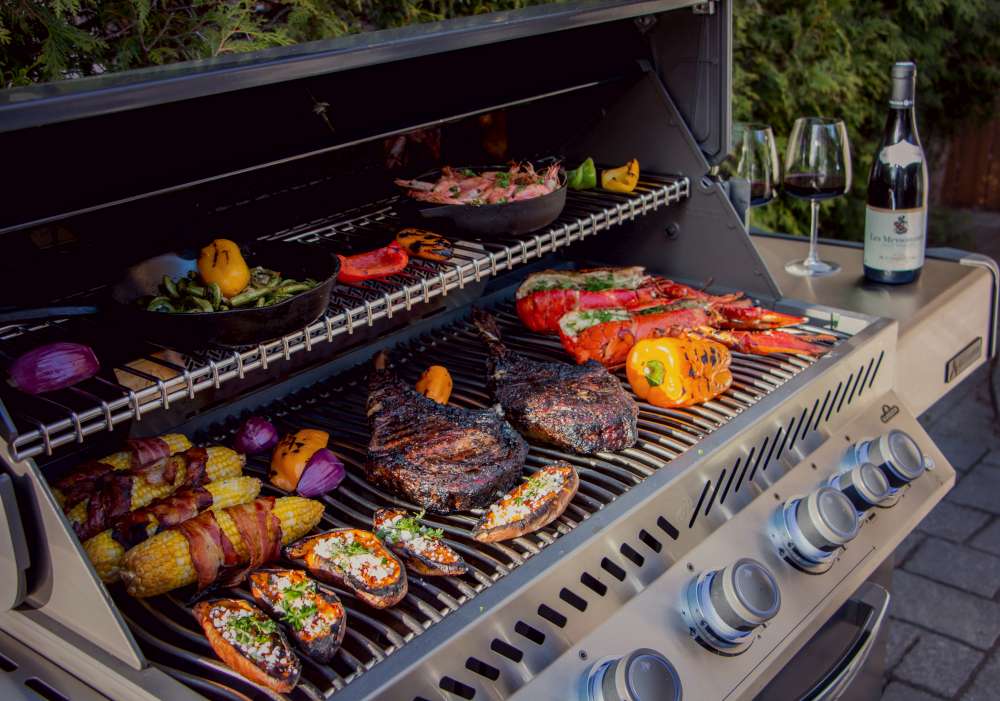 THE FOOD
We can all agree that the best thing about a BBQ is the food! A juicy burger, a rainbow of grilled veggies, fall off the bone ribs…oops, got distracted again, just one of the hazards of writing about grilling. SO – how can you spice things up in terms of your grilling? How can you get that full swing BBQ feel even if it's just you and your household? Here are a few tricks from SpoonUniversity that will elevate your grilling and make even cooking for one a party!
Tri-Tip Cuts. Grilling with tri-tip cuts of meat will allow everyone to get their preferred cook without hassling the cook. Thinner ends will be well done at the same time the thicker pieces reach a perfect medium-rare.
Rather than HUGE burgers and giant portions, go bite-sized. Trays of mini-sliders, corn on the cob rounds, mini-dogs with the works and so on will allow you and your guests to enjoy each other's company while munching away on delicious food.
So, there you have it – the secret to the perfect summer BBQ, pandemic or not! If you are looking for more inspiration or need help selecting your grill, We Love Fire is the resource you need. We Love Fire is part of the United Buyers Group, a network of over 290 privately owned fireplace and hearth stores throughout North America. That means you get 290 grill-passionate teams at the single click of a button.