Who doesn't like the wonderful taste of grilled food? If you're planning to purchase a grill in the near future, you might be wondering what type of grill you should get. Many years back, everybody had a charcoal grill. Going back just a few years, it was the gas grill that was in style. Now the charcoal grill is making a comeback, and pellet grills are gaining in popularity.
What grill best suits your needs? Read on to have more insight into each type of grill you can find on the market.
Gas Grills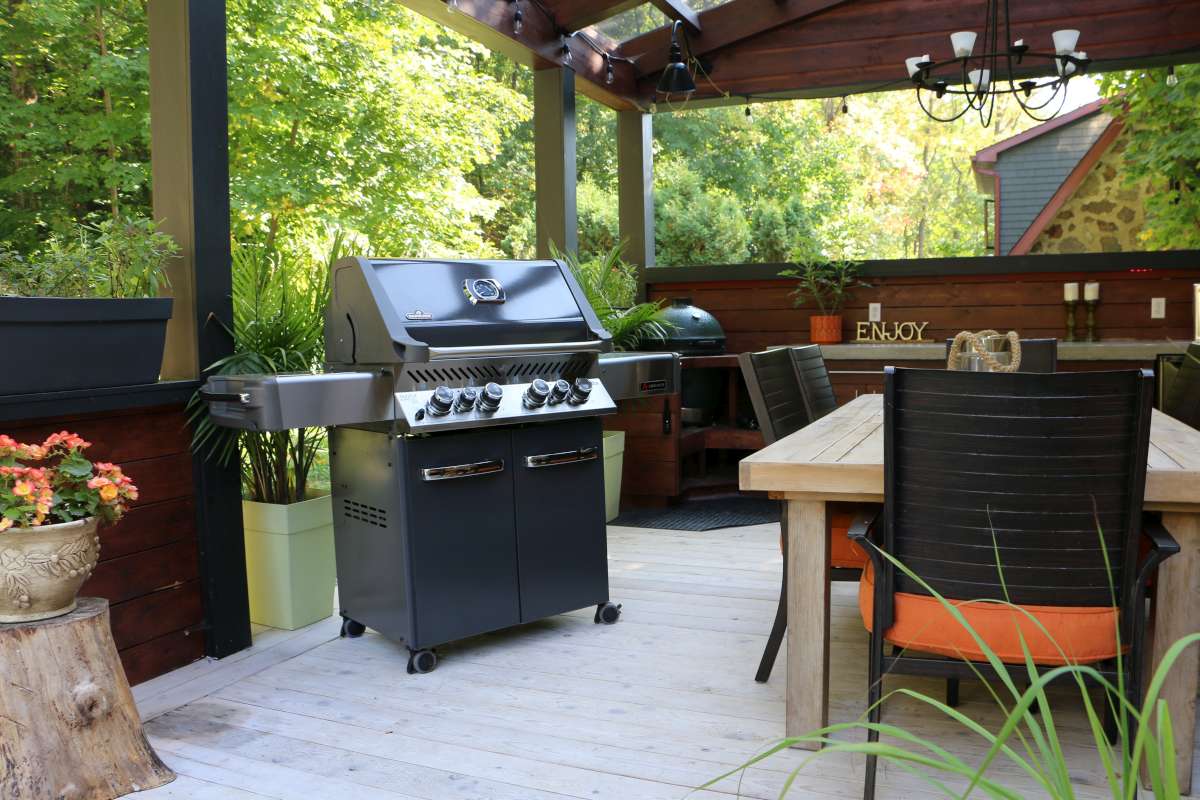 Gas grills are the most common type of grill you can find today. Available in a wide range of prices, they're very versatile.
Gas grills are very convenient. They light up instantly and heat up fast.
You can use them for direct or indirect cooking. For direct heat, cook your food over the open burner. For indirect heat, open a burner on one side of your grill, but leave the one on the other side off. Put your food over the unopened burner and close the lid. Your food cooks with the heat, like in a convection oven, without touching the flame.
Many accessories are available with gas grills to make your experience more enjoyable. There are side burners, rotisseries, charcoal trays, smoker boxes, and built-in food thermometers, among others.
As each accessory adds to the price of the grill, many choose to do without. However, in some cases, you can still use your grill in a variety of ways, without the extras.
For example, in lieu of a smoker box, wrap your soaked wood chips in a heavy-duty aluminum pouch, and poke some holes on top.
The one thing some might criticize about gas grills is that they add little flavor to the food compared to charcoal or pellet grills.
If you plan to cook for large groups of people and are often short on time, a gas grill would be a good option to consider.
Charcoal Grills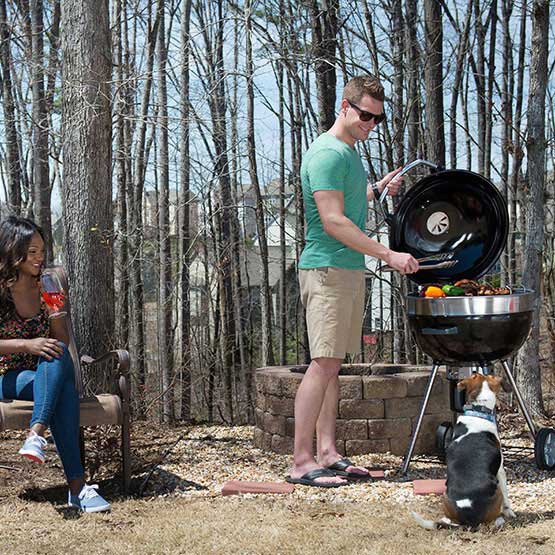 What most love about charcoal grills is the distinct flavor the smoke from the coals brings to the food.
Their price range is very wide, depending on the size and type of charcoal grill you are looking for.
Charcoal grills are also versatile, but they need more manual input to operate properly. Temperatures are adjusted manually by vents at the bottom and top of the grill. The more air going through, the hotter your grill gets.
You can cook with both direct and indirect heat, although for indirect heat you need to place your coals strategically to get a hot and a cold section.
There are two types of charcoal grills.
The kettle grill is basically a round tub of steel or porcelain, with a removable lid. The great thing about kettle grills is that most are lightweight and portable, and require less charcoal.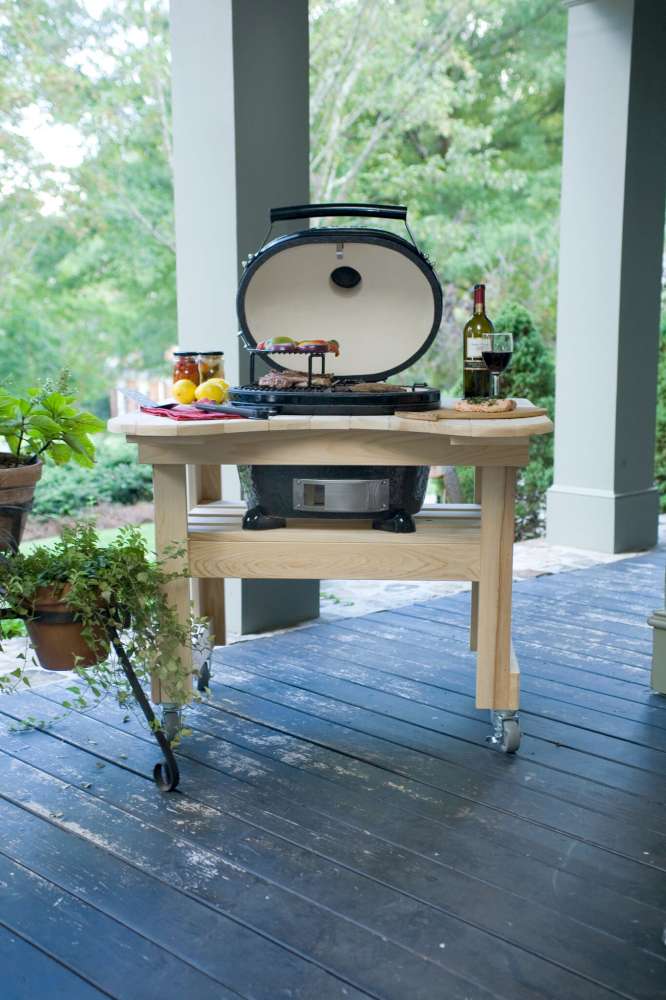 Kamado grills are made from thick ceramic and have the shape of an egg. They are much heavier than the kettle grills. Kamado grills take 15 minutes to halh an hour to heat up to the desired temperature and use hardwood lump charcoal as fuel.
Using a heat deflector with your kamado grill gives you even more versatility. It provides a consistent heat like an oven and allows you to bake pretty much anything on your grill, even cheesecakes.
With the right technique, both types of charcoal grills can fill in as smokers.
If you have the necessary space and the proper support for a heavy grill, you should seriously consider the kamado grill. It gives you that wonderful, distinct flavor, and is very versatile.
Pellet Grills
Pellet grills are hybrids between grills and smokers.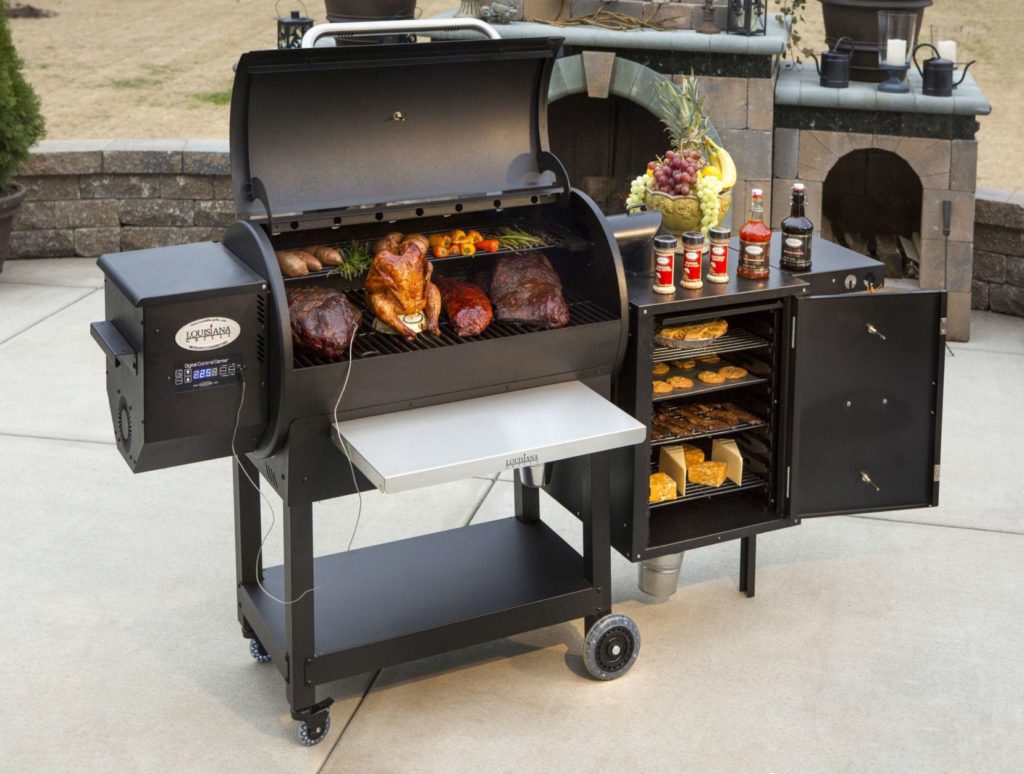 They're easy to use; simply load the hopper with pellets and set the controller. The temperature is controlled electronically, which means there are very few adjustments to make throughout the cooking process.
Because of their electronic controls, pellet grills need to be plugged to an electrical outlet, which means they're of no use during a power outage.
The constant temperature provided by the electronic controls is very convenient for longer cooking meats. It allows you to let the meat cook with very little monitoring.
Price ranges vary between a few hundred dollars to a few thousand.
Pellet grills are versatile, as you can sear, smoke, bake or roast with them. Some quality models even have a cold smoke box.
If you have a power outlet on your deck or patio, and like to both smoke and grill your meat regularly, you should take a deeper look into pellet grills. They're a great two in one solution, are easy to use, and bring that great taste you get by cooking food over a wood fire.
Electric Grills
Some might not consider electric grills as grills, per se, but they are a good alternative when you cannot have a live fire, as in townhouses or apartments.
Some models can be used indoors and outdoors. Temperature control is easy and you never run out of fuel, unless there's a blackout.
Electric grills are more affordable. Those without a stand can be found for under a hundred dollars, while those with a stand can sell for a few hundred dollars.
Which Grill Will You Choose?
Choosing a grill comes down to personal preference, but all factors should be considered. Cooking with a grill that is ill-suited to your needs can put a damper on the whole experience.
If you want your grill to become your new best friend, it's essential to analyze your needs and wants before committing to one model in particular. Most settle with the basic gas grill, but take the time to explore other options, especially if you're an experienced griller. Who knows? You might discover new grilling styles and fall in love all over again.
Talk to one of our We Love Fire partners if you need help finding the best grill for your needs.