Grilling-out in the backyard is a tradition and a way of life for millions of people.  Although charcoal and pellets are extremely popular, gas is still the king of the backyard cooking experience.
Today's gas grills have lots and lots of impressive features.  Which ones do I need?  What should I look for when planning to purchase a new gas grill?  How much should I expect to pay?  These are common questions and we'll try to shed some light on answering them.
Convenient to Use
The convenience of gas is second to none.  Simply turn on the burners and within minutes, you're ready to start cooking.  If hot dogs and burgers are your main staples, a basic gas grill will suit your purpose nicely.  But if you would like to expand your repertoire to include items like:  bacon wrapped roasts, kabobs, mashed potatoes, pizza, ribs, fish tacos, grilled potato skins, or grill roasted salmon or lobster tails (getting the idea?), you better keep reading!
Most Important
Many agree that three of the most important things to look for in a gas grill are:
Long burner warranties. Burners on gas grills are the most commonly replaced part.  Burners on low end, imported grills will normally last a year or two.  Look for a manufacturer that warranties their burners for 10 years or more.
Good grates. Look for coated cast iron or stainless steel grates to maintain steady grilling temperatures or to sear meat on.  Stainless steel is more durable and usually the preferred cooking surface.
An electronic ignition system. These are more reliable and easier to for gas to ignite than a push button piezo-type igniter.
About Burners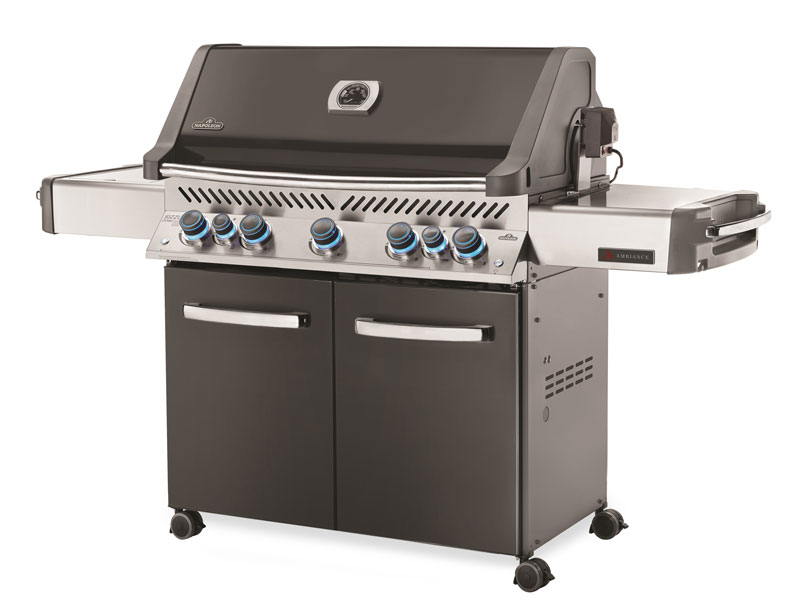 Most gas grill have two or more burners.  Grill manufacturers use stainless steel burners in many different sizes and shapes, cast iron burners, ceramic burners and brass burners.  Each burner will have tiny holes that the gas can move through.  The burners will have separate controls to adjust the amount of gas that's burned.  More gas equals more heat, meaning higher cooking temperatures.  Since the burners are the backbone of the grill, be sure to check the warranty of the burners.  Also, inquire about replacement costs and how difficult that project would be.
'Flame tamers' are very common today and are simply some sort of physical barrier between the cooking grate and the burners.  Flame tamers are just what the name implies; they help reduce flare ups from cooking.  Flame tamers also protect the burners from drippings and convert those drippings to smoke, enhancing the flavor of the food.
Infrared burners can be useful in helping to evenly distribute heat across the cooking surface.  Infrared burners can use intense heat to sear steaks or chops for sealing in the juices from the meat.
At What Temperature Should I Cook?
When cooking instructions call for searing for two minutes on each side and then reducing to medium heat for 5 minutes, what temperatures are involved?  This should give you a good idea of different temperature ranges when cooking on your gas grill.
Low                              225 - 275° F
Medium Low             275 - 325° F
Medium                      325 - 375° F
High                            375 - 450° F
Sear                             450 - 650° F
What Does "Indirect" Mean?
Indirect cooking slow-cooks larger cuts of meat by positioning the food to one side or both sides of the fire, but not directly over it.  Think of indirect grilling more like baking.  This can be achieved by not turning all the burners on in your gas grill.  Indirect cooking is usually for foods that take 20 minutes or more to prepare.  Additionally, some foods that are so sensitive that directly exposing it to the heat will dry it out or burn it, taste wonderful cooked by this method.  Obviously, the lid must stay closed to maintain the cooking temperature.
Grilling with indirect heat is usually done at a low to medium temperature, typically in the range of 225 - 300°F.  In this range, food cooks well on the inside without burning it on the outside.
What Size?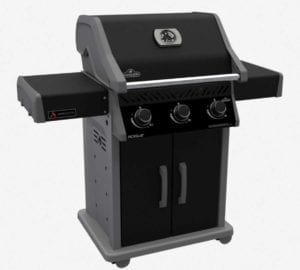 There are many, many different sizes of gas grill available. The cooking area is usually described in square inches or the number of burgers that will fit on the cooking surface.   Consider how many people you are cooking for.   How much room do you need for what you're planning to cook, just pork chops?  Or are chops, kabobs and potatoes on tonight's menu?  How often do you cook?  How versatile do you want your new grill to be?  Generally speaking, most grills for a family of four should probably be about 450 – 600 square inches of cooking area.
How Much?
Portable gas grills                      $125.00 - $250.00
Small gas grills                          $250.00 - $1000.00
Mid-size grills                            $500.00 - $2500.00
Large gas grills                          $900.00 - $4000.00
Extra large or built-ins            $2000 & up
You would be wise to stay away from the $150.00 – $500.00 low end grills.  Odds are high that you will not be happy with their performance or how quickly they end up at the curb on garbage day!  Look for solid construction.  The more stable or sturdy the grill is, the better it's built. Carefully inspect the wheels or casters.  Look at the cart.  Welded joints and/or seamless construction are preferred over a cart put together with nuts and bolts.  Stainless steel carts will last longer that a steel cart that has been painted.  Check the handle to insure your fingers are not too close to the hot lid.  And again, the burners, the cooking grates and the warranty.
Where to Shop?
These are just a few reasons that 'better' grills are priced the way they are.  We always recommend you visit your local specialty retailer [click here] to see this equipment first hand.  They will be more than happy to discuss how these options and choices can best meet your needs.  I know they're looking forward to seeing you soon.  Be careful though . . . . . they might want an invitation to your backyard this weekend!
The Brand I Love the Most
I love the Napoleon Grills. Their Ambiance Series offers upgrades that are normally found in more expensive grills. These are versatile, there are plenty of accessories to enhance my cooking experience. Napoleon is also a family-owned company that has been in business aver 40 years.