The kitchen is the heart of any home. It is where delicious meals are cooked and shared, memories are made, and guests are entertained. From the smell of freshly baked bread to the sound of sizzling pans and lively conversations, the kitchen is where we come alive and where our senses thrive. Gourmet feasts or simple breakfasts are equally important in this space since it's where we show care for ourselves and for others. The kitchen is the centerpiece of the home simply because of its relationship with nurturing.
As a future host, it's important to create a warm and inviting ambiance in the kitchen to make your guests feel at home. A farmhouse chic, yet minimalist style is a perfect way to achieve this. The blending of rustic charm and modern designs creates an atmosphere where people feel the coziness of the home yet feel excitedly intrigued by the artsy decor choices.
Without further ado, here is a guide to kitchen ambiance, a complete set of tips on how to transform your kitchen into the perfect host's paradise!
Farmhouse Chic for Style and Comfort
First, let's discuss what the farmhouse chic style is. This style is all the rage at the moment, for it romanticizes the view of a simple, rural life, often inspired by traditional or vintage elements. It is accessible on any budget and is a great way to let your creative juices flow. With the help of natural materials and a touch of vintage elegance, you too can turn your kitchen into one from your favorite Pinterest boards.
To achieve this look in your kitchen, start with the color scheme. Stick to earthy tones like whites, greys, and soft blues, but don't be afraid to go bold. While some colors will lead to a calming effect on your atmosphere, there is nothing wrong with exploring shapes and patterns. Choose backsplashes that feature browns and greens, or wallpapers that depict flowers and leaves.
Next, choose natural materials like wood, stone, and metal for your cabinets, countertops, and hardware. Mix and match these organic materials for an authentic feel and to add texture to your space.
For some extra vintage elegance, consider incorporating some antique pieces into your kitchen decor. For example, a set of antique dishes can add a touch of rural charm to your kitchen. You can also add some more farm-inspired touches like a woven rug, wicker baskets, or a set of mason jars filled with fresh flowers.
The right lighting can make all the difference in setting the mood in your kitchen. Consider adding a mix of task lighting, such as under-cabinet lights or pendant lights, and ambient lighting, such as dimmable overhead lights or candles. For the bulbs, keep the colors warm, or opt for colorful strip lights for an eclectic look and fun party trick.
With Ambiance®, get a magnificent indoor fireplace for your kitchen. A three-sided gas fireplace is a great way to add an elegant art piece to your kitchen island, while an electric fireplace mounted on the wall in your kitchen acts as a luxurious focal point.
To accompany the atmosphere created by the lights and fireplace, put together a playlist of your favorite tunes to play while cooking or entertaining. Consider the occasion and your guests preferences when choosing your music selection. With the farmhouse aesthetic, the music that fits best with this ambiance tends to be soothing and gentle and will evoke a sense of nostalgia. Folk music, particularly acoustic and traditional styles, or classical music can be a good fit when hosting in your kitchen.
Plants will add a touch of nature and fresh air to any space. Consider adding a few potted plants or a small herb garden on your countertops or windowsill. This not only adds to the ambiance of the kitchen but can also be practical for cooking, it is a great conversation starter, and adds to the overall sublime look of a farmhouse-style kitchen.
Whether you're hosting a dinner party or just enjoying a meal with your family, setting the table can truly elevate the ambiance of your work area. One idea is to add a picnic-style tablecloth, rustic placemats, and colorful cloth napkins to create a more formal setting. Add some decorative elements like fresh flowers or candles to tie the whole look together.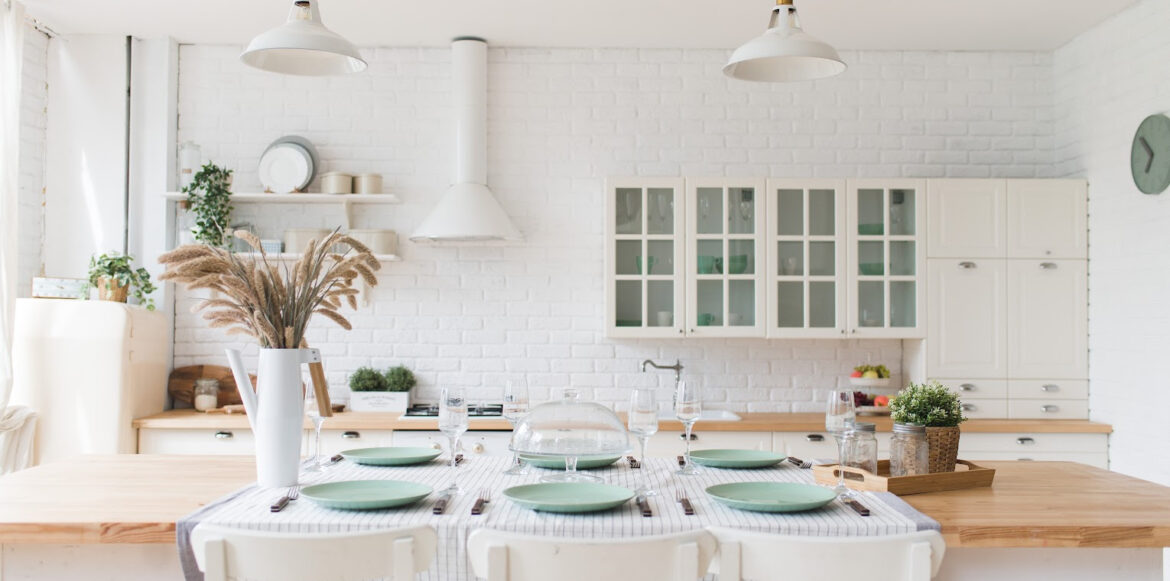 Minimalism at a Maximum
Now, let's talk about how to keep your space minimalist, considering all the points mentioned above. While the farmhouse aesthetic is usually one of maximalism and clutter, one of the keys to a minimalist kitchen is to keep the trinkets to a minimum.
This means only keeping essential items on your countertops and in your cabinets. Try to find creative storage solutions, such as hanging pots and pans from a ceiling rack or using a wall-mounted spice rack to free up counter space.
Open shelving is a great way to showcase your essential kitchen items while creating a minimalist look. Use open shelves to display your most used dishes, glasses, and bowls. This will make it easy to find what you need while also creating an organized and visually appealing space.
As a way to embrace minimalism, you can also select appliances that are simple and functional. Avoid appliances that have unnecessary features or take up too much counter space. Opt instead for appliances with clean lines and a tapered design.
For more design inspiration or to get more information on minimalist farmhouses, check out Simple Stylings' Top 5 Friday: How To Get The Modern Farmhouse Look.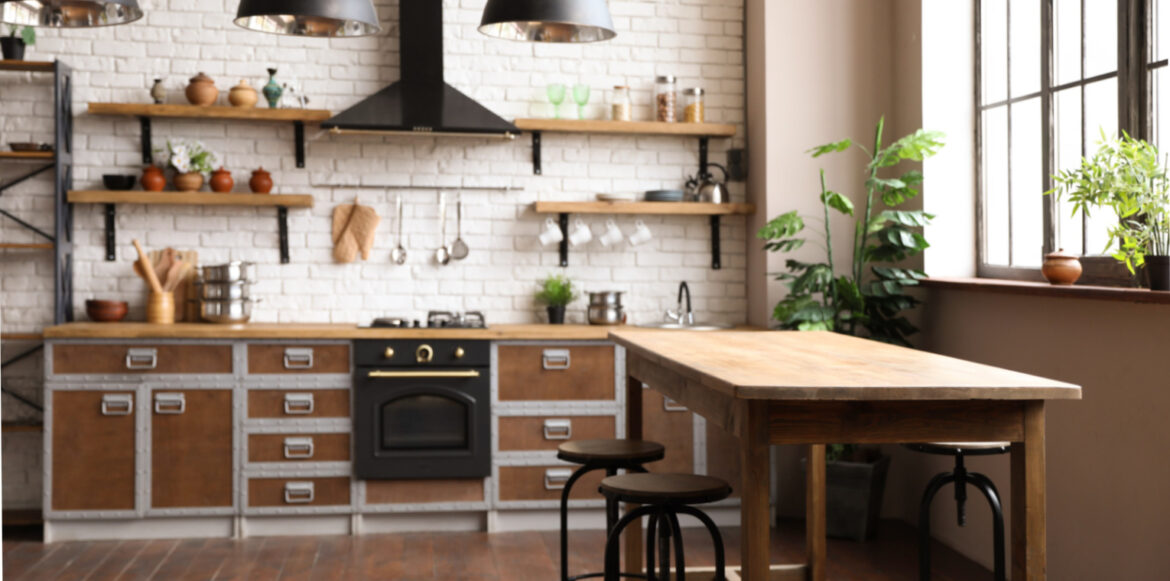 Always the Gracious Host
When it comes to hosting in your kitchen, there are a few things you can do to make your guests feel welcome. First, make sure you have plenty of seating options. If you have a large island or a dining table in your kitchen, make sure there are enough chairs for everyone. If you have limited space, consider using stools or benches that can be easily tucked away when not in use.
Another way to make your guests feel welcome is to have a variety of snacks and drinks available. Set up a self-serve station with water, coffee, tea, and a selection of snacks like nuts, fruit, and cheese. This will allow your guests to help themselves and feel at home in your kitchen.
Finally, make sure your kitchen is kept clean and organized before your guests arrive. This will not only make a good impression, but it will also help you stay organized and calm while you're hosting. Take the time to clean your countertops, wash your dishes, and tidy up any clutter before your guests arrive.
With summer around the corner, you may even start thinking about transforming your kitchen into an outdoor space. If this is a project you'd love to take on, check out WE LOVE FIRE®'s guide on everything outdoor hosting with Outdoor Rooms!
We here at WE LOVE FIRE® wish you unforgettable moments in your sacred cooking and hosting space with your loved ones.