Innovating is a priority for the United Buyers Group and to such an extent that, in 2010, the group had the confidence to veer off the beaten track and create a range of fireplaces (and, today, barbecues too) that really meet the wants and needs of their customers. How did they achieve this? They found strength through unity.
The United Buyers Group consists of over 250 retailers who sell fireplaces, stoves, grills and accessories in Canada and the United States. While each retailer is a key group member, they all remain independent merchants, proud of their companies and their history. Around 100 members of the group worked together to define the fireplace of the future.
An Unusual Process
Ideas within the group began for flow seven years ago. They make the most of the annual event at the Buyers' University in Nashville to ask their members two questions, including, "If this fireplace was installed in your home, how should it be different to what's currently available on the market?". Their objective was to design the best gas fireplace based on what consumers really want and at more affordable price.
In doing this, they used an unusual process to innovate, accessing specialist knowledge from people who sell and use these devices every day. They were lucky enough to have access to families through their members. Rich Hendrickson, owner of Burlington Fireplace & Solar based in Burlington, believes that this leads to a sense of pride and a sense of belonging. "Being part of the design and quality control process (for Ambiance) makes you feel like you own the brand," says Hendrickson. He continued by saying, "Consumers know that you care just as much about the product as if it were your own".
Fireplace Innovations
Since starting out in 2012, Ambiance has received many complimentary reviews. Above all, the brand has evolved to ensure it stays at the cutting edge and always relates to its customers.
What makes these products different? According to Dominique Pagé, Director of Merchant Development at the United Buyers Group, fireplaces differ in both style and energy efficiency:
Fireplaces are made with the largest glass viewing area for their respective category. "Customers want to see their fire so we make sure they have the best view," says Pagé.
Purchased directly from the manufacturer, there are many types of decorative doors offered in a wide variety of colors.
Ambiance Gas Fireplaces rank very high when it comes to energy efficiency. "Customers in Oregon and British Columbia can benefit from governement tax credits when choosing higher efficiency fireplaces. In the future, other regions will offer this type of initiative, so it is important for Ambiance Fireplaces to aim at leading the pack on efficiency " says the Director of Merchant Development.
Innovation in Barbecues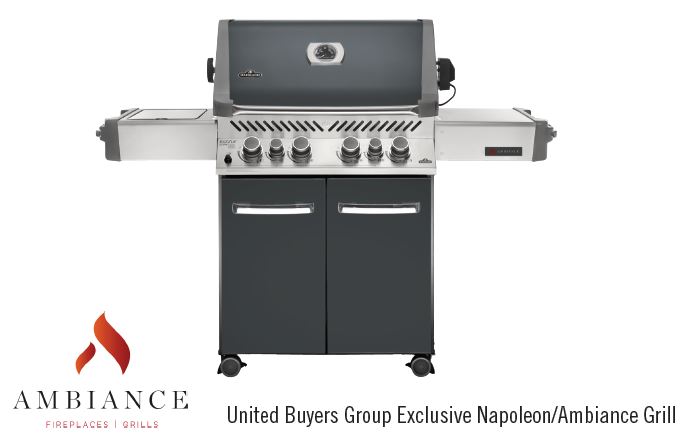 In 2017, Ambiance also entered the barbecue market, bringing with it several improvements. Collaborative work has always been one of their priorities and this time was no exception. The group teamed up with Napoleon to offer customers a fully featured barbecue at a competitive price.
The Ambiance Grill comes with a charcoal enameled lid and matching doors. "Stainless steel doors get stained by the rain splashing off the ground and a stainless-steel lid finish may turn blue or brown over time, whereas the charcoal enameled finish will looks like brand-new for years," explains Mr. Pagé.
The Ambiance BBQ has other features such as a stainless steel grid over the side burner, which is a feature typically only available on the Napoleon Prestige Pro Series, sold at a much higher price.