ARE GAS FIREPLACE INSERTS WORTH IT?
That old fireplace in your living room hasn't cranked out any heat in years. The firebox is decorated with candles, baskets, mirrors and other creative craft projects. Maybe there's a couch pushed up against it in an attempt to reduce the cold air spilling into the living room. Does any of this sound familiar? If so, you have options. But, are any of these options worth the time, energy and expense? Keep reading and decide for yourself!
Exactly what is a gas fireplace insert? Understand that an insert is a fireplace that's been specifically designed to slide into an existing wood burning fireplace. This existing wood burning fireplace could be an old, traditional open-burning masonry fireplace or it could be a factory built, zero clearance fireplace with bi-fold doors.
Your WE LOVE FIRE® dealer has several sizes of gas inserts that will be able to slide into your old wood burner and provide your family with wonderful heat and easy operation. LPG or natural, a gas fireplace insert will be a huge efficiency improvement over any open burning wood fireplace. A gas fireplace insert will seal up the chimney and prevent cold air from spilling down the chimney and into the family room.
Much has been written about the convenience of gas. Rightly so, because from the comfort of your recliner simply click the remote and you'll enjoy easy control over the amount of heat, the speed of the fan and the comfort in your family room. And unlike burning wood in a fireplace, all this convenience comes without bugs, bark, dirt, ashes and burned specks on the carpeting!
Extremely easy to operate, the comfort and atmosphere of beautiful flames to enjoy, efficiencies of +80%, eliminating that cold air down the chimney, and adding value to your home, YES a gas fireplace insert is most definitely worth it!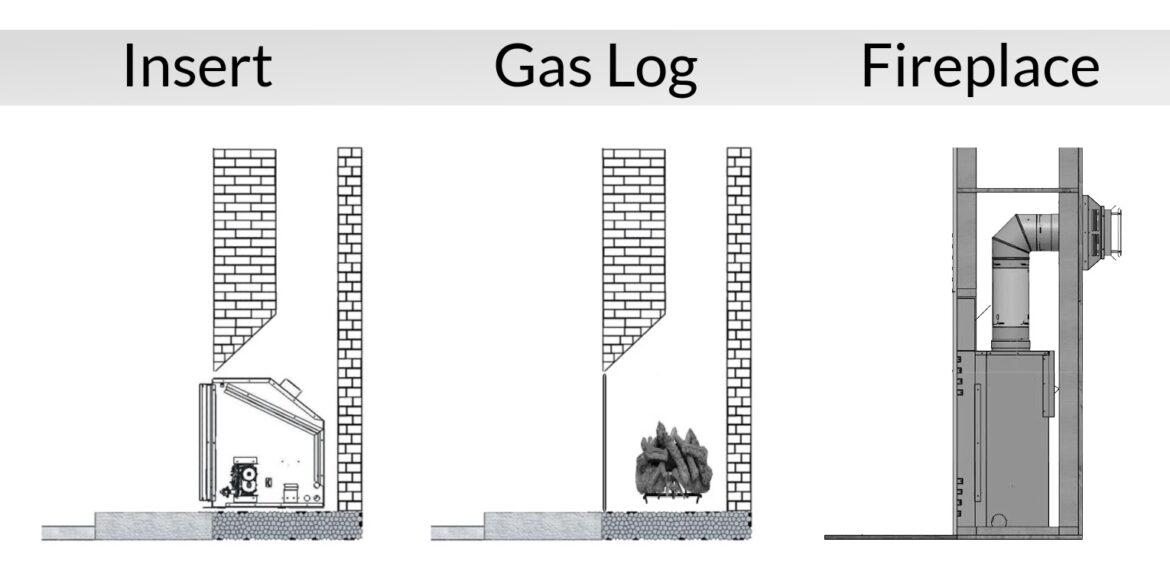 WHAT GAS FIREPLACE INSERT SHOULD I BUY? WHICH IS THE BEST?
There's seldom a "best" of anything. What's the best Beatles tune? Who's the best baseball player? What's the best vehicle? What's the "best" movie of all time? You get my point. There are differing needs, personal likes and dislikes, different styles and distinguishing characteristics of any product. Gas fireplace inserts included. However, most people would agree that "value", comprised of reliability, dependability, performance and aesthetics is the most important consideration.
When purchasing a gas fireplace insert, your WE LOVE FIRE® dealer has taken all these factors and more, into consideration. That's why you'll find the brand names you see in our independent retail operations. Be sure to check out our favorites including the Ambiance and Napoleon gas fireplace inserts. They offer reliable and solid performance and are the best value out there!
HOW MUCH DOES A GAS FIREPLACE INSERT COST?
The expense of a gas fireplace insert project can be broken down into four main parts. First, there's the insert itself and any options you might like. There are several sizes of inserts, decorative fronts and other options that can affect this cost. Secondly, the venting components to properly reline the chimney. Next is the cost to extend an electric and gas supply line to the firebox. Lastly, add the actual labor and installation charges.
With all four of these costs taken into consideration, expect an insert project to be in the range of $4500 - $6500.00. Note that most insert projects can be completed in one day.
HOW MUCH DOES IT COST TO OPERATE A GAS FIREPLACE INSERT?
The amount of gas you're burning in your gas fireplace insert is adjusted either manually or with a remote control. Most gas inserts are adjustable from 15,000 to 40,000 BTU's per hour. The more gas you're using, the higher and livelier the flames will be and the more heat will be delivered into the room.
In the USA, let's assume the burner is set at approximately 30,000 BTU's/hour, a common input for many gas inserts. In this scenario, for each hour of fireplace operation, figure a little less than 1/3 of one therm of natural gas (NG) and about 1/3 of one gallon for LP.
If the rate is $1.50/therm for NG, for each hour of use, the cost would be around 50ȼ. For LP, if the rate is $2.00/gallon, figure about 67ȼ for each hour the fireplace insert is operating.
For some Canadian consumers, let's use the same example. The 30,000 BTU burner is using approximately .83 cubic meters/hour. Using the rate of 20¢ per cubic meter, your fireplace would cost approximately 17¢ per hour. Meanwhile with LP, the burner is using about 1.25 liters/hour. By figuring an LP cost of $1 per liter, the cost to operate the fireplace would be about $1.25 per hour.
A couple other points worth mentioning:
Most people do not use their gas fireplace insert 24 hours a day.
Some remote controls will adjust the amount of gas that's burned, automatically, based on the thermostat setting the heating demands for your home.
Fuel rates will vary monthly and remember that gas companies have fixed charges and other fuel adjustments that will affect your final cost for fuel.
HOW DO I KNOW IF I NEED TO REPLACE MY GAS FIREPLACE INSERT?
A fireplace insert is designed to last many years. This is especially true for the quality products sold by the WE LOVE FIRE® dealer network.
A case for physically replacing an insert with a new model could be made if yours is say, 15 – 20 years old or more. If a component on a fireplace insert should fail, most can be replaced. However, there may be a point if the fireplace service tech gets to be a regular at your home, that you'll want to update the old equipment.
Perhaps you want to upgrade to take advantage of the latest technology and innovations that have been recently developed. A new model will have decorative fronts and other options that will give your family room a whole new feeling and have more control over the comfort in your room.
WHAT IS BETTER, A GAS INSERT OR A WOOD BURNING INSERT?
This is a lifestyle question for most people. Deciding on a fuel type is a personal choice. It boils down to the convenience of gas vs the effort with burning wood.
There's a reason the old saying goes, "Wood heat will heat you four or five times! When you cut it and split it, when you haul it, when you stack it and when you burn it!"
Here's some food for thought: Do you have quick and easy access to a wood supply? Do you have the equipment to cut, split and haul wood? Probably the most important consideration; do you have the time and energy for dealing with wood? Are there any health issues to avoid with burning wood? It's true that you can save a considerable amount of money each heating season by burning wood. But if you have to buy your wood supply, perhaps consider buying a fuel that's much easier and more convenient to use. Then, plan to spend more time with the kids and maybe a fishing pole instead of your chain saw and log splitter!