ARE GAS FIREPLACES WORTH IT?
Most people spend the majority of their time in only two or three rooms in their home. Here's a question to ponder? Why run your furnace, that uses 80,000 to 100,000 BTUs of gas, when a gas fireplace will comfortably heat the area you're normally in, using only 1/4 or 1/3 of the amount of fuel?
We're talking about zone heating, that is, separately heating those areas of your house that you spend most of your time in. A gas fireplace is a great way to add a little more warmth to a cooler room, or to zone heat that living area in your home.
Much has been written about the impression a fireplace creates in your home. When it comes to convenience, it's easy to understand why gas fireplaces are so popular. And, rightly so. From the comfort of your recliner you can simply click the remote and easily control the amount of heat, the speed of the fan and the ambiance in your family room.
Extremely easy to operate, the heat and comfort where you want it, adding a striking atmosphere to your home with the beautiful flames, efficiencies of 80%+, adding value to your home; are you still asking if a gas fireplace is worth it? Of course it is ... an unequivocal YES!
WHAT GAS FIREPLACE SHOULD I BUY?  WHICH IS THE BEST?
The best of something is tough to define. Who's the best golfer? Where's the best fishing spot? Who's the best hockey player? What's the best movie of all time? You get my point. There are so many personal likes and dislikes as well as different styles and distinguishing characteristics of any product. Gas fireplaces are certainly included. However, most people would agree they want a solid value when making a purchase. And, the most important characteristics of a great value are reliability, dependability, performance, aesthetics and price.
When purchasing a gas fireplace, your WE LOVE FIRE® dealer has taken all these factors and more, into consideration. That's why you'll find the brand names you'll see in our independent retail operations. Be sure to check out our favorites including the Ambiance and Napoleon gas fireplaces. They offer a steady and consistent performance at a great price; what we feel are the "best" values out there!
HOW MUCH DOES A GAS FIREPLACE COST?
There are many variables that make a huge difference when estimating the cost of a gas fireplace project. Some people have the ability to help keep costs down by doing some of the work themselves. Others feel much more comfortable knowing that a professional has the experience and expertise to complete the entire installation. Most jobs can be broken down into a few different categories. So, let's briefly discuss some numbers.
The first is the cost of the fireplace itself and any options you might want. This number will vary a lot, based on the size and style of the fireplace and any decorative options you select. A reasonable estimate of the fireplace will be in the $3000 - $9000.00 range. Secondly, it is the cost of the venting components. Minimum horizontal vent kits start around $500, while a more complicated horizontal or vertical installation may exceed $1500.00. Next is the framing and electric and gas extension work that's necessary. $500 - $1400 will cover many locations. Lastly are the finishing costs. This cost can be the largest variable associated with the project. Custom stone or brick work will exceed $15 - $20,000, while something very basic may run in the $500 range. Many jobs with a mantle and some simple tile or cultured brick or stone work will be in the range of $3000 - $5000.00.
As costs vary regionally, it's always best to get your WE LOVE FIRE® dealer involved early on with a gas fireplace project.
HOW MUCH DOES IT COST TO OPERATE A GAS FIREPLACE?
The amount of gas you're burning in your gas fireplace is easily adjusted manually or with a remote control. Whether it's natural or LP gas, fireplaces have adjustable gas valves that are usually in the range of 15,000 to 40,000 BTUs per hour. The more gas you're using, the higher and livelier the flames will be and the more heat will be delivered into the room.
In the USA, let's assume the burner is set at approximately 30,000 BTU's/hour, a common input for many gas fireplaces. In this scenario, for each hour of fireplace operation, figure a little less than 1/3 of one therm of natural gas (NG) and about 1/3 of one gallon for LP gas.
If the rate is $1.50/therm for NG, for each hour of use, the cost would be around 50ȼ. For LP, assuming a rate of $2.00/gallon, figure it will cost about 67ȼ for each hour the fireplace is operating.
For some Canadian consumers, let's use the same example. The 30,000 BTU burner is using approximately .83 cubic meters/hour. Using the rate of 20¢ per cubic meter, your fireplace would cost approximately 17¢ per hour. Meanwhile with LP, the burner is using about 1.25 litres/hour. By figuring an LP cost of $1 per litre, the cost to operate the fireplace would be about $1.25 per hour.
A couple other items worth mentioning:
Most people do not use their gas fireplace 24 hours a day.
Some remote controls will adjust the amount of gas that's burned, automatically, based on the thermostat setting and the heating demands for your home.
The actual rate for fuel can vary from month to month.
Gas companies have fixed charges and other fuel adjustments that will affect your final cost for fuel.
IS THERE A DIFFERENCE BETWEEN A GAS FIREPLACE & A GAS FIREPLACE INSERT?
Yes, these are two separate products for two distinct applications. These terms are NOT synonymous! A gas fireplace insert is to be slid into an existing wood burning fireplace. A gas fireplace is designed to be built into a framed wall. This is done during construction or a remodeling project. An insulated shell around the gas firebox provides protection against overheating any wooden framing members.
Gas inserts usually come in a few sizes, small, medium and large depending on the dimensions of the wood-burning firebox. But a gas fireplace can be a traditional or linear model. Maybe a see through or two-sided corner model for that special spot in the living or dining room. There are literally dozens of sizes available when it comes to a gas fireplace. And with venting options horizontally through a sidewall or vertically through the roof, a gas fireplace could be installed in several locations in your home. An insert to upgrade your existing wood burning fireplace is vented vertically through the existing fireplace chimney.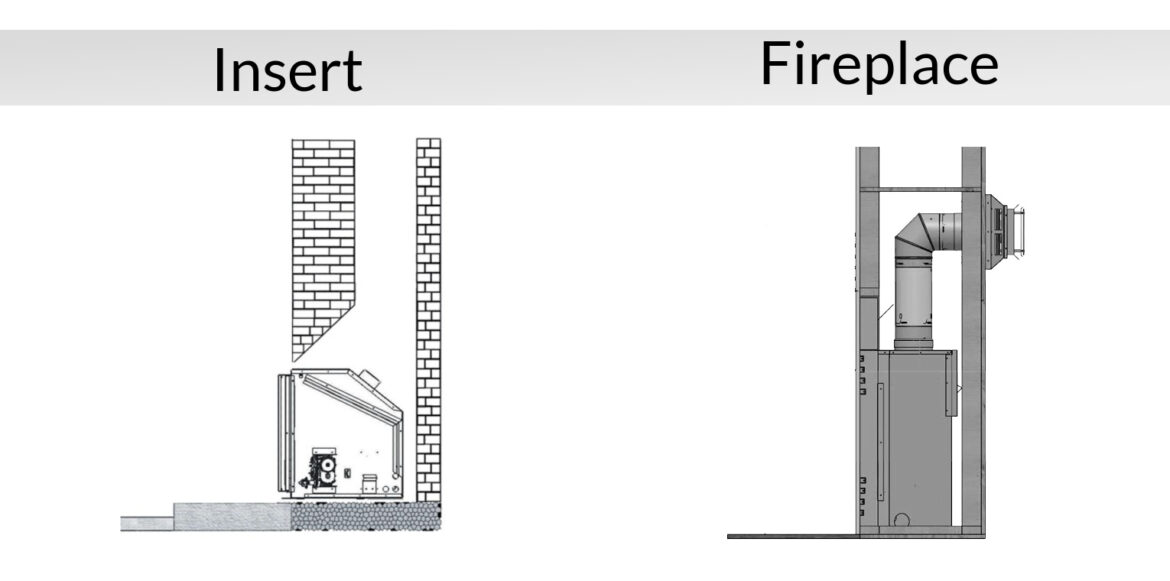 WHERE CAN I BUY A GAS FIREPLACE?
The best place to buy a gas fireplace is at your WE LOVE FIRE® dealership! These independently owned hearth specialty shops are part of a group of more than 300 stores. These entrepreneurs work cooperatively with each other to secure the most impressive product lines at great pricing, provide service for everything that's sold and have a level of experience and expertise that is second to none.
Exceptional values and exclusive lines of gas fireplaces are on display in retail showrooms. Enjoy the realism of the flames, the soothing warmth of the heat and a huge variety of sizes and styles to suit your lifestyle! There is a big time "WOW" factor from creative and innovative product lines from Ambiance and Napoleon. The flame patterns and options are going to amaze and truly excite you!
There are lots of places to buy a gas fireplace, but if value, selection, service, experience and solid pricing are prominent in your buying decisions, you owe it to yourself to investigate. These nationally certified hearth professionals take their mission of keeping you and your loved ones safe and warm, very, very seriously! When your name is on the door, you just care more!
WHICH IS BETTER & MORE EFFICIENT, A GAS OR WOOD FIREPLACE?
Obviously different fuels, but the efficiency of burning wood vs gas is about a wash. Any new, wood burning heating equipment is going to comply with the 2020 EPA requirements. The quality and moisture content of the fuel and your burning habits can affect the combustion efficiency of burning wood. Most of this equipment today has efficiency ratings in the 75 – 80% range. Most natural and LP gas fireplaces come in the low 70 – to low 80% range.
This question often leads to a lifestyle decision for many people. Deciding on a fuel type is a personal choice. Weigh the convenience of gas vs the time and energy dealing with wood.
There's a reason the old saying goes, "Wood heat will heat you four or five times! When you cut it and split it, when you haul it, when you stack it and when you burn it!" So, with this in mind, answer these questions:
Do you have quick and easy access to a wood supply?
Do you have the equipment to cut, split and haul wood?
Do you have the time and energy for dealing with wood?
Are there any asthma or other health issues to avoid with burning wood?
It's true that you can save a considerable amount of money each heating season by burning wood. But if you have to buy your wood supply, perhaps consider buying a fuel that's much easier and infinitely more convenient to use. Then you can plan to spend time playing soccer or camping with the kids instead of spending quality time with your chain saw and log splitter!
CAN I COOK ON MY GAS FIREPLACE?
A direct vented gas fireplace must be operated with the glass in place. This glass has a gasketed seal that prevents any air from the room from entering the firebox. There are optional "doors" for gas fireplaces but are strictly aesthetics. These doors are mounted on the outside of the glass. When they're "open" so to speak, the glass is still in place and prevents room air from entering the firebox.
Because of the sealed combustion of a direct vented gas fireplace, cooking with a gas fireplace is not an option. Better stick with the oven, microwave, campfire or grill!
HOW DO I KNOW IF I NEED TO REPLACE MY GAS FIREPLACE?
Expect to enjoy your gas fireplace for many years. This is especially true for the quality products sold by the WE LOVE FIRE® dealer network.
A case for physically replacing a gas fireplace with a new model could be made if yours is say, 15 – 20 years old or more. Many of the components on a gas fireplace can be replaced by a certified fireplace technician. There may come a time, though, that you'll want to update old equipment. Perhaps you want to upgrade to take advantage of the latest technology and innovations that have been developed and is included in much of today's new equipment.
Maybe you've recently moved into a house that has an older gas fireplace. A new, updated model will have many decorative fronts and other options that will give your family room a whole new feeling. The operation and control over the heat output may be simpler. And the odds are high that you'll have several options of new equipment that will be able to be installed in the same footprint of the old fireplace.
RECOMMENDATIONS FOR LOCATING A GAS FIREPLACE.
Where would a gas fireplace work in your home? Where would you like a little extra heat? How about the:
Kitchen
Hallway
Bathroom
Living room
Home office
Family room
Dining room
Entry way or foyer
Downstairs rec room
Master or guest bedroom
Deck, patio or outdoor living room
On wall adjacent to an open stairway
Remember you have two options regarding how to properly vent a gas fireplace; horizontally out a sidewall or vertically through the roof. The fireplace owner's manual will have the acceptable vent profile published that depicts the distance and height limitations for each model. So, bring pictures for possible locations to your nearby WE LOVE FIRE® dealers' showroom to discuss your thoughts and ideas!
RECOMMENDATIONS FOR GAS FIREPLACES:
So how do you go about finding the gas fireplace that's just right for your situation. Your WE LOVE FIRE® expert is the one to speak with, but until then, here are a few pointers to consider for locating a gas fireplace in your home.
Your nearby WE LOVE FIRE® expert has dozens of fireplaces and lots of options to show you in their beautiful showroom. Remember that we install and service what we sell. We work hard to earn your trust and confidence. And, we think you'll appreciate our professionalism as we help you with your gas fireplace project.