The answer to this question is critical for keeping your loved ones safe.  So please, keep reading.
Carbon monoxide (CO) is a poisonous gas that is colorless, odorless and tasteless. Whenever something is burned there are by-products of the burning process and carbon monoxide is produced.  It could be natural or LP gas, fuel oil, gasoline or diesel fuel, or charcoal or wood that is burned.  CO is one of several products from the combustion process.  It's also the most dangerous and deadly.
The direct answer to the question above is: yes.  Your gas, pellet or wood burning stove, insert or fireplace will produce carbon monoxide.  All heating appliances should be vented to the outside.  This is why it's always a good idea to have any heating equipment checked by a professional prior to the heating season.  This includes your fireplace, insert or stove, your forced air furnace or boiler system and your space and water heater.
HOW DOES CARBON MONOXIDE HURT YOU?
While you're breathing, the protein hemoglobin in our blood will always grab onto carbon monoxide and ignore the life-giving oxygen, if given a choice between the two.  Depending on the length and levels of exposure to CO, this natural chemical reaction can quickly destroy cells.
Even low-level exposure to carbon monoxide can result in permanent organ and brain damage.  This is dangerous to everyone.  But the elderly, those with heart disease, children and pregnant women are at a greater risk.
COMMON SIGNS AND SYMPTOMS
It's easy to mistake the most common symptoms of carbon monoxide poisoning.  Victims think they have the early signs of the flu or a nasty cold developing.  A feeling of exhaustion is quite common.
Symptoms will include: headaches, dizziness, confusion, blurred vision, feeling clumsy, chronic fatigue, nausea and a feeling of weakness.  Carbon monoxide poisoning is a dangerous medical condition.  Victims need fresh air and medical attention ASAP.
WHAT CAN I DO?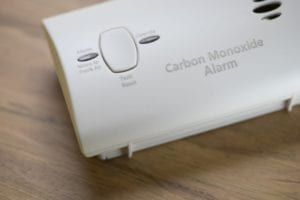 There can be several things done to keep your loved ones safe.  First of all, install carbon monoxide detectors.  These devices work like a smoke alarm.  A loud alarm sounds when levels of CO start increasing in your home.  Bedroom hallways, the furnace or mechanical room and your living or great room would be the preferred locations in your home to install a CO detector.
Make sure that your gas fireplace, stove or insert is properly vented.  The by-products of combustion from a direct vented appliance can be vented horizontally through a side-wall or vertically through the roof.  A fireplace insert is vented with a flexible aluminum pipe.  Your existing chimney acts as a conduit to run the vent pipe out of the house.  A special termination cap is connected to this pipe and sealed down to the existing chimney.
A service call to your WE LOVE FIRE dealer will check the venting and several other items on your gas equipment to ensure optimum operation.
If yours is a pellet or wood stove, fireplace or insert, it's critical that the liner or chimney system has been installed correctly and is properly maintained.  The National Fire Protection Association code states that chimneys are to be inspected on an annual basis and cleaned if necessary.  Cracked or deteriorated flue tiles, separation of stainless steel components or accumulation of critter's nesting materials can lead to life threatening problems.  Always keep the damper open and the gasketed doors closed to your wood burning appliance.
Can a fireplace cause carbon monoxide?  Absolutely!  But sleep well tonight knowing that a nationally certified professional is just a phone call away.  Trust your WE LOVE FIRE dealer.  We have lots of experience and national credentials to keep your family safe.  Our certified technicians take continuing education credits to make sure we can recognize serious conditions.
For additional information regarding carbon monoxide please see WHAT YOU NEED TO KNOW ABOUT CARBON MONOXIDE.