Are you planning to install a new wood-burning fireplace or stove in your home?  If you're doing much of the work yourself, there's some basic information and some specific chimney requirements you will need to follow.  Let's shed some light on this subject.
LET'S START WITH SOME DEFINITIONS.
A "flue" is the lining of a chimney.  It can be ceramic clay tile, a poured or pumped cast-in-place liner or a stainless steel conduit that's installed inside a chimney.  Its purpose is to contain all the by-products from combustion, direct them to the outside atmosphere and protect the walls of the chimney from excessive heat and corrosion.
Chimney flues are normally associated with a masonry fireplace.
An "insulated" stainless steel or an "air cooled" stainless steel chimney is always used with zero clearance or factory built fireplace.
Although safety codes have required a flue liner in masonry chimneys for several dozen years, there are many masonry chimneys still being built improperly or without any type of flue liner at all.  Additionally, there are many flue liners in dire need of repair.

THREE TYPES OF MASONRY CHIMNEY LINERS:
The most common type of masonry chimney liner are ceramic clay tiles.  A clay tile is considered "bare minimum code" and is the least expensive type of chimney liner.  Clay tiles are readily available at brick yards, most lumber yards and DIY centers.  Clay tile chimneys are typically installed at the time the house was originally built.
Fireplaces that are properly operated and maintained perform quite well with a ceramic clay tile liner.  However, there are several disadvantages, including thermal shocking; that is, a fast, sudden rise of temperature.  Ceramic clay tiles cannot rapidly absorb and evenly distribute heat.  Temperature in this type of chimney need to be brought up slowly to prevent the tiles from cracking.  Ceramic tile also can have a difficult time containing the liquid by-products of combustion, especially from gas appliances.
A third problem that's quite common with a clay tile liner is during its initial installation.  Often, tiles are simply stacked on top of one another or mortared into place with standard brick mortar.  This type of mortar will quickly deteriorate.  The bonding material that's used to join tiles together needs to contain the flue gases, help minimize condensation and be able to withstand extremely high temperatures.
The second type of lining system is a stainless steel chimney liner.  These are frequently used to repair or upgrade an existing chimney.  They are also needed for wood burning inserts.  A stainless steel liner is very safe and is extremely durable.  Stainless steel can be used for wood, gas and fuel oil.  Don't get a stainless steel liner confused with an aluminum liner.  Aluminum is only used for natural or LP gas.
The third type of liner, a cast-in-place chimney liner is either poured or pumped into place.  It's a cement-like mixture that resembles mortar but has a very high insulative value.  It's a smooth and seamless liner, suitable for wood, gas and fuel oil.  The main application for this type of liner is for improving the structural integrity of an older, aging chimney.
OFFSET OR NOT?
So back to the question at hand:  Can we install an angle, or offset, a chimney?  The answer is "yes"!  It's done every day and is perfectly safe to do so, provided codes are followed and equipment is properly maintained.  NFPA 211 (US regulations) states that chimneys can be offset 15° or 30° while CSA B365 (Canadian regulations) states it can be offset at a 30° to 45° angle.  Proper clearances must be maintained and the correct materials must be used.
Chimneys with a too severe angle or offset can interfere with the flow of oxygen to the fire and the velocity of the outflow of the combustion by-products.
Another point worth mentioning; it's always best to keep the chimney as straight as you can and inside the house for as long as you can.  Chimneys built on an outside wall, especially masonry chimneys, can cool off too quickly leading to creosote forming.
Note that if you're using an insulated, stainless steel chimney pipe for a wood burning stove or EPA certified fireplace, all components must be from the same manufacturer.  A pipe length from Brand A cannot be used with an offset from Brand B.  A cap or roof flashing from Brand X cannot be used with a pipe from Brand Z.  All components of the chimney system must be from the same manufacturer.  This requirement has to do with the testing and listing procedures and how the components twist lock and fit together.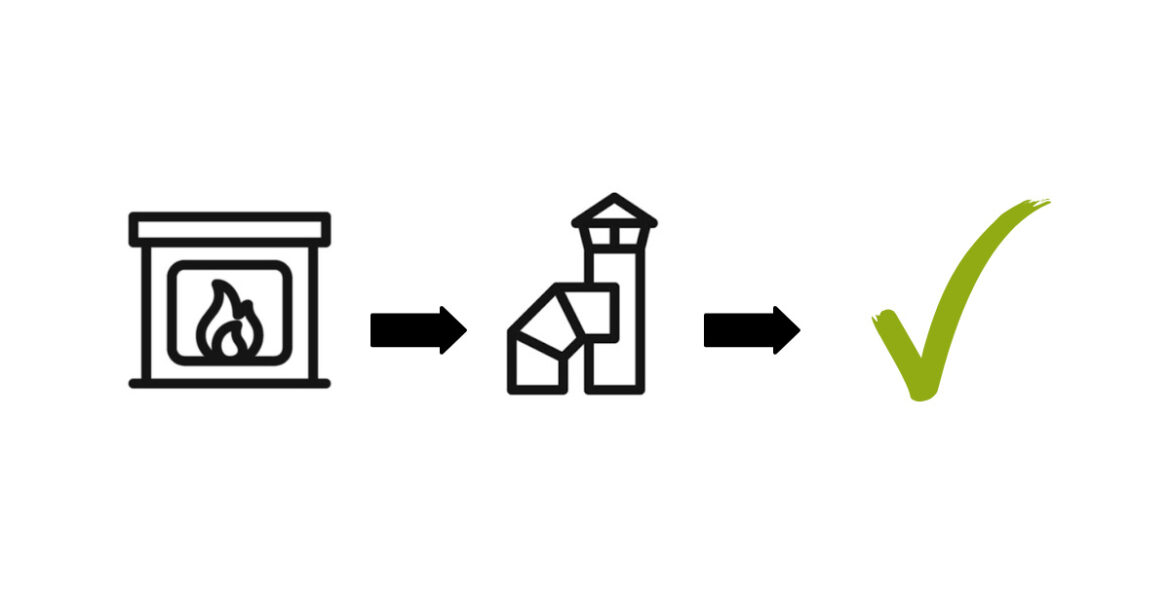 WOOD BURNINGS STOVES:
Many people get the term "connector pipe" and "chimney pipe" mixed up.  They are not synonymous terms.
A connector pipe on a free-standing wood burning stove is the black pipe that comes out the top (sometimes out the back) of the stove and "connects" the appliance to the chimney system.  This black pipe can be a single wall pipe or a double wall pipe, depending on the clearance requirements for the stove.   The primary function of the connector pipe is to connect the stove to the chimney.  That being said, a single wall connector pipe can be offset at any angle, up to and including 90°.  This is accomplished through adjustable elbows.  Double wall connector pipe can be offset at either 45° or 90°.
A single wall connector pipe is used when clearances are not particularly critical.  Double wall connector pipe has a stainless inner pipe with a black heat shield as the outer pipe.  The two-wall connector is used when reducing the stoves clearance requirements to a combustible wall.
People often refer to an insulated chimney pipe and a double wall connector pipe as the same: "double wall pipe".  It's true that both have two walls and the inner walls on both pipes are stainless steel.  However, their applications are different.  The easiest way to avoid any confusion:  the connector pipe is the black stove pipe that connects the stove to the chimney system.

BUILDING PLANS?
If you are building an addition or a new home and need a chimney for your fireplace or stove, your WE LOVE FIRE expert would recommend an insulated stainless steel chimney system.  This type of chimney comes with all the components you might need: various pipe lengths, offsets, firestops, support brackets, anchor plates, roof flashings, storm collars and caps.  This type of chimney can normally be installed within a few inches of combustible framing components.  It can easily be offset, or angled, around rafters, trusses or other framing to maintain those clearance requirements.  It's a tested and listed pipe that comes with a warranty from the manufacturer.
We highly recommend hiring an expert for your chimney installation.  However, if you decide to do it yourself, your insurance company might require your work to be inspected and approved by a certified professional.
Don't even consider a masonry fireplace and chimney.  There's no testing procedure and the warranty expires when the mason pulls out of your driveway!
Other articles you may find worthwhile reading include: