Glass doors are an important component of your wood burning fireplace, stove or insert.  It's important that you have an appropriate door.  Here's why.
FUNCTIONS OF A DOOR
A door serves several purposes.   They help to contain smoke to the firebox as a draft is being established from a cold start.  Closed doors will keep embers and sparks where they belong.  If yours is gasketed, a door will help to control the amount of air allowed to the fire.  This allows for much longer burn times and greater efficiencies.  When the fireplace is not in use, doors will help prevent warm air from being pulled up the chimney.
Most fireplace doors add a special decorative touch to the fireplace, stove or insert.  There are lots of finishes and styles available to compliment your lifestyle.  Rustic, traditional or contemporary styles in pewter, bronzed, antiqued or hammered finishes will coordinate with the décor of your home.
Doors on wood burning appliances also serve a safety function.  A door can protect little ones from getting too close to the flames and hot coals.  Doors will discourage children from tossing objects into the fire.  Remember: never leave small children alone in a room with a fireplace, stove or insert.
TYPES OF DOORS
Many inexpensive zero clearance fireplaces will have factory installed bi-fold doors.  If the fireplace gets much use, this type of door usually doesn't last long and will often will need replacing.  An after market replacement door will give your fireplace an updated look while providing several other important functions.  Normally, these types of doors are made of steel.
Doors for an EPA certified fireplace will have a gasket around it to seal out the room air from the firebox.  Combustion air is carefully controlled by a primary air lever.  Doors for this type of fireplace are best replaced by the manufacturer and not an after market company.
An open burning masonry fireplace will have lots of after market options.  Custom sizes, a wide selection of styles and finishes, etched glass, arches and corner fireplaces are all available.  Careful measurements and a thorough evaluation of the fireplace will be necessary by your WE LOVE FIRE expert.  However, replacement doors for masonry fireplaces serve the same important purposes listed above.  It's always a good idea to update this type of fireplace door.  Stylish models with built-in air control and sealed doors can make using an older fireplace much easier.
Wood burning stoves and fireplace inserts are normally a single, gasketed door.  Again, these types of doors are going to last a long time, but if one does need replacing, it's best to buy another door from the manufacturer of the appliance.  Side bar:  remember to regularly check the door gasketing material.  This rope gasket provides a tight seal from air infiltration. The gasket will get brittle with age and will periodically need to be replaced.  This is a rather simple, half hour project.  Just measure the existing door; top, bottom and both sides and bring a piece of the gasket material with you to your WE LOVE FIRE dealer.  The rope gasket comes in several sizes and it's important to replace it with the correct size.  An easy to apply gasket cement keeps the rope gasket firmly in place.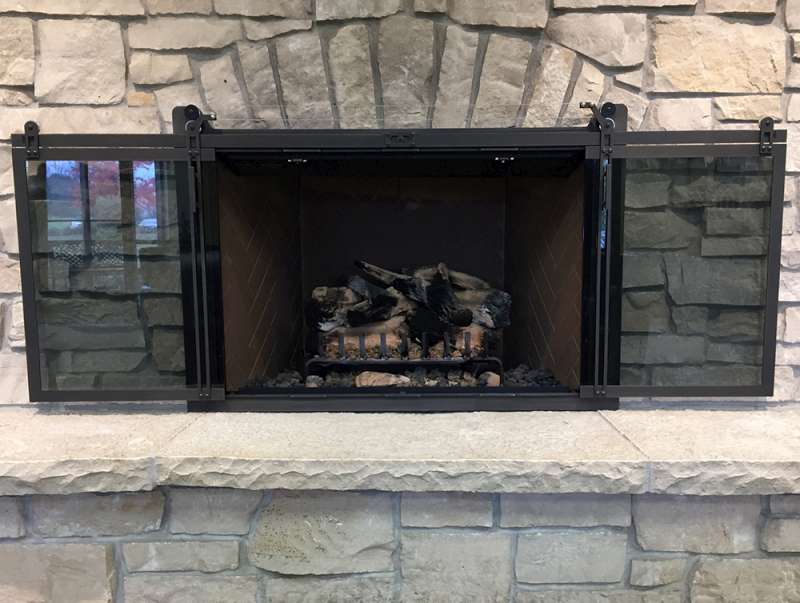 TEMPERED OR CERAMIC GLASS?
Bi-fold doors are usually made of a tempered glass.  Gasketed doors on fireplaces, stoves and inserts come equipped with ceramic glass.  Never replace ceramic glass with a tempered piece of glass.  Ceramic glass is stronger than tempered glass and will actually radiate heat back into the room.  It's also lots more expensive, so be careful with it!
DOORS ARE IMPORTANT!
If you are having "door" issues, please come through our front door!  Your WE LOVE FIRE experts agree that doors on fireplaces are necessary.  As we discussed, there are several solid reasons for doors on fireplaces.  Doors will increase the efficiency of your fireplace. They help to reduce heating and cooling costs.  But most importantly, doors on fireplaces, stoves and inserts will help protect your loved ones.