Does your fireplace have a retro-style? Does it need to be freshened up? There are many ways to update a fireplace. No matter your budget, it's possible to have a modern fireplace: you just need a bit of ingenuity and some creativity. Here are eight fireplace modernization ideas that will inspire you.
Fireplace inserts
If your fireplace is in bad shape, too much cold air is entering through the hearth, or you simply want to improve its efficiency, get an insert put in. Even if you start with a wood fireplace, you can add an insert that runs on either wood, gas, pellets or electric.
Built-ins improve efficiency by about 50% to 70% percent and add a modern touch to your masonry fireplace. They're installed inside your fireplace's firebox, and a metal pipe is added to the inside of your chimney.
Gas, electric and pellet-fuelled inserts are remote-controlled.
A We Love Fire dealer will gladly help you select the best insert for your fireplace.
Fire screen
Changing your fire screen is simple, but it completely changes your fireplace's look. There are more basic, cheaper models, but custom models allow you to add your own personal touch. There is a near-infinite number of colors and styles.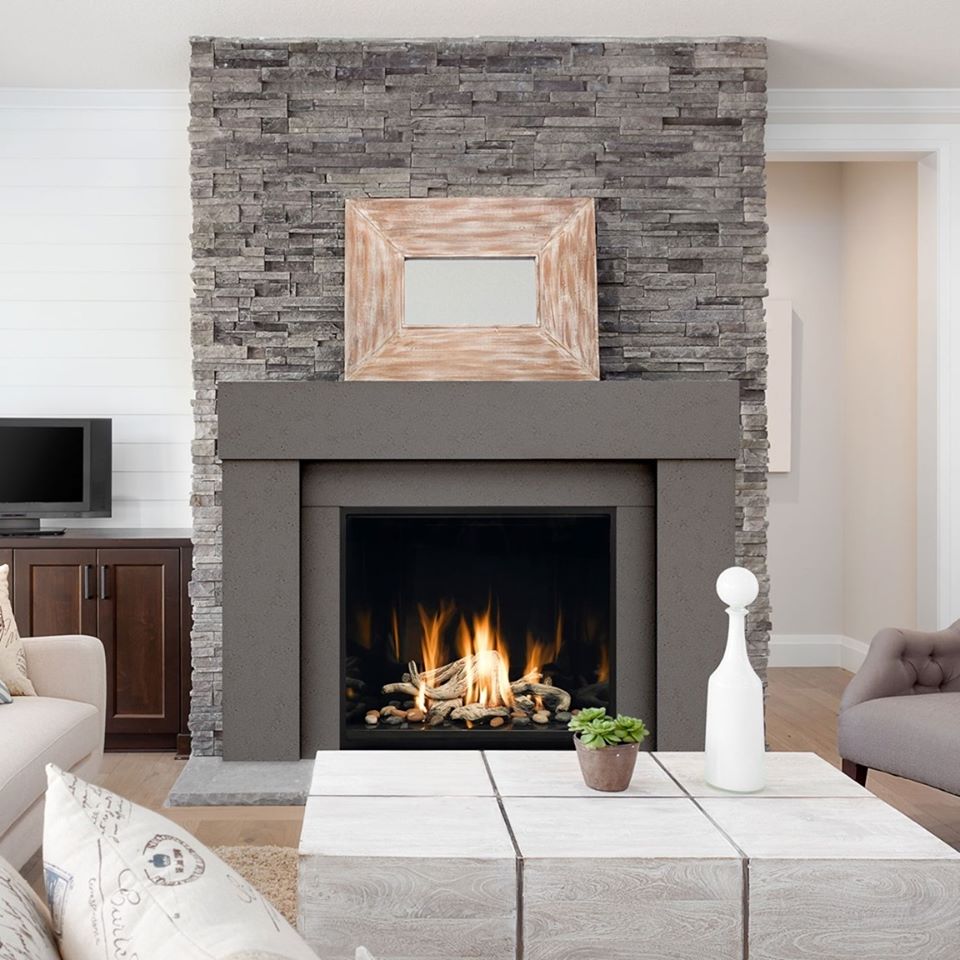 Mantel and shelf
The fireplace's mantel and shelf make for a big part of the final look. There is room for creativity when choosing the design materials: a concrete shelf for a contemporary look, a metal one for an industrial feel, or a wooden shelf for a traditional style. Make sure you check your municipality's security regulations regarding fireplaces, especially if you are using flammable materials such as wood to build your chimney mantel. Many experts specialize in building fireplace mantels, but if you're good with your hands, nothing prevents you from making it yourself.
Decorating
The simple act of decorating around the modern fireplace can give it a whole new feel. Add a painting you like above the chimney shelf. Change up the decorations on the shelf and around the fireplace to reflect the style you are looking for.
Surroundings
Sometimes, it's not the fireplace itself that needs updating, but rather, it's the space surrounding it. Paint the wall on which your fireplace stands. Use modern colors that will last throughout the years.
Are your fireplace and chimney are built into the wall? Use wood or ceramic tiles to create the illusion of a chimney on the wall directly above the fireplace. Add a shelf to give it some depth.
Add built-in bookcases on each side of the fireplace. Get them custom-built, or go for a much cheaper illusion. Install two prefabricated bookcases and use moldings to "stick" them to the wall and ceiling, giving the impression that they were built directly off of the wall. If you have existing moldings on the ceiling, use the same kind to "connect" the top of the bookcases to the ceiling, making the illusion all the more perfect.
Fireplace Façade
Change up your fireplace façade to make it more modern. Brick and stone can be painted. Make sure the surface is clean before starting your project. Use a wire brush to remove any filth, if needed. Apply a suitable primer to the brick or stone. Then, use heat resistant paint and that's it!
Rather than painting your fireplace, whitewash it to the brick or stone peek through. Mix your paint with water. The paint-to-water ratio varies depending on the desired results. It can be one-part water to one-part paint, two parts water to one-part paint, or even three parts water to one-part paint. The important thing is to keep the same ratio throughout the whole procedure. Blend the mixture well and mix it often. With a paintbrush, apply the mixture to a small surface, then wipe it with a cloth. Repeat the procedure until you get the desired shade of color. Test it out on a hidden spot to make sure your water/paint ratio gives you the desired results.
Cover up a brick fireplace with decorative stone. These fake stones can easily be installed directly over brick using tile cement.
If your gas fireplace has a gold façade that doesn't blend in with your decor, sand it down with fine-grit sandpaper and apply heat resistant paint. Consult with a specialist before taking on such a project to make sure the products you use are appropriate and safe for a fireplace.
Chimney
Consider the chimney wall a blank canvas on which you can let your creativity run free. Use unique ceramic tiles to give it a particular style, or wood to give it a rustic feel. Venture off the beaten track and match two materials for a really unique look. For example, install a few rows of black tile, followed by a few rows of wood, and so on. Let your imagination run wild, or find inspiration online.
Logs
Modify your gas fireplace's appearance by changing its logs. You can replace them with stone burners, glass beads or other fake logs.
Safety First
No matter what method you use to update your fireplace, it's always best to ask an expert before taking on the work on or near your unit, just to make sure that everything is safe and complies with your area's safety regulations. After that, all you have to do is carry on with your plan to bring your fireplace up-to-date.