They have been around for many years.  If you don't have one in your home, you have friends and family members who do.  Gas fireplaces are more popular than ever.  And, they're not just for the family room anymore.  But how do they work?  Are they complicated to operate?  Do they use a lot of gas?
THE BURNER BASICS
Gas fireplaces operate on either natural gas (NG) or LP gas.  The two gases operate on slightly different pressure; NG 6" water column pressure, LPG twice that.  This means the burner regulator and orifice are different for the two gases.  Other than that, the basics are very similar.  Based on flame appearance, once a gas fireplace is warmed up, it's nearly impossible to tell any difference between NG and LPG.  That is, unless you look out the window and see an LP tank in the side yard!
Normally, either a half inch or 3/8" gas supply line is connected to a burner.  Depending on the model, the burner will be a ceramic material or a tube style burner.  The burner includes the gas valve, fittings, and the control board.  When the thermostat calls for heat, or the wall switch is flipped on, or the remote control is pressed on, the valve opens allowing gas to flow into the burner.  The gas is ignited with a pilot light.  This pilot light can be an on-demand, intermittent light or a steady-on pilot light.  There are small holes designed in the burner to allow gas to flow through, allowing the embers to glow and the flames to dance.
On initial start-up, it is not unusual for condensation to develop on the inside of the glass.  Since, the inside of the glass is often rather cool, the heat from the burner igniting will cause some condensation.  This will quickly dissipate as the unit heats up.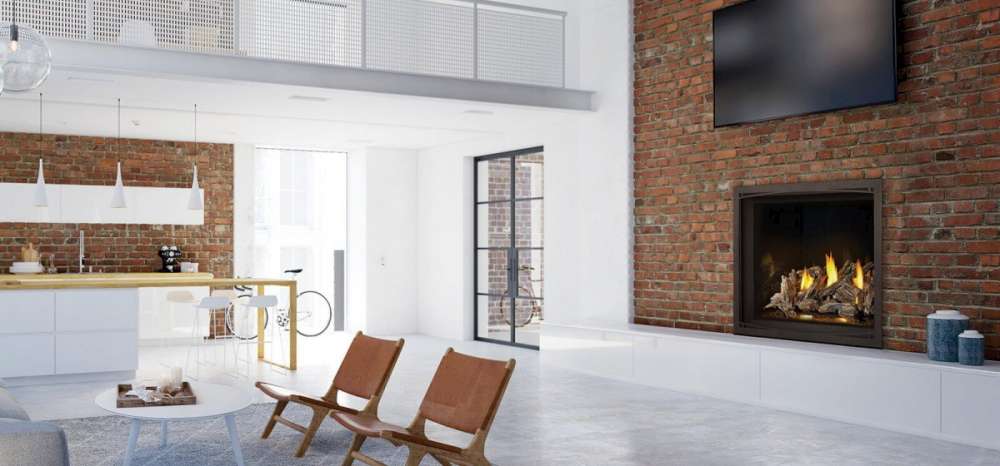 LOGS OR OTHER MEDIA?
Today, many gas fireplaces have "media" options.  Lots use realistic looking ceramic logs that glow when they're heated.  But different log species, driftwood logs, colored glass beads, pine cones and bamboo will add an individualized custom touch to many fireplaces.
FIREBOX BASICS
The firebox, built out of steel, is cut and fabricated by sophisticated equipment to exact specifications.  Today, the size and dimensions of the firebox will vary tremendously.  There are traditional looking fireplaces that are three, four or five feet wide.  Linear styles for a contemporary look that might be 12" — 15" high, but five, six, or even eight feet long!  Portrait styles are popular in tighter, smaller spaces.
A space, or convective air chamber is designed into the fireplace to allow warmed air to move into the room.  Picture two metal walls with the air moving between them.  After the burner ignites, the inner steel starts to heat.  As air is circulated in this chamber, heat is transferred.  A small fan, located beneath the burner at the bottom of the fireplace, moves this warm air into the room.  Fans usually have several speeds or operate on a rheostat, a variable speed control.  A heat sensitive switch turns them on/off.
GLASS, SEALED COMBUSTION & CO-AXIAL VENTING.
The glass on many gas fireplaces is a ceramic material.  It's similar to the glass on your electric range in the kitchen.  Ceramic glass can withstand very high temperatures, higher than tempered glass.  Depending on the BTU output and specs of the fireplace, it will have ceramic or tempered glass.  Regardless of the type of glass, it will be sealed to the edge of the firebox with a rope gasket.
Direct vented gas fireplaces use a sealed combustion process.  This means that the air for the combustion process comes from outside, via a special vent pipe.  Inside room air is not used for combustion purposes.  Only air from the outside is used for combustion in the firebox.
It sounds like an impressive term, but all co-axial venting means is a pipe within another pipe.  Your coax cable wire is a wire wrapped around another wire.  A standard co-axial vent pipe uses a four-inch inner pipe that removes all the by-products from combustion out of the fireplace.  The larger seven-inch outer pipe is the route the combustion air follows to the firebox.  Direct vented gas fireplaces can be vented horizontally out a sidewall or vertically through the roof.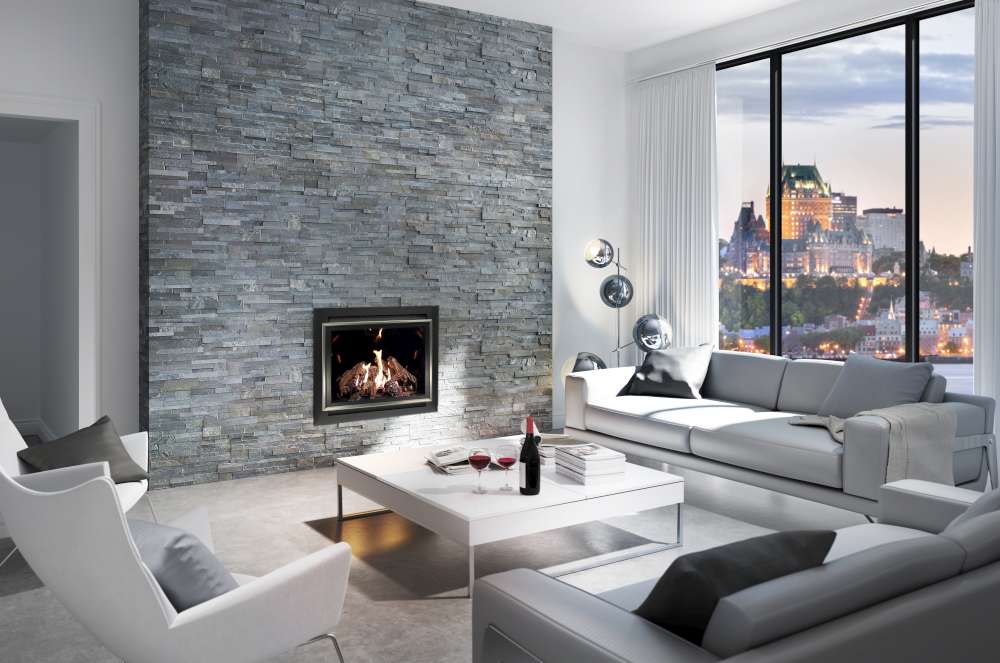 INSTALL NEARLY ANYWHERE.
As long as a gas supply line can be installed and venting requirements followed, a gas fireplace can be installed anywhere in the house.  Bedrooms, bathrooms, kitchens, foyers, hallways and in-home offices are all great applications for a gas fireplace.
Heat only those areas of the house that you spend the majority of your time in.   By reducing the temperature on the thermostat and "zone heating" those rooms, you will actually save money on your heating bills.  Why run your furnace at 100,000 BTU when a couple of gas fireplaces will heat it by burning only 45,000 BTU'?
GAS USAGE.
The burner on most gas fireplaces is adjustable.  The more gas that's burned, the more heat you'll get from the fireplace.  To figure an approximate cost to run the fireplace, remember these key points:
Natural gas is measured in therms. One therm equals 100,000 BTU of heat.
LP gas is measured in gallons. One gallon equals 91,500 BTU of heat.
Burner size for example, is 30,000 BTU/hour.
For each hour of fireplace operation, figure a bit less than 1/3 of one therm of NG. And, about 1/3 of one gallon for LPG.
Apply your current fuel rate.
Adjust actual usage up or down, based on burner consumption.
Let's take a quick example.  Using the numbers above, my NG fireplace operates for two hours.  My rate is $1.00/per therm.  For each hour of operation, figure about 27ȼ.  For LP, figure roughly 30ȼ/hour if I'm paying $1.00 per gallon.
MAINTENANCE.
Gas fireplaces don't require much maintenance.  Making sure that dust and pet hair is kept out of the fan compartment is important.  Cleaning the inside of the glass once a year is always a good idea.  And a small light or audible chirp will remind you when the batteries for the remote and/or ignition system need replacing.
Many WE LOVE FIRE dealers offer an annual service program to ensure your fireplace is tuned-up, cleaned-up and ready to provide that warm and relaxing area for you and your family.
Bring us your ideas, pictures, or sketches.  Or call us for a tune-up.  We're glad to assist in any way we can.
Incidentally, one more thing… The sealed glass on a gas unit must stay in place during operation.  No, you cannot roast marshmallows for s'mores on your gas fireplace.  Head to your freezer instead.  Go with chocolate brownie extreme ice cream instead!