Electric fireplaces have evolved considerably over time. Today's models offer superior performance, as well as technologies and styles to suit any home. Here's a quick overview of the latest new products.
Amantii TRU-VIEW-XL
If you enjoy the flame presentation afforded by multi-sided gas fireplaces, you wll love Amantii's TRU-VIEW-XL series. Last year, the company added this 3-sided model that can heat approximately 500 square feet with its 4800 BTUs of power. Like many other Amantii appliances, it is versatile and can be installed anywhere, inside or out, including in the bathroom! Numerous accessories are also included, such as black fire glass chunks and stones that make it easy to change your decor whenever you feel like it.
Amantii Panorama Extra Tall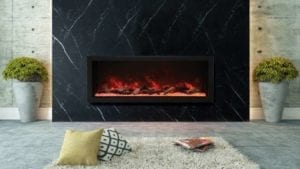 If conventional single-sided appliances are more your style, Amantii's new Extra Tall might be right up your alley. Launched in 2017, this contemporary fireplace features an 18" high glass front, which means that it is as big as—or bigger than—most gas or wood-burning fireplaces. Despite its single-sided design, you will enjoy its stunning viewing area and multiple personalization options. It can be used in any interior and exterior application. With its 4800 BTUs, the Panorama Extra Tall can heat a room of the same size as the TRU-VIEW.
Amantii Panorama Extra Slim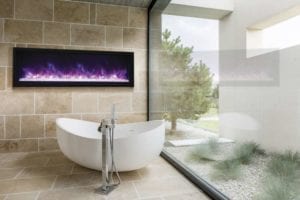 Your condo has limited space and several constraints, and you do not see where you can install a fireplace? Amantii might have the answer to your problem. According to representative Brian Richard, the company "just launched the slimmest electric fireplace on the market, at only 4 inches deep." It fits in many indoor and outdoor spaces, and can heat approximately 500 square feet.  This series offers all the great features we associate with electrical appliances in general: no maintenance, ease of use and realistic flame display.
Napoleon CLEARion™ See Thru
As you can see, more and more electric fireplaces have characteristics that are similar to their wood-burning and gas counterparts. Napoleon is no exception with its brand new CLEARion™ See Thru 2-sided electric fireplace, the first truly see-through fireplace on the market. "Now that we've launched a genuinely transparent electric appliance, we've opened the door to infinite installation possibilities, giving architects, designers, contractors and homeowners flexibility that's never been seen before with electric fireplaces," announced Stephen Schroeter, Napoleon's Senior VP of Sales and Marketing.  You can enjoy this fireplace from two rooms simultaneously. It provides 9000 BTUs of power, enough to warm up to 800 square feet, which is superior to most appliances of its type. Another significant advantage is its capacity to heat separate rooms at different rates. This newly available product is an attractive choice, especially if your heat needs exceed the average production of electric fireplaces but special constraints prevent you from getting a gas or wood-burning appliance.  Parents take note: it never gets hot enough to burn curious little hands.
Try our new BTU calculator to estimate how many BTUs you need to warm your room.