For all homeowners who believe that an indoor fireplace can only be associated with heat in cold weather, think again. Even if it becomes your center of attraction from fall to winter, it remains nonetheless that the rest of the year, you can make most of this hearth product's charm.Follow these steps to enjoy your fireplace, even during summer!
1. Incorporate Your Fireplace into Your Spring Cleaning
Without a roaring fire burning in your hearth, you're more likely to notice the soot and ash that have accumulated. With a little elbow grease, your fireplace can be a beautiful focal feature again. Here are some tips:
Make sure all ashes are cool before sweeping them out.
Scoop out ashes with a fireplace shovel and then follow with a vacuum cleaner.
Remember to wear rubber gloves to protect your hands when using a cleaner to remove soot, ashes, and creosote.
Keep in mind that harsh cleaners can fade stone. It's best to test your cleaner on a small section of stone that is less visible and wait until it dries to determine if it is gentle enough for your stone.
It's best to dilute an all-purpose cleaner with water before use so that no streaks are created.
Don't use flammable cleaners since they may leave a dangerous residue that could become a fire hazard.
If you want a clean fireplace without the mess of cleaning it yourself, you can ask your local chimney sweep when he/she comes to inspect it.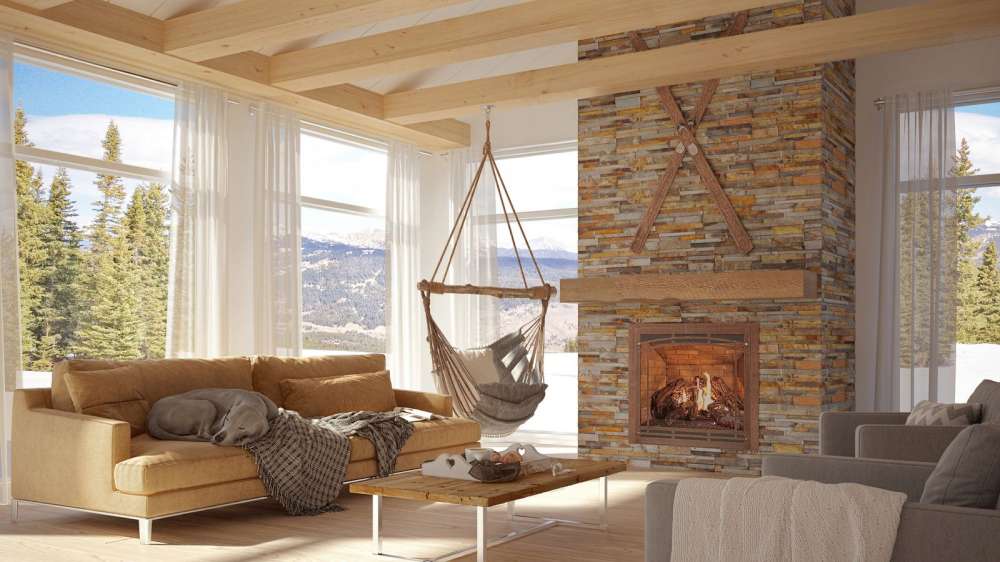 2. Get Your Fireplace & Chimney Inspected
You are probably already aware of the importance of having your fireplace inspected each year. However, did you know that spring and early summer are the best times for doing this task?
If your fireplace is operating improperly, it might be because creosote has accumulated or it has been damaged during the season.You will have more time to fix such issues during spring and summer, and you will be able to enjoy the warmth of a fire as soon as you want in fall.
3. Be Creative!
During the warm season, even if you don't use your indoor fireplace, you can still make it a focal point in your house with decorative items.
Place a candlestick, candles, or some items that are dear to you on the fireplace shelf.
Install decorative wall frames, whether photographs or artwork, above your appliance.
Use firewood differently to create a warm, rustic look. Try filling your hearth entirely with logs that are stacked with their cut faces directed towards the room. The log-cabin look-alike will make you feel that you've retreated to a cottage.
Enjoy mild temperatures to bring some of the outdoors indoors. Pick some flowers and place them in front of your fireplace or on the shelf
There are many other ways to enhance your fireplace. Use your imagination!
Did you know that?
Do you enjoy so much the ambiance of your fireplace that you cannot do without it in the summer? If you have an electric fireplace, turn off the heat generator. Yes, it is possible to enjoy the flame without raising the temperature of the room!