The WE LOVE FIRE dealer network has put together this summary of our top eight products picks.  Understand that these are not our top eight most popular items or our best sellers, but eight of the most interesting and innovative products available from your WE LOVE FIRE dealer.  All these products are designed to make your life more pleasant, a bit easier and definitely more enjoyable.
We're excited about these eight products.  After reading about them and seeing them in action, we have a hunch you will be too!
Thank you for taking the time to review these products.  In alphabetical order, our top eight product picks for your consideration are listed below, click on them for more information:
Ambiance® Hipster® Wood Burning Stove
The Ambiance® product line is available exclusively from the WE LOVE FIRE dealer network.  A group of 300 hearth specialists throughout the USA and Canada talk to thousands of customers every week.  Based on these experiences, our dealers contribute their thoughts, ideas and suggestions for developing and improving products for customers in their local markets.  In other words, what do our customers like and what features would they want in a particular line of products?
Out of these discussions, it was decided that the traditional cast iron, wood burning stove needed an update.  A focus group of seven women and four men along with design partners from HearthStone put their heads together and developed the Ambiance® Hipster® line of cast iron stoves.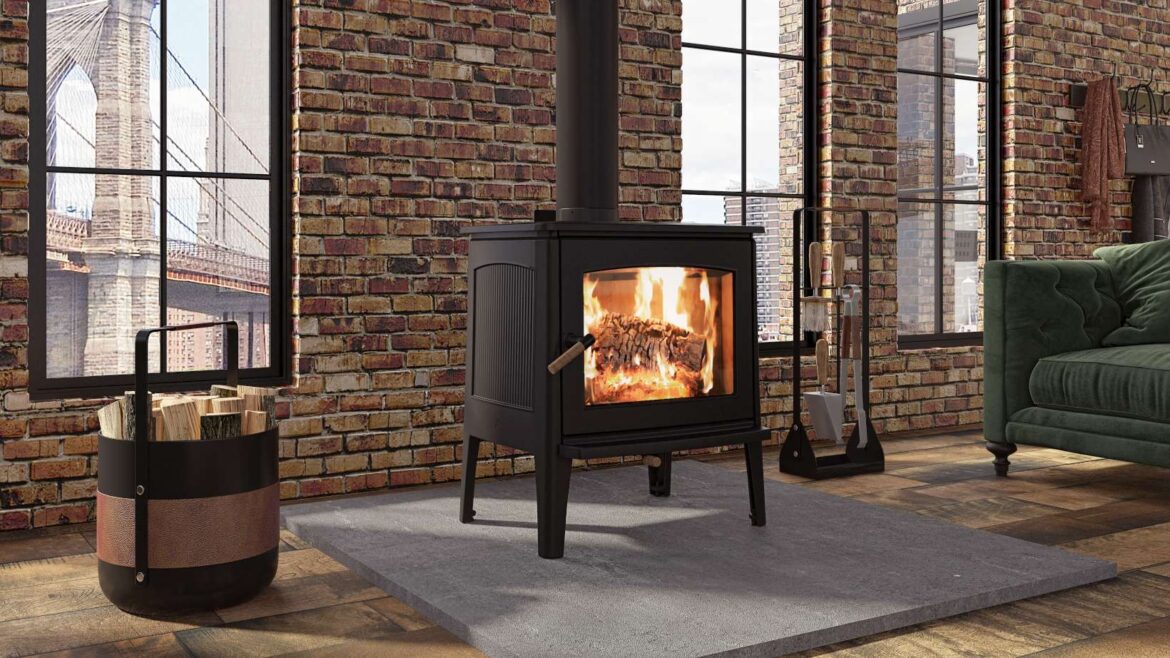 The Hipster® comes in two sizes.  The Hipster® 14 is a 1.3 cubic foot stove that weighs 350 lbs.  It's big brother, the Hipster® 20 has a firebox capacity of 2.0 cubic feet and goes 500 lbs.  Both stoves have extremely friendly clearance and hearth requirements.
Both Hipster® models are lined with soapstone on the inside and are made with premium quality cast iron.  Both Hipster® models have very low emissions and are certified 2020 by the EPA.  How does efficiency ratings of 79% sound to you?
Thanks to the TruHybrid combustion technology, the Hipster® 20 can burn up to 24 hours on a single load of wood and the Hipster® 14 will burn up to 16 hours on one load of wood!  Not too bad, eh?  Understand that the type of wood and its density, the moisture content and other factors always affect burn times.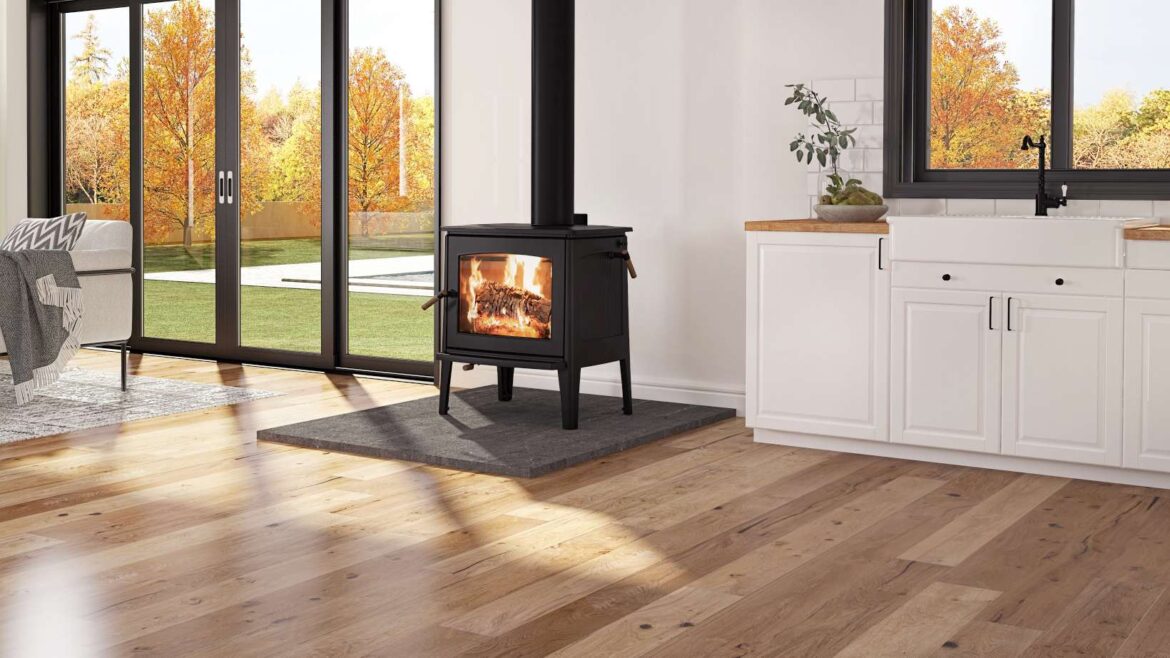 A few other important items to point out; both models feature a smooth operating, cool-touch handle for safe operation and an optional convection fan kit to help move and circulate air.  The view of the fire is especially impressive.  Thanks to the latest air wash technology, the ceramic glass stays clean so you can enjoy the show!
If you're in the market for a wood burning stove, you're going to appreciate the styling and performance of the Hipster®!  See it at your WE LOVE FIRE expert!
Ambiance® Limestone Mantels
This Ambiance ® product is another exclusive to your nearby WE LOVE FIRE dealer.
An Ambiance® Limestone Mantel captures the extraordinary beauty and realism of natural stone.  Theses mantels are molded from quarried stone using a patented, non-combustible Burncrete™ formulation process.  What does this mean to you?  Bottom line:  these mantels are only half the weight, and better yet, only half the price of a natural limestone mantel.

The Ambiance® Limestone mantels come in two lengths:  57" and 69".  Watch the video and you'll see how quick and easy they are to install.  The mantels come standard with a very strong mounting bracket, fasteners and easy to understand instructions.
Each mantel is precisely hand painted by skilled artists in Lexington, Kentucky. Two colors are available; the Indiana Gray or the Tennessee Tan.  Just look at the detail in these pictures.  We challenge you to tell the difference between an Ambiance® Limestone Mantel and a natural stone mantel!

Our customers have told us they want the look of stone, but not the weight, added expense or difficulty installing it.  So, your WE LOVE FIRE experts listened and filled this request.
If you're updating your old fireplace with a new mantel or installing a new fireplace, you owe it to yourself to check out the Limestone Mantels from Ambiance®.
Ambiance® Outlander Wood Burning Stove
Another exclusive stove to the WE LOVE FIRE network is the Ambiance® Outlander Steel Stove series.  The Outlander is the best value in a free-standing wood burning appliance today.  "Value" is the key word here.  We're not talking about the cheapest or the most expensive or the biggest or the heaviest.  We're talking about dollar for dollar and the stove features compared the other steel stoves on the market; what's the best value for the money that you spend?
The goal here was to develop a reliable, dependable, heavy-built, great performing stove while maintaining affordability.  And, that's precisely what the Outlander series of wood burning stoves is, an all-around terrific stove.  That's why it's on the Top eight List.
Both sizes of the Outlander, the 15 and 19, will accommodate up to a 20" log.  A firebox size of 1.9 cubic feet, the Outlander 15 will provide up to 8 hours of burn time.  The Outlander 19 has a 2.3 cubic foot firebox and will last up to 10 hours on one load of wood.   Pretty solid, right?  Keep in mind that the type of wood and its density, the moisture content and other factors always affect burn times.  Both models of the Outlander are rated at 75% efficient and are certified by the EPA.
For convenience and safety, both the Outlander 15 and the Outlander 19 come with a cool touch handle, the latest air wash technology to keep the ceramic glass clean and a very impressive limited lifetime warranty.
Specify if you want the pedestal base or the leg kit.  Optional ash pans and convective air fans are available.
It's just another steel wood burning stove to many, but if you're all about great performance and terrific value, see your WE LOVE FIRE expert!
Aurora Suspended Fires
We're guessing you've never seen anything like this before.  A wood burning stove that is actually suspended from the ceiling!  No pedestal base or decorative legs support the stove.  It's actually hung from the ceiling!
This unique design is stunning.  It's a functional piece of art for your home!  Heat output up to 28,000 BTU/hour makes Aurora Suspended Fires, potent heaters.  Remember there are many variables when it comes to heating capacities.  But you have to admit, it's the look and design that makes this top eight product truly special.
Manufactured to high Aussie standards and hand crafted by artistic designers in Byron Bay, Australia, there are four different wood burning models to choose from.  (Also available are two models designed to burn bio-ethanol fuel.)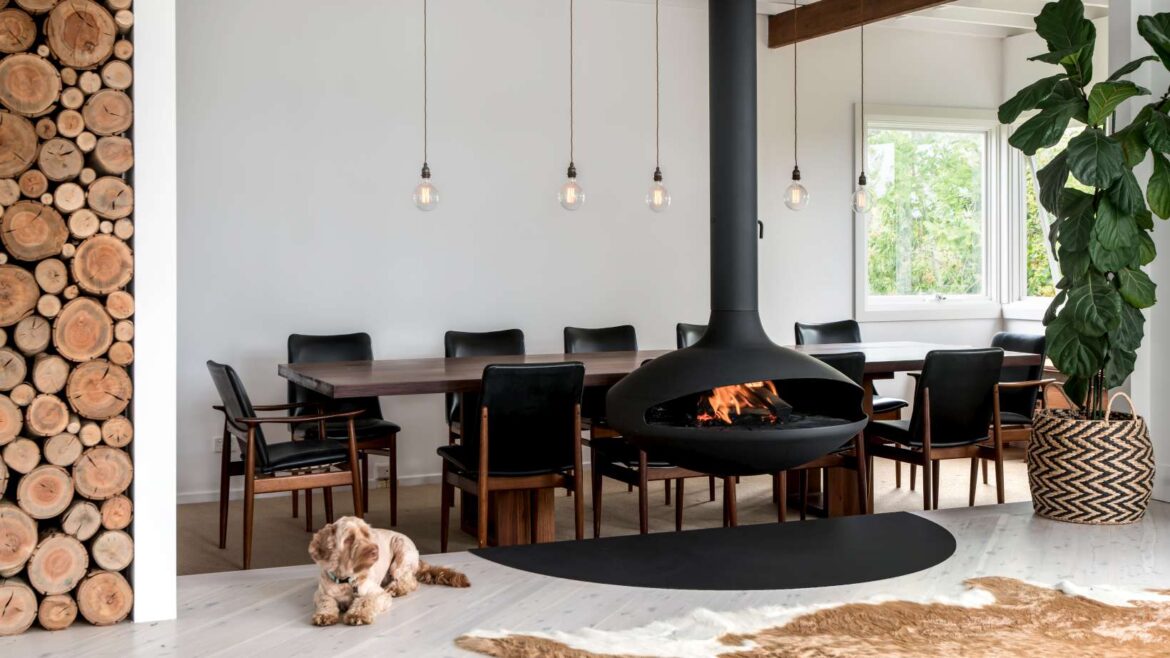 There are two key components for installing a wood burning Aurora Suspended Fire.  One is the heavy-duty mounting system that is installed in the ceiling or roof.  The suspension bracket is securely mounted and is designed to carry the weight of the chimney system and stove loaded with wood.  The second is a stainless steel, internal ball bearing rotation system that allows the stove to be turned 360˚!  Rotate the stove so the folks sitting in the living room have an unobstructed view of the fire.  Or, rotate it toward the dining area, your entertainment area or the front entry way.  Or, spin it around just to show off how cool it is!
Aurora Suspended Fires come with a safety screen and damper.  They are 36" in diameter and can be installed indoors or in your outdoor living space.  You can even bake pizza in them!
The engineers have designed the stove so routine cleaning and maintenance is easily accomplished.  There's an ash removal tray located in the bottom of the firebox to make this task a breeze.  Position a metal ash container under the fireplace and slide the tray to the side and let the ashes fall into the container.
This stove is not for everyone, particularly if you're looking for a traditional wood stove with tons of heat and long burn times of 12 – 16 hours.  But if you're after something very unique, maybe some supplemental heat for an area in your home and a functional piece of art, you need to contact your WE LOVE FIRE expert.
You'll be the talk of the neighborhood because these Aurora Suspended Fires are going to exceed your expectations and are guaranteed to keep you, your family and friends warm and excited!
Amantii Symmetry BeSpoke Electric Fireplace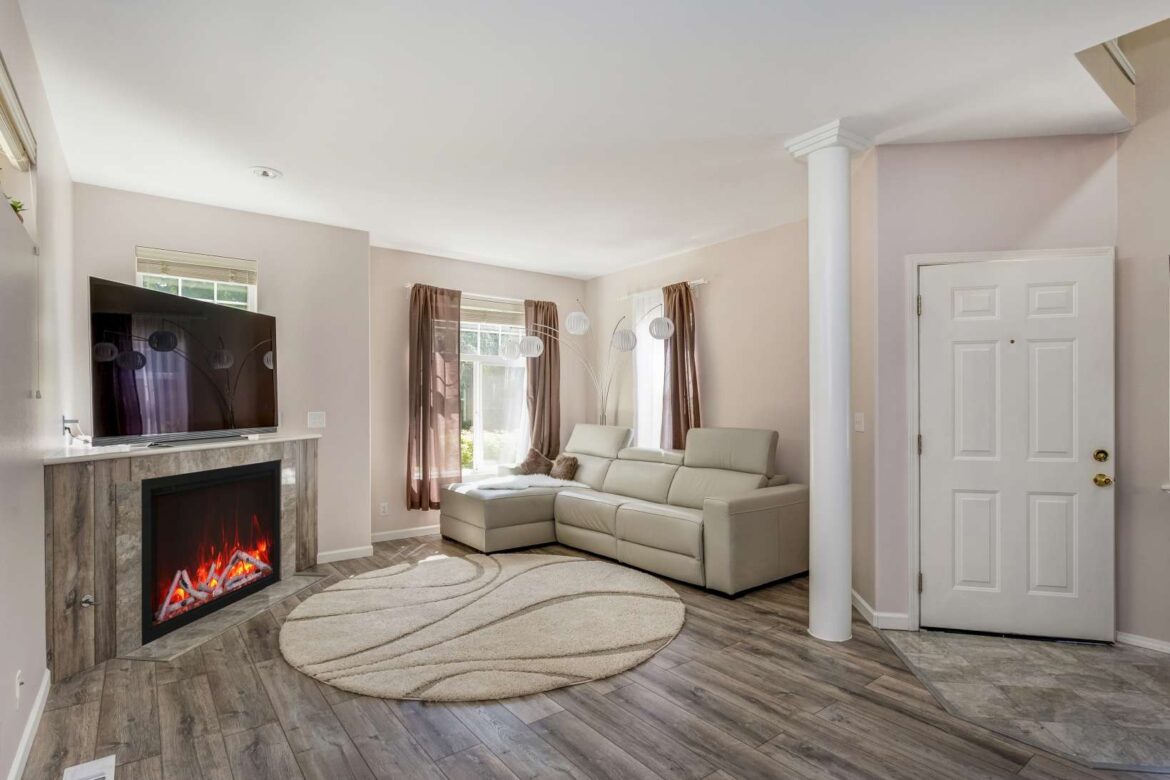 The Symmetry BeSpoke Electric Fireplace is not just another electric fireplace.  It's an extremely well designed, reliable unit that connects classic features into a contemporary package.
The Symmetry BeSpoke comes in three sizes: 50", 60", or 74" wide x 15 ½ high.  An intuitive thermostatic remote control comes standard with each unit.
The latest technology on the flame effects is extremely impressive.  The Symmetry BeSpoke electric fireplace features six brightness and speed levels as well as multiple flame colors that are quite stunning.  Orange, red and blue in any combination can easily be adjusted to your tastes.  The LED light show and ember bed effects can be enjoyed years 'round, with or without the heating element turned on.
One of the coolest features with this fireplace is a new concept that combines the flame and lighting effects with sound!  No, we're not talking about Paul McCartney here, we're talking about the snap, crackle and pop of a wood burning fire!
And speaking of cool features, how about a Wi-Fi App to control the BeSpoke from any room in your home?  Set the fireplace to turn on as you arrive home.  The app allows control of the flame height and speed, timers and the sound.
You're going to have difficulty selecting the media options, too!  Birch, oak, or rustic logs, driftwood, several colors of fire glass and the blue ice diamond media will make the decision, difficult.  Perhaps buy a couple of media options and change them seasonally!
The Symmetry BeSpoke Electric Fireplace can be installed indoors or outside on a deck or patio.  They can be hung from a wall or full recessed into a wall for a clean, unpretentious look.  Trim is required for the recessed/built-in look, but the units come with a black surround for this purpose.
It's obvious to understand why your WE LOVE FIRE dealer is excited about the Symmetry BeSpoke Electric Fireplaces.  Superior construction, long lasting reliable components, and innovative designs and options, all backed up by an impressive five-year warranty put the Symmetry BeSpoke in a class by itself!
HPC Torpedo SST Gas Firepit Burner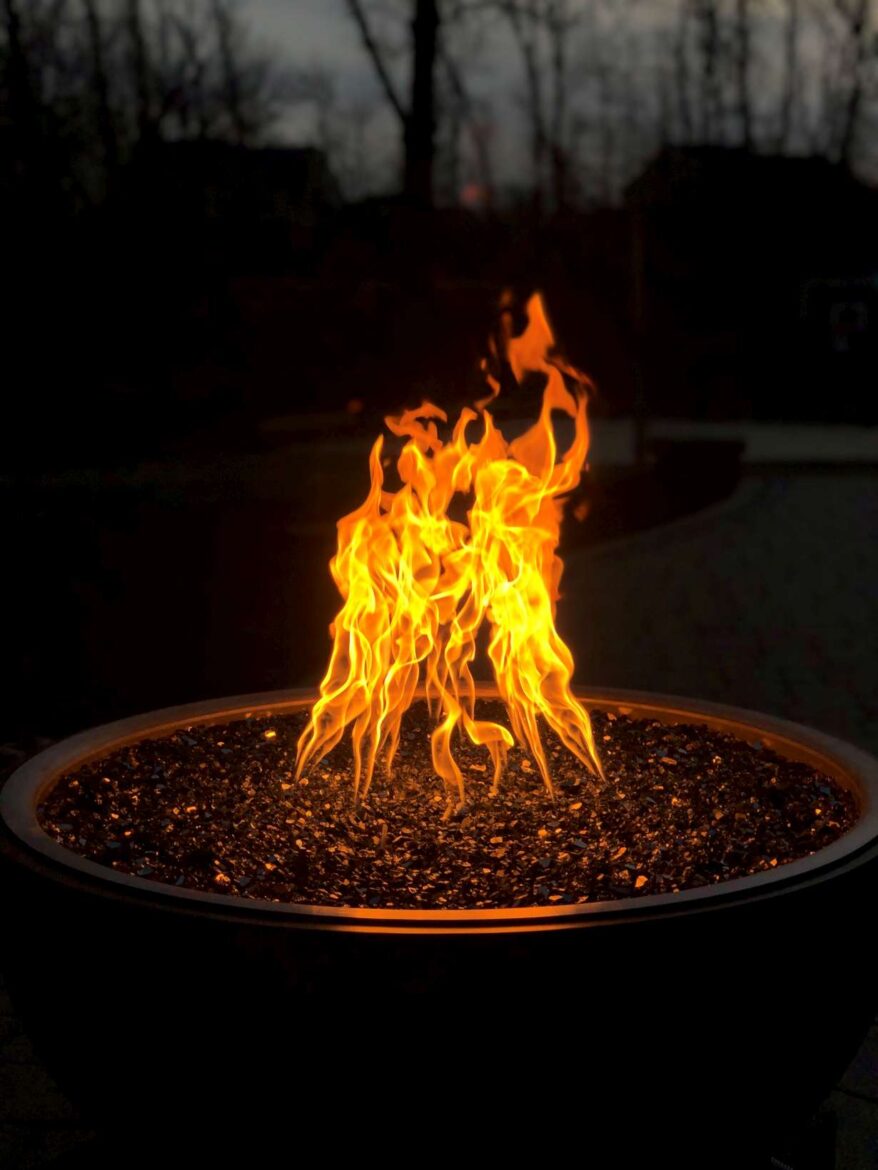 Founded in 1975, Hearth Products Control (HPC) has been recognized for years as a reliable, dependable and quality conscious manufacturer.  HPC Fire Inspired™ designs are fire features and their control systems used in residential and commercial applications.  They actually have the technology to custom fabricate fire features from 2 feet to 30 feet wide and from 50 thousand to 3 million BTU's!
Check out this video and see for yourself if this isn't a remarkable fire presentation.  If you're looking for an experience more like a lively campfire than a wimpy flame or two, the SST Torpedo is the right choice for you!  Easy to see why this is one of the WE LOVE FIRE Top eight picks, right?  If YOU love fire, big fire, the SST Torpedo is for you!
So how do they get these flames and this type of fire effect?  The SST Torpedo has a unique and patented nozzle design that maximizes the mixing of air and fuel.  This design is quiet, but more importantly for the end user the result is the biggest, warmest and most impressive fire on the market.
The SST Torpedo feature stainless steel nozzles that are tactically welded to the stainless-steel burner.  That means no threads where water and other debris often get trapped.  This burner will not rust.
The SST Torpedo burner soundly beats the competition in the big flame fire arena.  That's just one of the reasons your WE LOVE FIRE dealer is excited about their newest technology to the Fire Inspired burner product line.  Oh, a couple other points to mention.  The SST Torpedo burner has a Lifetime Warranty.  It is manufactured and assembled in the USA.
Incidentally, if you're wondering if the SST Torpedo can be linked with a whole house system or an automated pool controller, the answer is: yes!  HPC builds all their units powered by 120 volts.  Just connect it to an outdoor GFI outlet.
If you're looking at options for adding or replacing a gas firepit in your outdoor living space, the SST Torpedo burner is the top contender!  In fact, maybe you're already picturing yourself with family and friends enjoying time around a Torpedo fire!
MantelMount MM860 Automated Robotic TV Mount
Mounting the big screen TV above the fireplace is more popular than ever.  And, rightly so . . . it makes great use of the space that would otherwise be used for a wall decoration, a mirror or maybe a clock.
Your TV viewing experience just took a major step forward.  It's easy to see why the MantelMount Automated MM860 Robotic TV Mount is on our Top eight list.  With the touch of a button, the MM860 drops your TV down and swivels it into the perfect position for enjoying a movie, sporting event or your favorite program.
An innovative company headquartered in California, MantelMount was founded by a mechanical engineer who found watching television was literally a pain in his neck!  Guess where the TV was located in his house?  Yup, high above the fireplace.  His engineering skills kicked in and MantelMount was established.  His design criteria include strength, durability, reliability and safety.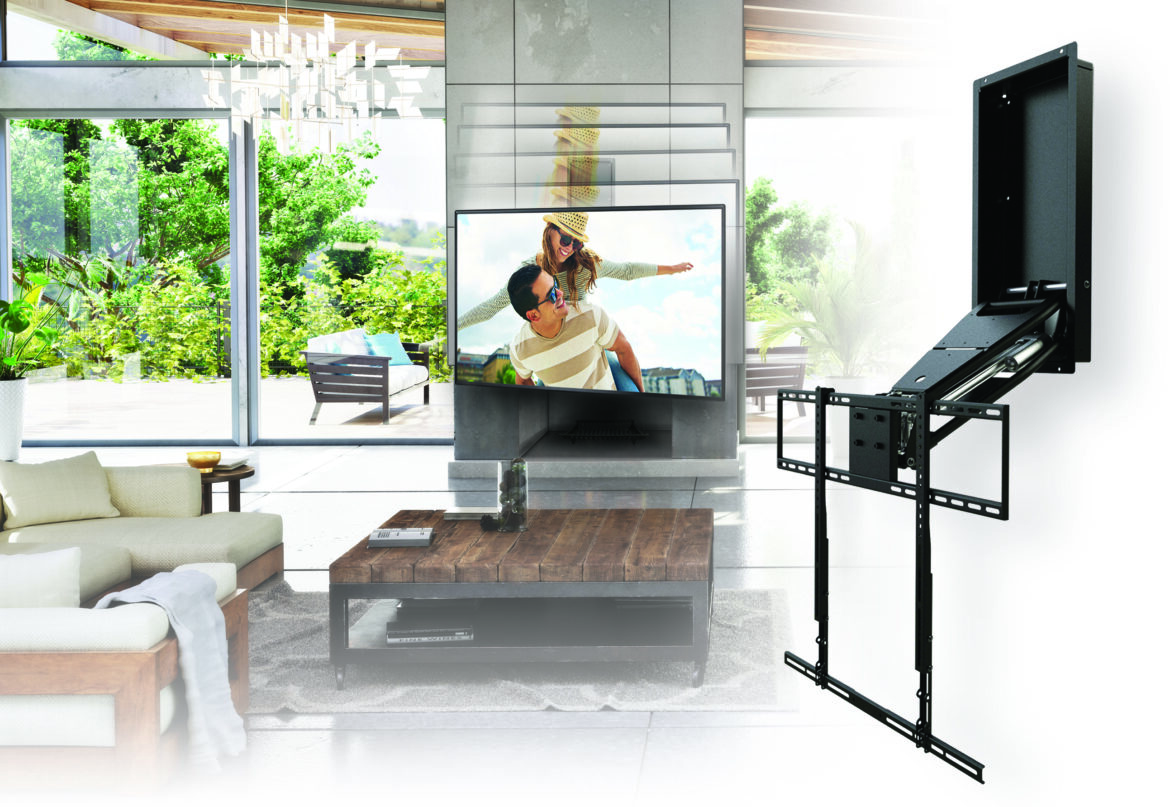 There are several models available, but the MantelMount MM860 features a patented multi-axis hub and proprietary software.  Precise electronic actuators will lower and swivel the TV in one smooth, fluid motion.  The MM860 has a heat sensing monitor that will automatically retract to the home position if an unsafe temperature for your TV is reached.
If you're wondering about your sound bar, no concerns.  MantelMounts have built-in soundbar attachment capabilities for many soundbars on the market today.
Other features of the MantelMount include adjustable stops to prevent any part of the mount from hitting the wall.  An automatic stabilization system uses gas springs to ensure that if one spring weakens over time, it won't favor the mount.  The stronger gas piston will automatically take on more of the force from the weight and motion of the TV, thus maintaining a level TV over time.
Incidentally, it will work with or without most home automation systems and will accommodate several memory presets.
MantelMounts are typically surface mounted to drywall using 16" on-center studs.  There are options for recessed flush mounting, single stud mounting, horizontal surface mounting, single beam or post mounting and brick façade mounting.
Watch the video.  It will be apparent why MantelMount is so confident and proud of their product line, they back it with a lifetime warranty on all mechanical parts and a full five years on the gas springs.
Napoleon Series S30 Wood Burning Stove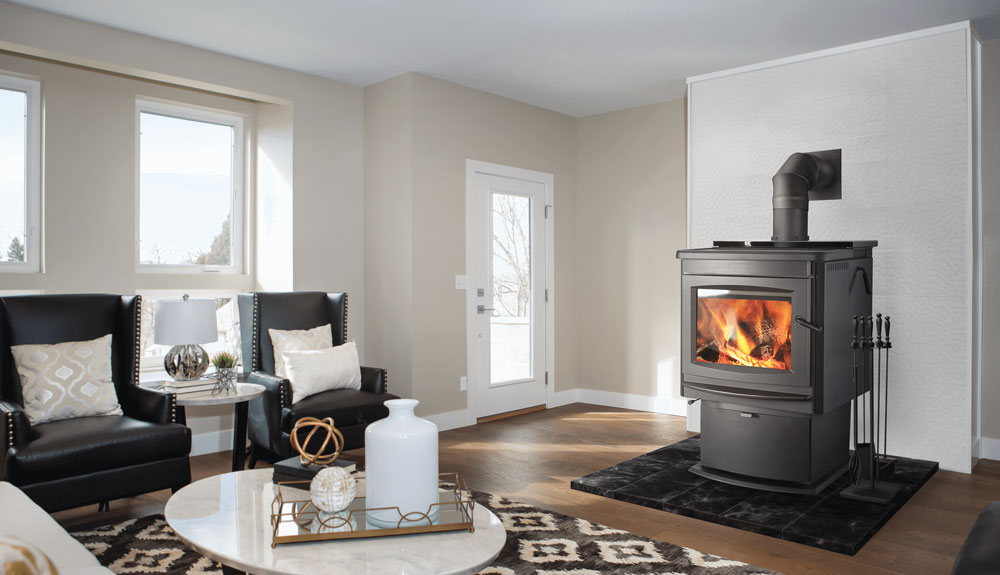 You might be thinking, "It looks like just another average wood burning stove to me."  Well, take another, closer look at the latest offering from Napoleon and you'll notice some unique features that put the Model S30 on our Top eight list.
With this model, Napoleon completes their popular S-Series of freestanding, wood burning stoves.  The S30 is a full size, modern catalytic stove that has the largest glass viewing area in its class.
The performance of this bad boy is second to none.  Tested and listed to the EPA's strict 2020 cordwood requirements, the manufacturer states the S30 can deliver up to 31 hours of heat on one filling!  31 hours?  What?  Even half of that is truly impressive!  Keep in mind that the species of wood and its density as well as the moisture content and other factors, will always affect burn times.
Check out the pictures.  Notice the cast iron door with hidden hinges.  The Napoleon S30 also has a heavy-duty cast-iron top, an ash lip at the door to help contain the ashes and a pedestal base.  The size of the firebox is an impressive 3.2 cubic feet.  The S30 will take up to a 21" log.
The sleek looking Napoleon S30 features a few popular options, including a variable speed fan kit.  A well-designed easy glide ash drawer with a removeable pan comes with a lid for safe, easy and convenient removal of ashes.
Low emissions + high efficiencies + long burn times = piece of mind and hours of warmth and comfort for you and your family.
Your nearby WE LOVE FIRE dealer feels that the looks and styling, added with the high performance of the Napoleon S30, makes this an easy Top eight pick.