You're sitting in front of a fire with a group of friends on a chilly August evening. The sky is speckled with stars. There's a blanket on your shoulders, and a marshmallow stick in your hand. You look around you and think: "This is a perfect evening."
Nothing beats the warmth and conviviality of an outdoor fire. People tend to gather around fires, and it makes for good times and good memories.
If you're planning to get an outdoor fireplace or fire pit, there are a few things you should know first.
Rules and Fire Codes
Before planning any outdoor fireplace, check with your municipality about fire and building codes, as well as permit requirements. There are many places where open fires are illegal, so make sure you do your research before starting any project.
Zoning regulations tell you how close to your house, other buildings, fences, and trees your fireplace can be.
Some municipalities restrict the type of fuel you can use.
While many rules are there for safety reasons, some exist to ensure the structural integrity of your outdoor fireplace.
Chimney height, ventilation, gas lines, and flues are all regulated by building codes. You might also need a permit to build your outdoor fireplace.
It would be wise to call your insurance company to see if a fire pit or outdoor fireplace requires changes to your policy.
It might seem like a lot of rules, but remember that they exist for your and everybody's safety. Following the rules and fire codes of your municipality prevents fire hazards for you and your neighbors.
Before digging, check the location of underground cables and pipes.
Always keep a fire extinguisher close at hand in case of an emergency.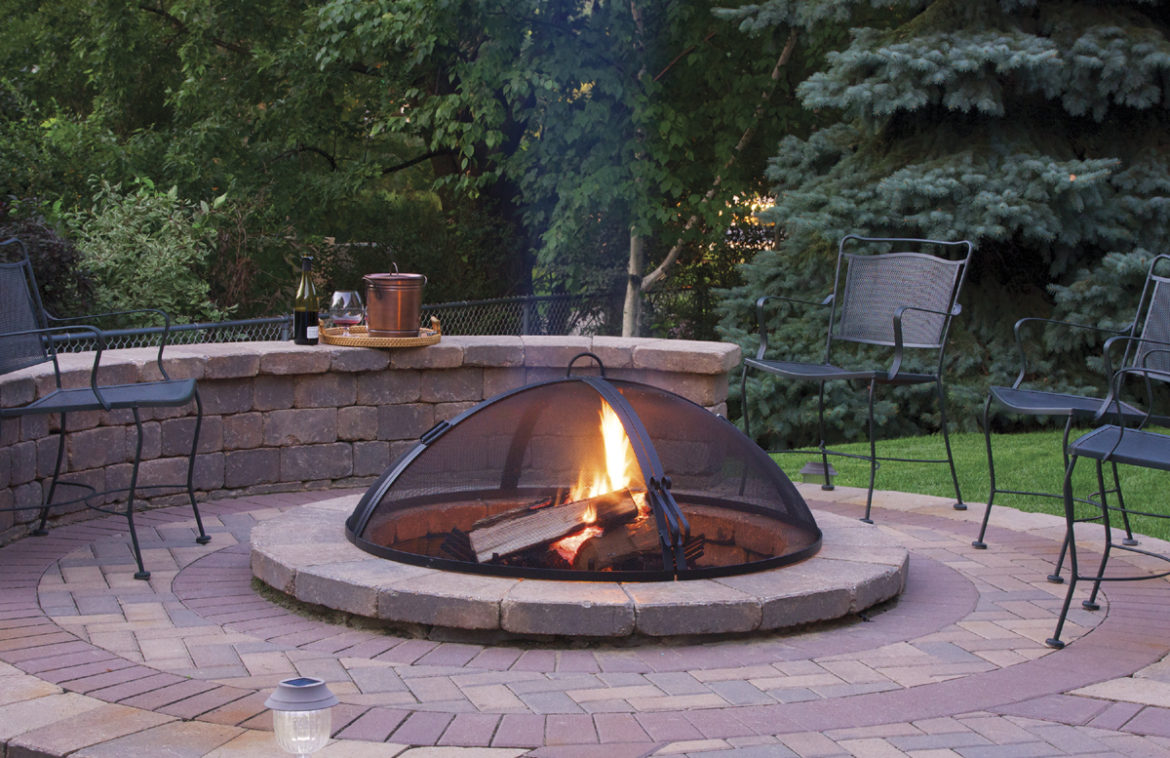 Fireplace or Fire Pit?
Do you want a fire pit or a fireplace? Once you've checked all rules and fire codes, that is the question that needs answering. Fire pits are generally easier on a budget than outdoor fireplaces, as fireplaces are more massive and usually require some construction work. Some fireplaces are built so you can even cook on them.
Whether you choose a fireplace or a fire pit is primarily a question of personal choice, the space available, and your budget.
Outdoor fireplaces mostly look like the traditional stone or brick fireplace, while fire pits come in a wide range of styles. You can have anything from a traditional stone fire pit to a copper fire and water bowl. There's even a new gas fire pit that you can control with your Smart Phone.
An outdoor fireplace can be placed strategically to give you more privacy or block an unappealing view, but the seating is limited to its front side, and it takes up more space. A fire pit is smaller, and you can sit around it. On the downside, the smoke direction is difficult to control.
Choose Your Fuel
Do you like the smell of wood-burning, or do you prefer the ease with which you can light a gas fire? If there are no restrictions from your municipality about the type of fuel you can use, it's once again a question of personal choice.
Both fire pits and outdoor fireplaces can be used with gas or wood. Wood produces more heat and is cheaper than gas, but requires a chimney when used with a fireplace. Gas requires less maintenance than wood, but you need a gas line and proper venting. The longer the gas line, the higher the cost.
Size and Location
The size of your fireplace or fire pit depends on how many people you plan on entertaining. If you often have large groups of friends over for a fire, a large fireplace or fire pit with enough room for your guests to move around would be appropriate. If you have a small backyard or entertain smaller groups, then a smaller appliance will be plenty.
Make sure you have enough space in front of your fireplace or fire pit to enjoy it to the fullest; sitting too close to the fire won't be comfortable, while also far would be too cold.
The location of your outdoor fireplace or fire pit is crucial. On top of complying with your municipality's regulations, you want it to be easily accessible, without being a fire hazard to your house. It should be on a hard surface, so the fireplace doesn't shift or crack. Choose a dry spot that has proper drainage.
When deciding your fireplace's location, make sure it doesn't obstruct your view. You may want to position it with its back to the neighbors; it will act as a privacy screen.
Check the wind's usual direction around your property. Placing your fireplace with its back to the wind has it act as a windbreaker, so you don't get smoke and ash on you.
Many want a storage area near their fireplace so they can store their cooking utensils, cushions, fire tools, grates, and cleaning supplies. Just make sure it's not too close, so as not to be a fire hazard.
Materials
Outdoor fireplaces and fire pits are made from non-combustible materials like brick, stone, concrete, tile, and slate. They also need to be on a hard surface like stone, masonry, or concrete for stability and fire safety.
Materials are usually chosen to complement the style of your home and to fit your budget. If you decide to build your outdoor fireplace or fire pit yourself, consult a professional first, as the wrong kind of stone or brick can explode.
Decisions, Decisions
Getting an outdoor fireplace or fire pit is a lot of decision-making; there are so many factors to consider. If you need some help determining the best fit for your backyard, our We Love Fire partners will be more than happy to give you a hand so that all you need to do is sit back, relax, get the marshmallows out and enjoy the fire.