You don't have to have a degree in propulsion engineering to install your own fireplace.  However, it is critical that you are aware of several very important details, precisely follow all the installation details from the manufacturer and never compromise code requirements or safety concerns.  Obviously, you'll need some carpentry skills and the right tools.  But, if you want to tackle a fireplace installation yourself, keep reading.  We will give you several pointers in this article.
CLEARANCE REQUIREMENTS
As we discuss any hearth product, two terms that you need to thoroughly understand are clearance requirements and combustibles.  Clearances refer to a specific distance.  And, combustibles are anything that can ignite and burn.  For example, if the clearance requirement for a chimney pipe is 2" to combustibles, the chimney must stay a minimum of 2" away from any framing members, drywall, asphalt roof shingles or anything else that could catch fire if it got hot enough.  We've said it before and it bears repeating now: more is always better when it comes to clearance requirements.  If, in this example the clearance is 2", there's nothing wrong with installing the chimney 3" or 4" away from a wooden framing member.
The primary question to ask yourself when installing a fireplace is "What's the clearance requirement for this?"  And "this" will be several items including: wooden framing, the chimney pipe (for a wood burning fireplace) or the co-axial vent pipe (for gas), the mantel, the hearth, the finishing facing materials, any windows or doors, the distance above grade, above the roof.  The list goes on.
During an installation, clearances should be your main concern and constantly on your mind.  Never, ever scrimp on any required clearance.  All will be outlined in the owner's manual.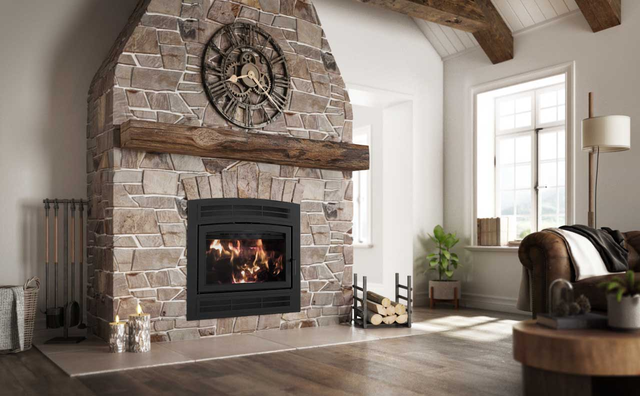 THE FIRST STEPS
Before you even purchase a fireplace, be fully aware of the chimney or venting requirements of the equipment you're considering.  Gas appliances can be horizontally through a sidewall or vertically vented through the roof.  Wood burning fireplaces must have the chimney installed vertically.  Will the location you're planning on, work?
Keep in mind, that there will be minimum and maximum heights for a chimney system.  Your chimney is the engine, so to speak, that allows the wood burning fireplace to perform as designed.
Likewise for a co-axial vent pipe for a gas unit.  There will be minimums and maximums outlined for you to review.   Called the "venting profile", the vertical rise/horizontal run relationship will be detailed in the owner's manual.
Because of several different venting options, gas fireplaces are much more versatile  than their wood-burning counterparts.
Regardless of the fuel you intend to burn, make sure the chimney or venting requirements will be met.
FRAMING
Specifications for the framing details are found in the owner's manual.  Framing is usually straight-forward, but if you're planning a TV or something heavy above the fireplace, give some thought to beefing up the framing.  This can be easily done by installing a couple of horizontal 2 x 8's or 2 x 10's between the studs.  This way, you'll have additional strength and it will be much simpler to locate the mounting hardware for the TV, or something rock solid to hang that elk rack on!
THE HEARTH
A wood fireplace requires a hearth.  Gas equipment may or may not require one.  When planning the hearth, make sure it complies with the minimum requirements from the fireplace manufacturer.  Again, with clearances, more is better.  So, if the clearance requirement for the hearth in the manual needs to be 4 feet wide and 18 inches deep, go 5 feet wide and 22" or 24" deep.  You won't regret it.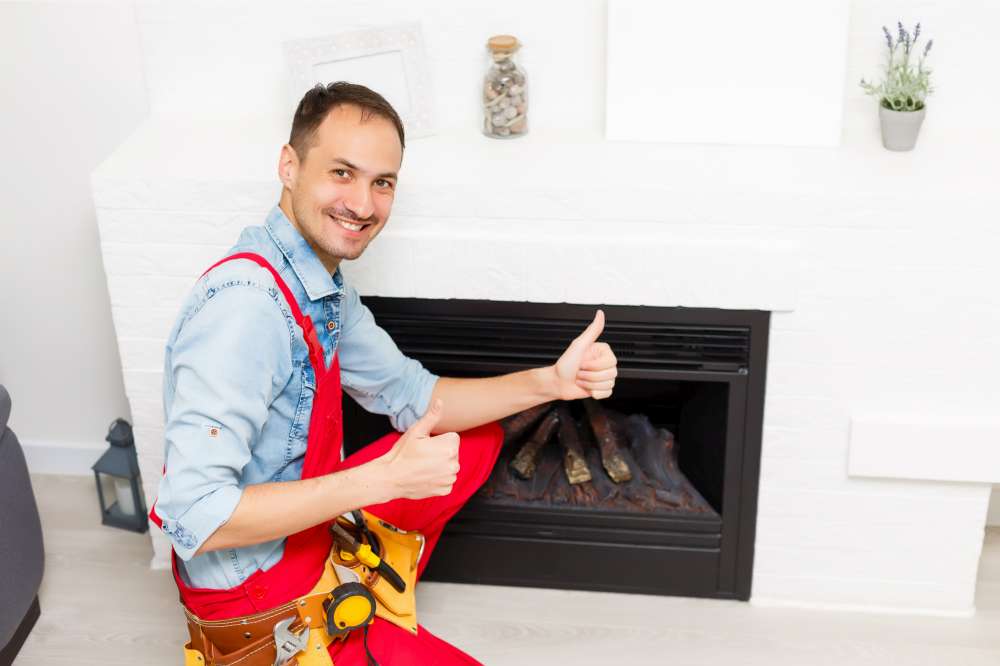 THE FINISHING TOUCHES!
When the conversation turns to finishing a fireplace, there are dozens of options to consider.  Cultured stone, brick, tile, marble, stainless steel, iron or a combination of these are all possibilities.  This is the time to show your creativity!  As we stated earlier, just be certain that all clearance requirements are met, and hopefully exceeded.
MANTELS
The majority of fireplaces will have a mantel of some sort.  And yup, if you're thinking there might be a clearance requirement, your right!  Because there is!  The owner's manual will have the requirements clearly stated.  Unless it is a non-combustible mantel, consider installing the it a bit higher above the fireplace opening than required and a little deeper than the minimum.  This is especially important if you're planning a big screen TV above the fireplace.
Your WE LOVE FIRE expert has a line of non-combustible mantels that would enhance any fireplace in a family room.  And, be sure to ask about the unique MantelMount system.  This is absolutely the best way to mount a television above your fireplace!