On a cold winter night, who doesn't like to come home and warm up in front of a fire? A fireplace adds value to a home, as does a stove. They are good supplementary heating systems, and you save on the cost of electricity. But what is better suited for your home? A fireplace or a stove? Here are five questions you should consider before making a decision.
Work
How much work are you willing to put into your house?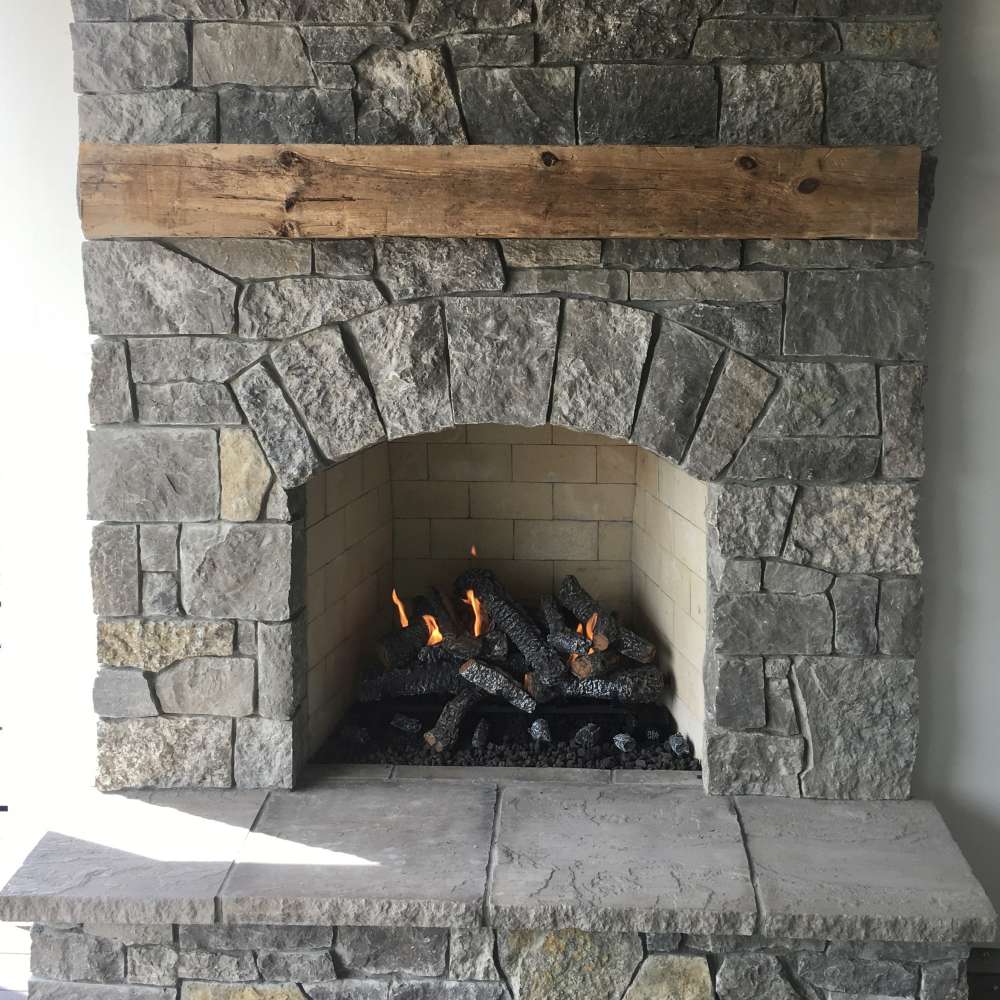 If your house is under construction, you have the option of building a traditional masonry fireplace. This type of fireplace is expensive, but if it's well built, it will match your house's lifespan.
If a house was erected without a fireplace, you can add in a zero-clearance stove or factory-built fireplace. Fireplaces usually require more work than stoves, since they are incorporated into a wall. So, you must plan the renovation work for the fireplace mantel.
Wood fireplaces require a chimney, whereas gas fireplaces are generally vented through the wall. Other gas fireplaces are vent-free. However, it is important to remember that not all municipalities permit the usage of gas fireplaces without venting systems.
Consider the time and money you will have to invest before making up your mind.
Heat
What kind of performance do you expect from your heating unit? Will it be used as a supplementary heater, or as your primary heat source?
It can be hard to monitor the amount of air feeding the fire in a masonry fireplace, rendering it inefficient when compared to other fireplaces or stoves. Installing an insert will improve its efficiency and will increase the amount of heat dispersed throughout your house.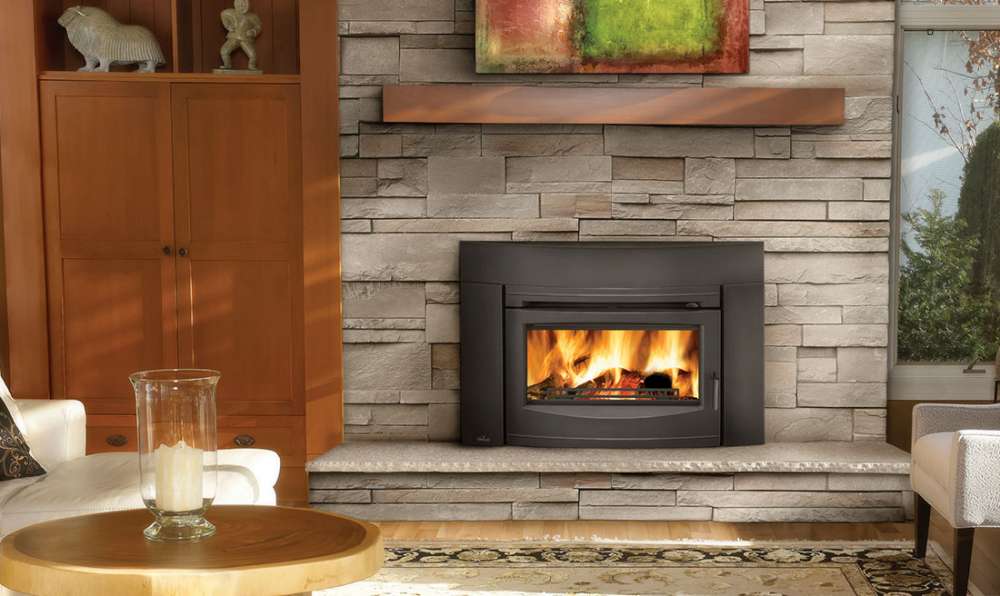 Efficiency in factory-built fireplaces is remarkably superior to that of masonry fireplaces.
Heat distribution is different between a fireplace and an stove. A fireplace's heat spreads only from its front, whereas a stove's heat radiates from all 4 sides around it.
The size of the room in which your fireplace or stove is located, the area you want to heat up and many other factors will determine the number of BTUs needed.
Use our BTU calculator to help you with this step.
Appearance
What are you searching for in terms of style?
Some will choose a fireplace for its appearance, while others prefer a stove, since it can be placed nearly anywhere inside the house. A wood fireplace has fewer placement options, since it requires a chimney, while a gas fireplace can be installed in more places in the home.
A fireplace is a room's focal point and can don a variety of mantels. From your traditional masonry or stone fireplace, to a ceramic or porcelain mantel, to a concrete, marble or granite mantel: the choice is yours. Do you want built-in bookshelves on each side of the mantel? Your imagination, your budget, and your area's fire code regulations are the only limits to the style you want to give your fireplace.
Stoves look very different from fireplaces, since they are not built into a wall. Today's stoves come in many styles, models, sizes and materials. Whether you are looking for a modern or a rustic look, you have many options.
Today's woodstoves are made out of steel, cast iron, or soapstone. Steel stoves heat up quickly, but they also cool down rapidly. They are offered in a large range of prices. Cast iron stoves are known for their quality and great lifespan. They are decorative and practical all at once. Some are fitted with a hotplate. The soapstone's veins lead stoves made out of this material to be very aesthetic. They take longer to heat up, but they retain heat long after the fire has burnt out.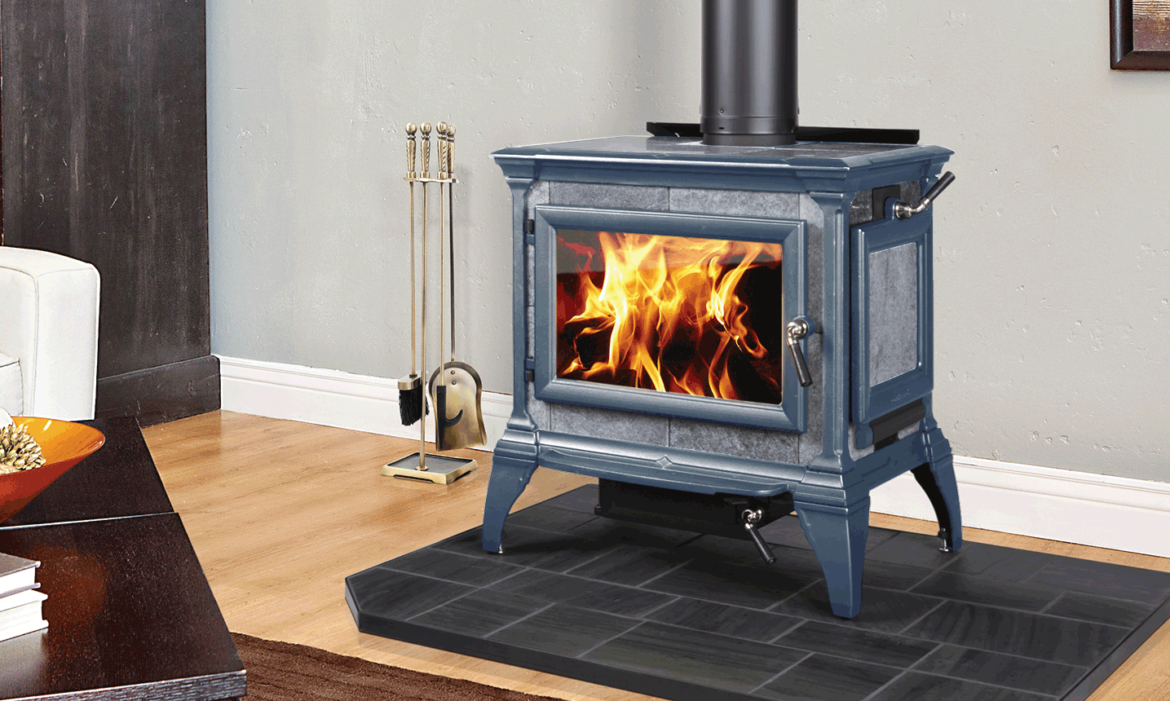 Do you prefer the fireplace's built-in appearance, or the stove's?
Security
Do you have young children or pets?
Whether you buy a stove or a fireplace, certain security measures should be taken.
A fireplace's doors become very hot; therefore, a screen-type spark arrestor is necessary to keep your children and pets away.
In the case of a stove, since all sides are hot, children and animals playing nearby run the risk of burning themselves. A custom-made shield fitted around your stove could be an option, but a watchful eye and warnings will be required, whatever the chosen heating unit is.
Before deciding, make sure you can guarantee your family's safety.
Cost
How much do you want to invest in your heating equipment? Whether you opt for a stove or a fireplace, there is a full price range on the market. It's your job to see what better fits your needs, and your budget. Keep in mind that a fireplace will require a bit of work to build it into the wall, which can lead to additional costs. The range for pricing will go as follow:
Masonry Fireplace: $15,000 and more
Factory Build Fireplace: $3500 to $25,000
Stove: $1500 to $6000
Chimney or venting: from $600 to $4000
Installation cost: $1000 to $3000
Work out the expenses before deciding on a model. Are you able to cover the installation costs? Getting the installation done by a professional is the best way to ensure that the job is well done, in accordance with your local security regulations.
The choice is up to you
With the information discussed in this article, choosing your heating unit remains much of a personal decision. It's up to you to consider every aspect, to determine your needs and personal preferences.
Make sure that any heating unit you choose is compliant with the current standards in your area. Woodstoves must be EPA (United States Environmental Protection Agency) or CSA (Canadian Standards Association) certified.
Beware of low-cost units made overseas. They are often made with lower quality materials, with a shorter lifespan. If you need help and advice regarding the selection of your heating unit, any merchant who is a We Love Fire member will gladly support you throughout the process.