A fireplace is an excellent addition to any home. There is nothing better than being warm and cozy by the fire on a cold winter night. If you are planning to add a fireplace to your house, you will quickly realize that they come in many types and offer plenty of options. How can you make heads or tails of it all? Here are a few factors to consider when making your choice.
Fuel Type
The first and most significant decision to make is the fuel. There are four primary types of fuel: wood, gas, pellet and electric. Everybody has a preference, and the fuel cost will factor in for some.
Wood is the traditional heating fuel. While some like the coziness of it, others do not appreciate the smoke scent. People with lung problems should avoid wood fireplaces. As for the cost, having your own supply of wood makes it cheap, but you still have to chop and store it. Buying wood can be expensive, depending on the suppliers near you, and you still need to have it delivered and store it. The chimney has to be cleaned and inspected each year, and the ash from the fire needs to be cleaned regularly.
Gas is a common fuel option for fireplaces. You can have a nice fire roaring at the push of a button. Gas fires are clean and efficient and produce heat. No need to haul firewood, no ash to clean.
Pellets are made from recycled materials such as sawdust and wood remnants, and they are environmentally friendly. They are sold in 40-pound bags and are easy to store. The major downsides with pellet fireplaces are that you need electricity for them to work, and they produce a fair amount of a noise from the operation. Ashes also have to be cleaned weekly.
Electric fireplaces are useless in a power outage. That said, they are affordable, and you do not need a chimney. You can use them to heat, or as a decorative element. Although there is a flame pattern, they are not real, so there is no danger.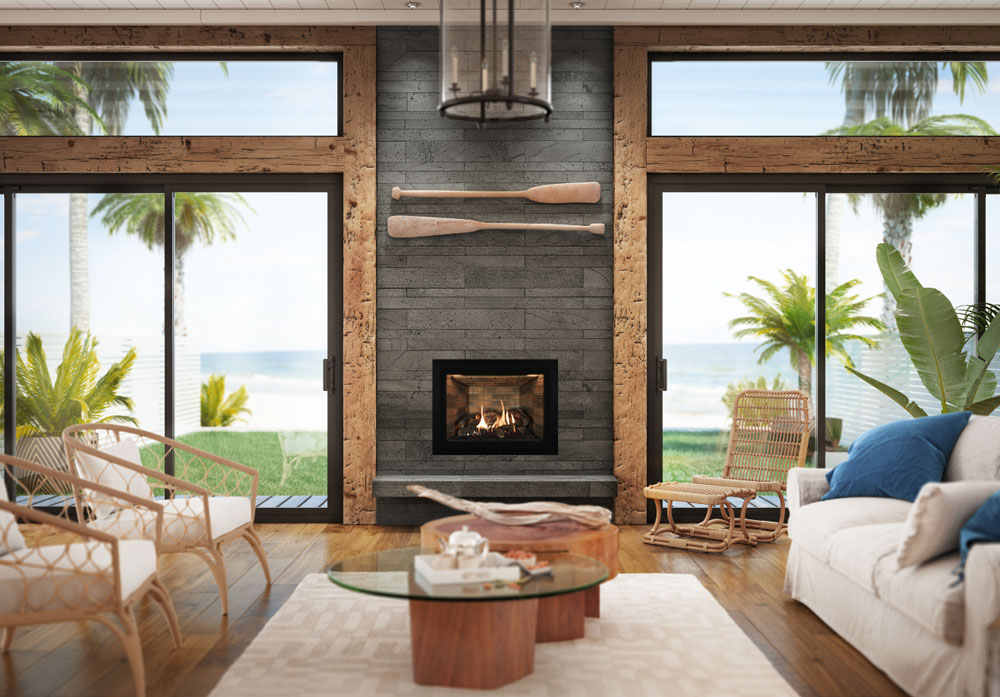 Unit Type
The second thing to decide is the unit. Do you want a fireplace, an insert or a stove? Your decision at this step will depend mostly on your needs.
Fireplaces can have a traditional or a modern look, built in a wall with a chimney. You usually build a fireplace while building the house. If you want to add one later, there is a lot of construction work to be done, and it is costly. The only exception is the electric fireplace, which can be installed pretty much anywhere.
Inserts can be described as stoves added to an existing masonry wood fireplace. They are smaller than fireplaces since they fit in them, so the viewing glass is smaller too. They are the best solution when you do not want to have to redo your fireplace.
Stoves are more efficient for heating than masonry wood fireplaces, who lose most of their heat up the chimney. Due to the materials they are made of, they tend to get very hot, so you have to be careful with pets and children playing around.
Other Factors
While most decisions you make will be a matter of personal preference, you should consider the following factors before making any final decision.
Will your fireplace or stove be the only source of heat in your house? If so, an open-hearth wood fireplace is probably not the solution for you. EPA certified Wood fireplaces, Direct-Vent Gas fireplaces and electric ones will be more efficient, and a stove over a fireplace will be even better.
Where will it be? Ideally, you want to install a fireplace at the center of the house for better heat distribution. A big unit is ideal in a large room or house, but in a small room, it will produce too much heat.
Do you have children and pets? Electric fireplaces are the safest option, with gas fireplaces close behind, as its glass are now protected with a barrier screen. Open-hearth wood fireplaces represent the most risk.
Wall-mounted and free-standing units are generally more affordable to install than built-in ones. Gas, wood and pellet units must be inspected and cleaned once a year, which adds to the cost.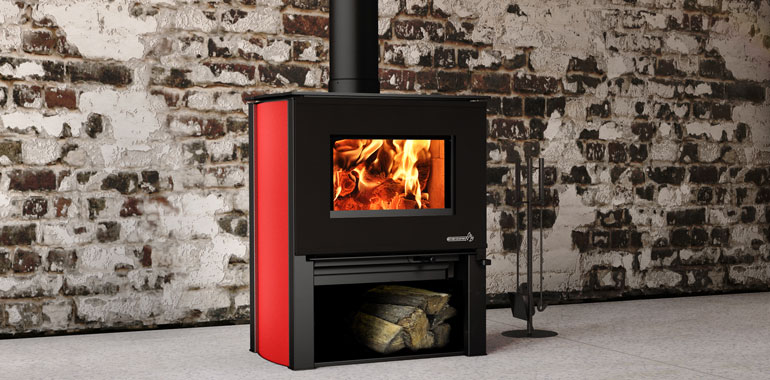 Mounting
Once the major features are decided, the rest is mostly aesthetics. Depending on your choice of unit and fuel, different mounting options will be available. Do you want an open-hearth fireplace, or will your unit be wall-mounted, free-standing or two-sided?
The open-hearth fireplace is the traditional wood-burning fireplace. It is built in your wall, has a chimney, and is usually made of brick or stone. If you do not already have one in your house, it is the most expensive option. An insert can be installed in an open-hearth fireplace.
Wall-mounted units are perfect for small homes. Depending on the fuel you use, it might need a chimney or vent.
Stoves are free-standing units. While these need to be attached to a vent, others do not. That is the case with entertainment centres that have built-in electric fireplaces.
Two-sided fireplaces add a modern touch to any house and can be enjoyed from two rooms at the same time.
Finishing Touches
Will you go for the modern, contemporary or traditional style? If you are opting for a fireplace, will it be made of brick, stone, concrete, or marble? Do you want a mantel? If so, what kind? The possibilities are endless.
Your choice of a fireplace is strictly personal, but it is a good idea to consider your needs and the costs involved before making your final decision. Consulting certified professionals is a must to meet all regulations and safety standards. We Love Fire's partner retailers are there to assist you every step of the way.