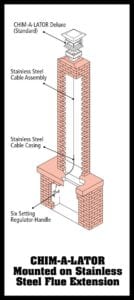 What happens to your fireplace during the rain or during a snow storm?  Will a cap on my chimney keep out the moisture?  If I don't have a cap on my chimney, is it something to be concerned about?  This article will address these questions.
STAINLESS OR MASONRY?
There are two types of chimneys;  stainless steel and masonry.  A masonry chimney is built by a mason who uses concrete, bricks, concrete blocks, flue tiles, mortar, steel and cast iron to build a chimney.
Stainless steel chimneys are often called "factory-built" or Class A chimneys.  These are manufactured in a factory and the components of the chimney system are twist-locked together.  They are used in new construction and in remodeling projects.  Today, factory built, stainless steel chimneys are the standard and preferred type.
It is highly recommended that a properly sized cap be installed, regardless of the type of chimney.
WATER DAMAGE:

Water, whether it's rain or snow, can cause a lot of damage, especially to a masonry chimney.  Water will rust steel fireboxes, clean out doors and cast iron dampers.
Water seeps into small cracks and crevices and will expand when it freezes.  Masonry materials will quickly start to deteriorate during these freeze/thaw cycles.  Just ask your city or county highway maintenance crews about the freeze/thaw effects on roadways.  How do you spell:  P-O-T-H-O-L-E-S ?  That's the effect of water seeping into cracks, expanding when it freezes, then cracking and popping up chunks of pavement.
OTHER ISSUES:
Other concerns about water in chimneys include:
The deterioration of mortar between flue tiles can be worsened. This decline is from the inside, out.  By the time you have noticed issues on the outside of the chimney, the inside is normally severely damaged.  This can lead to expensive repairs.
Seeping water can stain the exterior of the chimney and house. In addition, it can also stain the interior walls and ceilings.
Additionally, when this water mixes with creosote in the chimney, the result is a nasty smelling odor that will often spread throughout the entire house.
GET A CAP!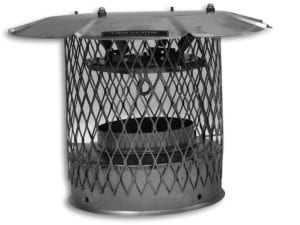 Make sure your chimney has a cap installed on it.  A chimney cap is an inexpensive item that comes in dozens of sizes and several colors.  Stainless steel, copper and black powder coat are the most common.  Your WE LOVE FIRE dealer can determine what size and type is the best option for your chimney.
Other advantages of having a chimney cap include:
Preventing sparks that find their way up the flue from landing on the roof.
Caps can help keep critters and birds from nesting in the chimney.
If your damper is inoperable, consider replacing it with a lock-top sealing cap. This is a special cap that is designed to seal the flue at the top.  It locks out the weather, pests and keeps the warm air in the house from moving up the chimney flue.   A cable is installed from the fireplace to the cap.  The cap springs open when the cable is pulled and seals tightly down when pulled again.  Most have a safety device that will lock it open in case the operator builds a fire and forgets to work the cable.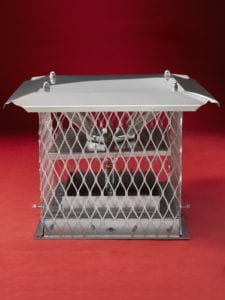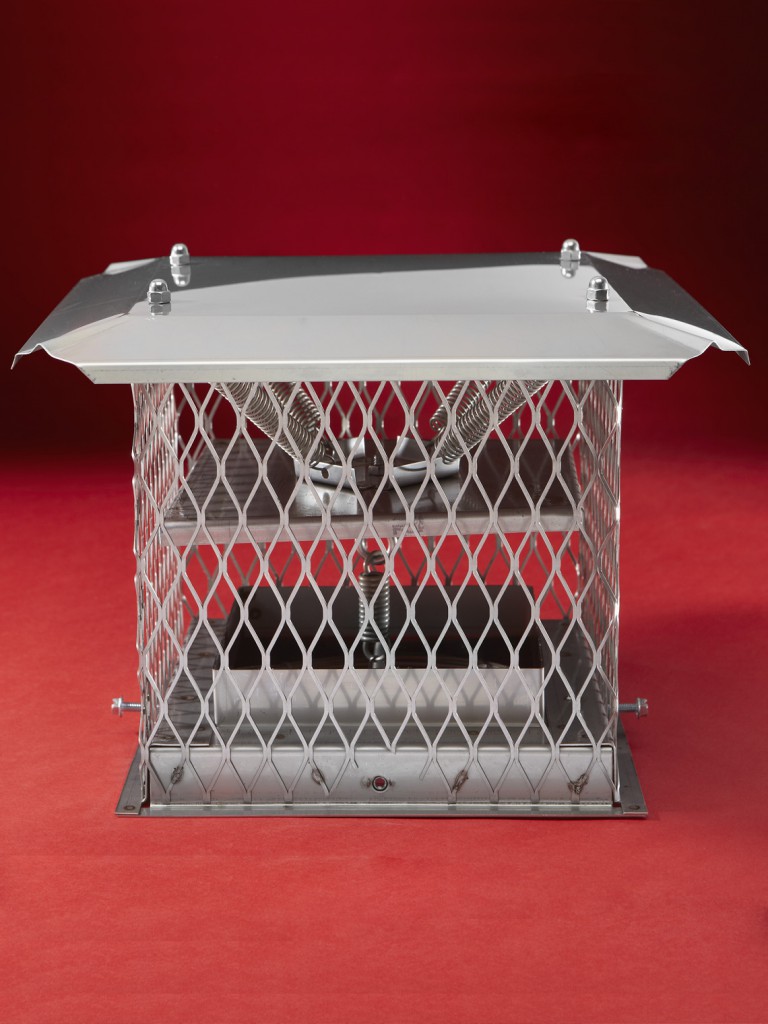 A properly sized and designed chimney cap can go a long way to preventing damage.  Chimney caps have long been acknowledged as a critical safety and damage avoidance component.
For another interesting article that you will find informative, see SIX REASONS WHY YOUR FIREPLACE SMELLS BAD.
CALL YOUR CSIA* OR WETT** SPECIALIST!
It is very important to have your chimney system inspected and cleaned if necessary, at least once a year.  Be sure to enlist the help of a nationally certified chimney sweep.  You and your family will sleep better knowing they are professionally trained by the Chimney Safety Institute of America (CSIA) or by WETT in Canada.  Your WE LOVE FIRE expert is ready to help in any way we can.
*CSIA, in the United States, Chimney Safety Institute Association
** WETT, in Canada, Wood Energy Technical Training.