When it comes to selecting a fireplace, there are dozens of choices that homeowners are faced with.  It can be very confusing.  This article will take a practical look at several criteria that should be considered before making a final decision.
FIRST QUESTIONS TO ASK
When a customer talks about the "size" of a fireplace, they are usually referring to the physical dimensions of the unit.  Many of us in the hearth industry refer to "size" in terms of how much space a fireplace will heat, rather than the "size" of the glass or the dimensions of a certain model.
The amount of heat and the physical size of a fireplace are both important, but there are a few other questions that should be answered before a specific product is selected.
For example, what fuel do you plan to burn?  The options are:  wood, gas, electricity, or pellets.  There are pros's and con's associated with all four of these fuels.  Where is the fireplace going to be installed?  Do I want significant heat from the fireplace?  [SEE LINK:  WHERE DO I PUT A FIREPLACE IN MY HOUSE?]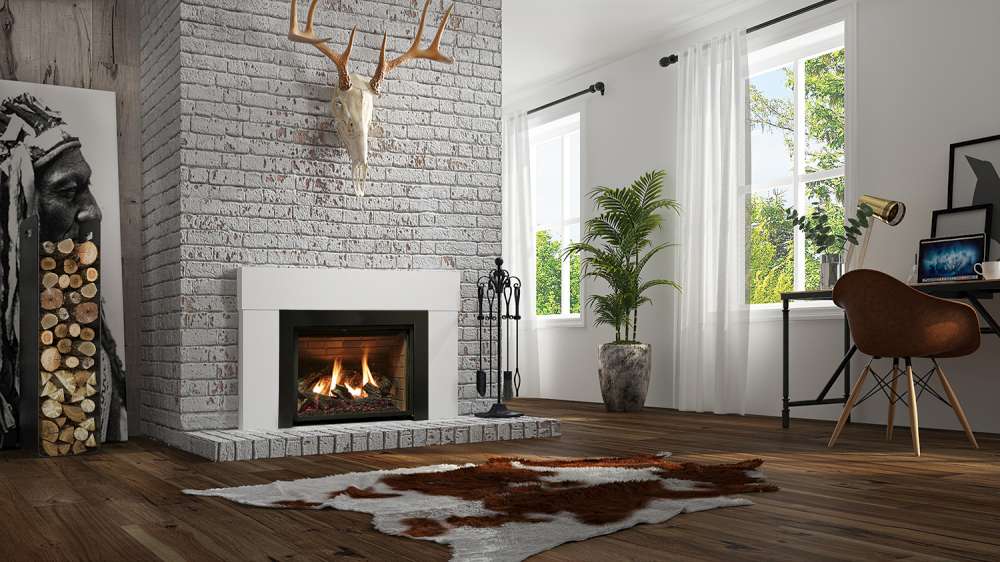 FUEL QUESTIONS
If you know you're going to burn wood, do you want to heat the entire house?  Maybe just take the chill off the family room.  Or, would you describe yourself as a "recreational user" who will only have a fire every other Sunday afternoon?
Not all wood burning fireplaces perform the same.  Some are rated by the EPA and have efficiency numbers in the mid-70's.  The doors on these units are gasketed, air controls allow for long burn times and many are capable of heating 2000+ square feet of well insulated space.  These are normally rated by BTU/output.  Up to 70-80,000 BTU's are large fireplaces that will provide long, overnight burn times.
Mid-size fireplaces are in the 30-60,000 BTU range and smaller dimensionally.  Your WE LOVE FIRE dealer can help determine what size and/or model would be a good choice for your home.  Or, see our BTU calculator to get a sense of how much heat you might want.
If heat is not essential, and you're only going to have a fire during the holidays with family and friends, consider a less expensive fireplace.  These are often equipped with bi-fold doors that do not control the amount of combustion air to the same degree as their heating cousins.  The majority of the heat is lost up the chimney and not blown into the family room.  Efficiencies are not rated with this type of fireplace.
Our experience is that most people want to feel the heat throughout the house, that's produced from the fireplace burning wood.
The size of the room will certainly make a difference when deciding on a certain model.  You'll want the fireplace, mantel, and hearth to look proportionately correct for the space.  Keep in mind, your WE LOVE FIRE expert has lots of expertise in planning and designing.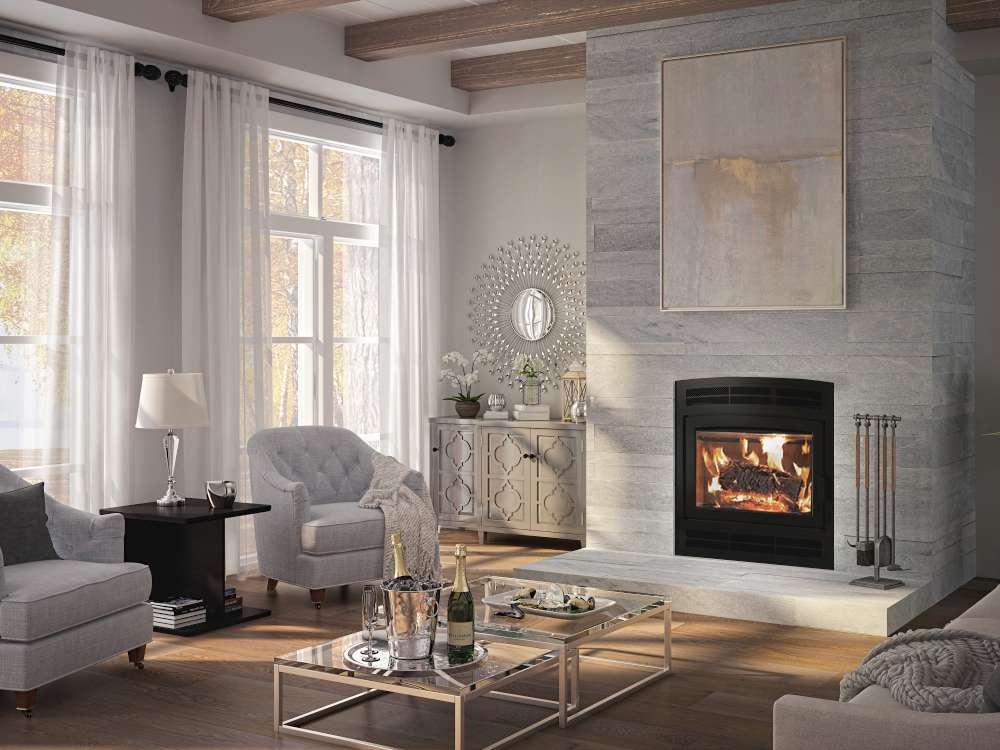 THE CONVENIENCE OF GAS
Most people are aware that a gas fireplace is extremely convenient.  Many people are not aware of the huge selection of gas fireplaces.  There is equipment that can be ducted to an adjacent room.  Equipment with several log and "media" options.   There are traditional style fireplaces with large BTU outputs that are sixty inches wide and four feet high!  They're perfect for a great room.
Portrait styles that fit nicely in bedrooms, bathrooms, kitchens, and foyers where space is at a premium and not a lot of heat is needed.  The linear gas models will give your home a contemporary feel.  How about a linear model that three, four, five or six feet wide and only twelve inches high?  They are way cool!
A couple of articles that might be helpful to you are:
ELECTRIC MODELS ROCK!
You have to see today's electric fireplaces.  The effects with LED lighting and mirrors are wonderful.  Similar to the wide selection of gas sizes, electric fireplaces come in traditional, portrait and linear offerings.  Unlike gas models though, do not expect an electric unit to heat the way a gas model does.  [SEE LINK:  WHICH ELECTRIC FIREPLACE IS THE BEST?]
The benefits of electric fireplaces include:  ease of installation.  Literally, anywhere there's a wall, you can install an electric.  With the heating element on, electric heat is 100% efficient.  With the element off, you can enjoy the "flames" (some call it "moving wall art") year-round.
Do not rule out an electric fireplace in a couple of areas in your home.  There are lots of different sizes and special effects that you and your family will enjoy.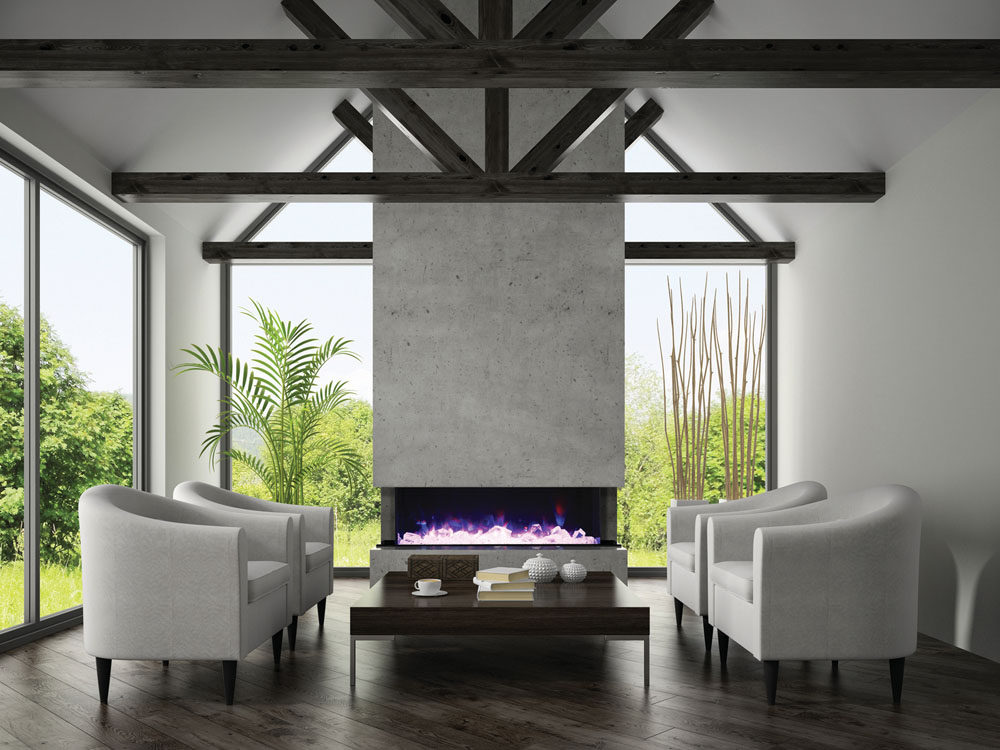 PELLETS
Compared to the other choices we've discussed; your pellet options are going to be limited primarily to fireplace inserts and free-standing stoves.  [SEE LINK:  SIX FACTS ABOUT PELLETS.]
SUMMARIZING THE KEY POINTS
When sizing any type of fireplace, keep in mind:
The shape and dimensions of the room.
The decor of your home.
If you're looking for primary or supplemental heat.
The proportion of the fireplace, mantel, and hearth in the room.
To choose a fuel that you will be satisfied with.
Your WE LOVE FIRE expert is standing by to answer other questions you have.  Please, come see us soon.