Do you remember fireplaces that had a light bulb behind plastic logs for an impressive "glowing ember" effect?  And how about the red and orange streamer paper blown by a small fan to simulate "realistic" flames?
Design and technology have come a long way over the years.  Electric fireplaces have become very popular.  The only thing they have in common with their cousins from the past:  they plug into a wall outlet!
Let's talk briefly about what electric fireplaces are not.  They are not equipped with cheesy plastic logs and ribbon paper.
Electric fireplaces come in lots of sizes, all with multi-function remote controls.  There are see-thru models, three-sided units, portrait and landscape styles and traditional looking fireplaces.  Lineal electric fireplaces, up to 8 feet long will have you marveling at their special effects.  Your WE LOVE FIRE expert has so much more to offer you.
Electric fireplaces are not big-time heaters.  It's true the fireplace can be operated with the heating element on or off.  The heating capacity for an electric fireplace is normally around 1200 watts or 4800 BTU's.  That's about the same as a small electric space heater.  Oftentimes this is exactly what is needed to make a room cozier.  That is, a fireplace that provides a small amount of supplemental heat.  They will take the edge off a small, cooler room.  But in a large room or poorly insulated space, don't expect an electric fireplace to perform like their wood burning or gas counterparts.
An electric fireplace will not operate in the event of a power outage.  They need 120 volts to function.
Now, let's discuss what an electric fireplace can do for you!  If installing a gas vent pipe or a Class A chimney pipe is problematic, an electric fireplace is the answer.  No venting or chimney pipe is needed!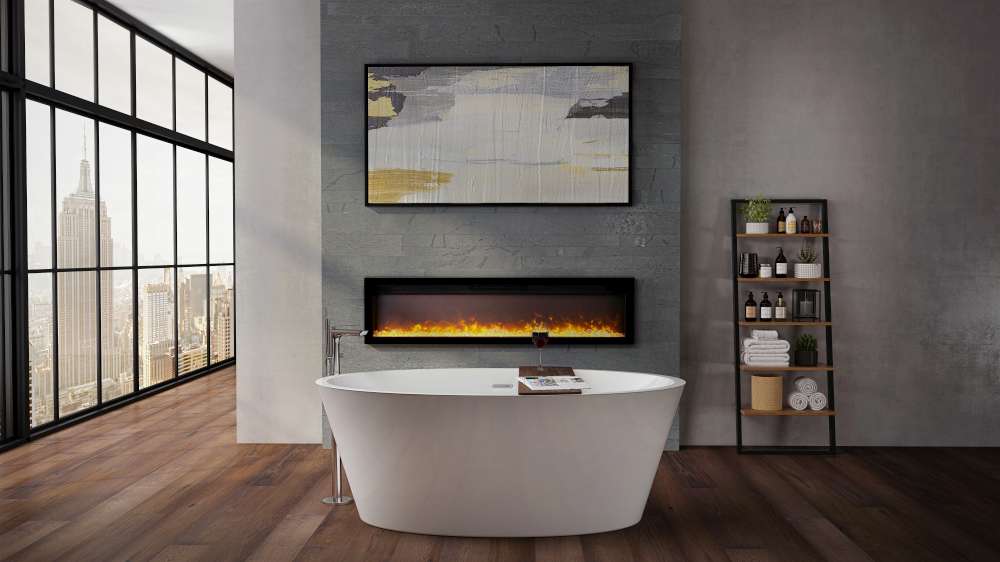 Your WE LOVE FIRE expert can show you electric fireplaces that can be installed anywhere!  Kitchens, bathrooms, patios, open stairways and bedrooms are great applications.  How about a large traditional looking fireplace in your great room or family room finished with a cultured stone?
The ease of installation and operation will astound you.  The realism will amaze you.
The effects and mood created by an electric fireplace are extremely unique.  Today we have models with multi-colored LED strips that allow for several colors of "flames".  In addition to log sets, there are large glass nuggets, diamonds and other media options.  This allows a rainbow of colors that are easily adjusted with a user-friendly remote control.  Colors can be controlled from sea-blue to purple and from yellow to orange.
Many restaurants, offices and commercial businesses have discovered how impressive electric fireplaces can be.  And, they are good for business!  The atmosphere can be enhanced without adding heat in an area where more heat is not needed.
The "fire and ice" presentation is a stunning effect.  One that you have to see to fully appreciate.  Flames and heat in the cooler weather.  A blue ice/sparkling diamond effect can give you a subliminal feeling of "coolness" and comfort during the warmer months.  Lots of restaurants have them, but how about one in your dining room or living room?
There are many in our industry that describe electric fireplaces as "moving, decorative wall art".  After you see the effect of lights, mirrors and "flames", you will be thoroughly impressed.  Your WE LOVE FIRE expert has dozens of electric options for your consideration.  It all boils down to personal preference and appearance.  You have to see to believe.
This equipment is safe for little hands, too.  Heating elements are not touchable.  Furthermore, manufacturers comply with all applicable ANSI Standards, the National Electric Code in the USA and the Canadian Electrical Code.
So how much to operate an electric fireplace?  Electric rates can vary from region to region.  Generally speaking, though, electricity costs should be around $.07 - $.10 per hour with the heating element on and $.02 - $.04 per hour with the heater turned off.
Let's get to the question at hand:  Which electric fireplace is the best?  The are a few brands that can be purchased nearly any place.  The big box stores, online or even some hardware and furniture stores sell the same brands.  These products are sold on price.  Whoever has the lowest price gets the sale.  It's no surprise, in this arena with a low price comes lower quality and poor service.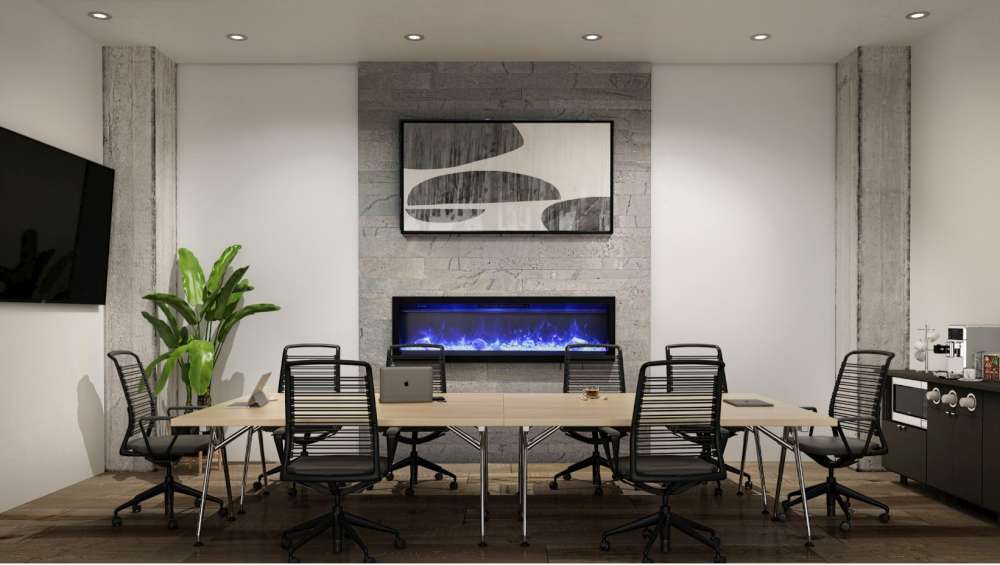 The best electric fireplaces are at your nearby WE LOVE FIRE hearth store!  We have exclusive lines that you will only discover in our shops. To our opinion, the best 3 brands of electric fireplaces are Ambiance, Amantii and Napoleon.  Furthermore, it goes without saying that we service what we sell.  It's not just the price that drives a sale.  It's about quality, it's about reputation and service.  It's about expertise and selection.  And that equals value!  We're all about fair prices and value added service when you shop with us.
You're probably already starting to think about a location or two in your home that could use something unusual, a special, decorative touch.  We agree!  We think an electric fireplace just might be the answer!  Take a few pictures and bring in your ideas.  We'll look forward to seeing you soon.