Wood, gas or electric fireplaces are incredibly versatile.  Consumers have never had more options from the hearth industry than they do today.  Let's take a look at several of them.
ZERO CLEARANCE
A "zero clearance" (ZC) gas or wood burning fireplace is unit that can be built into a framed wall.  The term means that no clearance to combustibles is necessary for the installation.  An insulated shell houses the firebox and protects the 2 x 4 framing members from overheating.  Zero clearance fireplaces are used in new construction and in remodeling jobs.  Models can vary a bit, so always follow the manufacturers requirements when installing and finishing a ZC fireplace.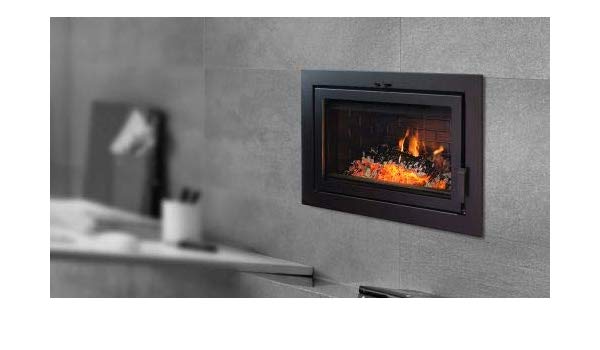 WOOD FIREPLACES
How the chimney can be safely installed and heat distribution are two very important considerations when planning for a wood burning appliance.
A zero clearance wood burning fireplace requires a chimney to be installed vertically through the roof.  Codes require the chimney to be at least 3 feet higher than anything within 10 feet, measured horizontally.  The roof pitch and how close the chimney is to the peak will determine the amount of chimney pipe you will see above the roof.
It's always best for the performance of the fireplace to keep the chimney as straight as possible and inside the house or other insulated space, for as long as possible.  Avoid longer distances in uninsulated spaces.  It's important to have the chimney pipe stay warm and not cool off too quickly, especially on tall chimneys.
If rafters or trusses are in the way, there is a means to maneuver around these obstacles.  The stainless steel chimney pipe can be "offset" to avoid combustibles.  Factory built, Class A chimneys can be installed using a 15°, 30° or a 45° offset (45° offset are not approved in the USA but are approved in Canada) and return in the system. However, 90° offsets are not permitted.  Your WE LOVE FIRE expert has charts to help you and/or your contractor figure how much of an offset will be necessary.
If your wood burning ZC fireplace is a model designed to generate heat, plan to install it where you spend the majority of time in your home.  Most people like their bedrooms a little cooler than the rest of the house, so centrally located in the living portion of the house is most common.
Also consider where your wood supply will be stored in relation to the fireplace.  Traipsing wood across your living room carpet or up a flight of stairs will get old in a hurry.  The same with getting the ashes out of the house.
GAS FIREPLACES
Gas fireplaces use a "co-axial" vent pipe.  This type of vent system can be installed vertically through the roof or horizontally through a sidewall.  So anywhere you can install a vent pipe is a good place for a gas unit.
All gas models have "venting profiles".  These charts or diagrams are published by the manufacturer and show the relationship between the "rise and run" of the vent pipe.  Let's say we want to install a gas fireplace in a downstairs family room with a walk-out basement.  From where the fireplace is located, there will be four feet of "rise" off the top of the unit before we elbow the vent pipe and extend the venting six feet horizontally (the "run") through and exterior wall.  Checking the vent profile in the installation manual, we can determine if this scenario is acceptable.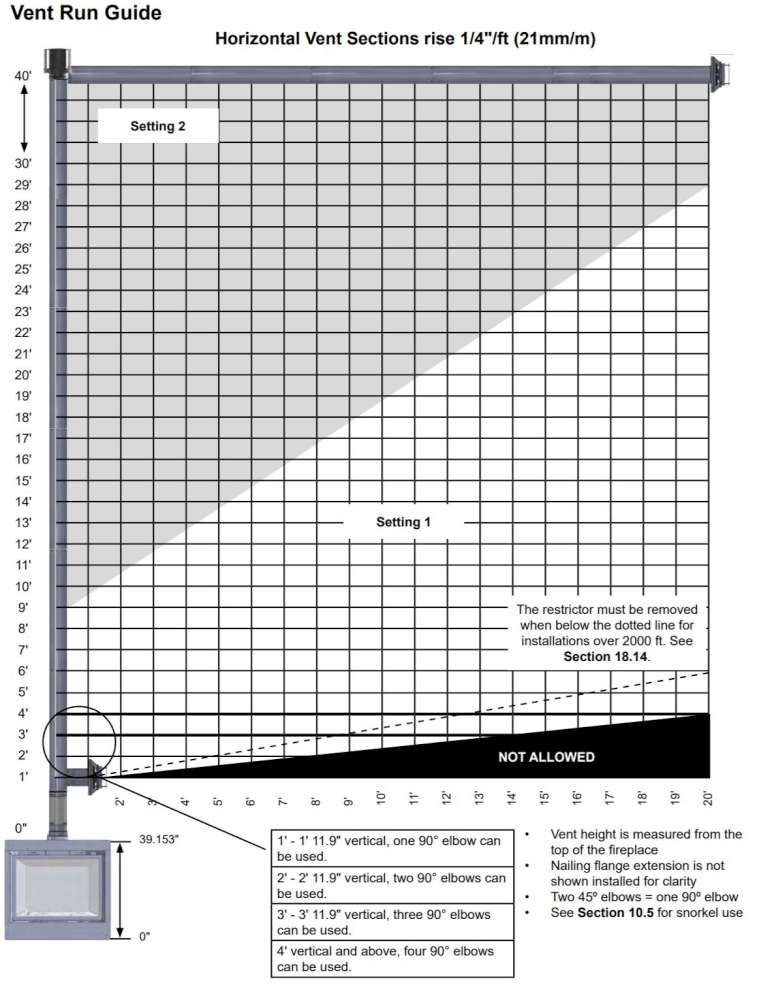 With gas venting components, 45° and 90° offsets are permitted and very common to use.  There are minimum and maximum height restrictions and limitations on the number of elbows used.  Venting profiles vary from model to model.
Gas fireplaces will generate heat.  A gas fireplace is a terrific way to "zone heat" an area that you spend a lot of time.  Gas valves are adjustable.  The amount of heat with a gas unit is easily adapted to the current weather conditions.  On/off remote controls and programmable thermostat remotes are popular options.
Depending on the model, efficiencies will be in the 65% - 85% range for most models.
There are literally dozens of different sizes of gas models available today.  Long and narrow, 12" x 60 linear fireplaces will add a contemporary look to your room.  Where space is at a premium, bathrooms and kitchens for example, portrait style fireplaces are popular.  Traditional shaped fireplaces are still the #1 seller.  Sizes can range from 20" high x 30" wide, up to 48" high and 60" wide.
Furthermore, the decorative fronts, burner and log set design and medium options will add a real personal touch.
ELECTRIC FIREPLACES
Electric fireplaces do not need to be vented.  So literally, anywhere in the house will work for an electric model.  If running a gas supply line is difficult or if a chimney or vent pipe cannot be installed, electric is a great choice!
The sizes and shapes of electrics are as varied as their gas cousins.  The cheesy look of electric fireplaces from yesterday have been replaced with some amazing technology today.  You have to see the multicolor flame options from the LED lighting.  In seconds, the color of the flames can be changed from yellow to orange and from blue to violet.  The effect is outstanding.  Other cool options include several colored fire glass possibilities, log sets and an easy to use remote control.
Compared to a gas or wood burning fireplace, you will not get much heat from an electric model.  Again, there are some places in the house where extra heat is not necessary.  Sure, you can install an electric anywhere a gas or wood unit is installed.  But, how about the wall on an open stairway?  Or enjoying the flames in your dining room at eye level while you are eating?  Lots of people think of installations as "moving art work"!  Maybe on a wall in the master bedroom, at eye level while you're lying in bed?  Or an outdoor model in your entertaining area outside?  Do you think you would enjoy one above the bathtub or whirlpool?  You get the idea.  There are dozens of possibilities with an electric fireplace.
WE LOVE FIRE!
Our website name says it all.  We really do LOVE fire.  Today's wood, gas and electric fireplaces are more versatile and reliable than ever before.  Your WE LOVE FIRE expert would LOVE to show you how these products will compliment your décor and enhance your lifestyle.
For additional information, please check out these articles: