You invite friends over for a barbecue, but you find out that some of them are vegetarians. You want your vegetarian friends to enjoy the food as much as your meat lover friends, but you don't know how to make that happen. Don't worry! Barbecuing without meat is simple. You just need to keep these few guidelines in mind and have the right ingredients.
Set up the Grill
If your meal is a mix of meat and vegetarian dishes, make sure to clean the barbecue grill thoroughly before cooking the vegetarian food.
In fact, many vegetarians prefer that absolutely no meat residue touches their food, which is quite understandable.
If your barbecue is big enough, you can designate a section of the grill exclusively for the vegetarian dishes.
Deep clean your grill with a wire brush, then oil it using a paper towel soaked in oil.
Read the instructions
Pre-made vegetarian patties and sausages are available in stores. Make sure you read all the instructions on the package. Some of these foods simply cannot be cooked on the barbecue.
Also, remember that these burgers won't cook the same way meat does since they contain much less fat. Therefore, it's so important to properly oil the grill before cooking them.

Fish and Seafood
 Many vegetarians eat fish and seafood. Ask your friends if they do.
Grilling fish on a bed of lemon slices is always a winning recipe, and shrimp skewers basted with garlic butter are a true delight.
Bean Burgers
Veggie burgers often have the reputation of being dry and crumbly.
Here is the solution to this problem. This veggie burger does not fall apart and tastes delicious. This recipe from hurrythefoodup.com makes 8 servings and is a guaranteed success with your vegetarian friends.
Ingredients:

½ cup rolled oats
2 eggs (replace the eggs with 2 tbsp flaxseeds mixed with 6 tbsp hot water to make it a vegan recipe)
1 can (425g) black beans
½ tsp salt
1 ½ tsp cumin
1 tsp paprika
½ medium-sized red onion
2 tbsp olive oil
½ cup sundried tomatoes in oil
½ cup breadcrumbs

Instructions:

Rinse the beans and mash them up with a fork.
Dice the onion and tomatoes and add them to the beans.
Add the oats, eggs, salt, cumin, paprika, and olive oil. Mix well.
Add a small amount of breadcrumb while mixing. Keep going until the mix is tough. You don't need to use all the breadcrumbs.
Wet your hands a little bit and shape your patties.
Grill both on both sides for about 5 minutes each while flipping them occasionally. Serve with your favorite condiments.
Corn
Corn cobs are delicious when drilled directly on the barbecue. Here is a recipe from seededatthetable.com to spice up your grilled corn.
Corn

Preheat your barbecue between 350oF and 450oF (177oC and 232oC).
Place 5 peeled corn cobs directly on the grill. Close the top and let them cook for 10 to 15 minutes while flipping them often until the kernels are slightly brown.

Spread

Mix in a bowl:

¼ cup mayonnaise
2 tbsp sour cream or Greek yogurt
¼ tsp garlic salt
Lime juice (1 lime)

Toppings

Mix in a second bowl:

¼ cup Cotija cheese (you can also use Parmesan, feta or queso fresco cheese)
1 tsp smoked paprika (or chili powder if you want a spicier recipe)
Chopped coriander (optional)

When the corn is cooked, take it off the grill. Spread the yogurt/mayonnaise mixture on each cob and sprinkle toppings over it.
Tofu
Tofu is delicious and easy to cook on the barbecue. Because of its low fat content, it easily sticks to the grill. As we've mentioned earlier in this article, it is important to oil the barbecue grill before cooking.
Use firm or extra-firm tofu. Press the tofu before cooking it to extract as much water as possible, which makes the cooking process easier. Make sure your tofu pieces are big enough, especially if you're making skewers.
Marinate the tofu for about 30 minutes before grilling it. Cook it for 6 to 7 minutes on each side, until the outside is nicely grilled and crisp.
Cheese
 Did you know that you can grill cheese? Of course, we're not talking about mozzarella or cheddar cheese, which would ruin your barbecue. Some cheeses are suited for the grill, like halloumi and paneer cheese.
To grill this type of cheese, preheat your barbecue to medium heat. Slice the cheese in ½ inch slices and brush each side with a bit of olive oil. Cook them directly on the grill for about 2 to 3 minutes on each side, until they are browned and slightly crisp.
Drizzle the cheese with a bit of lemon juice and fresh herbs and serve with grilled pita bread.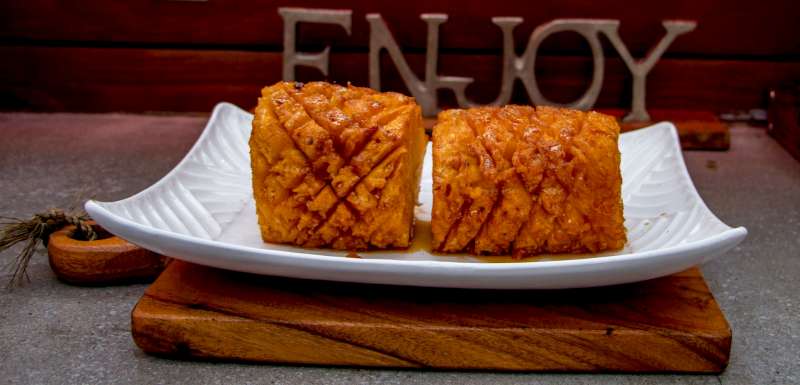 Fruits and Vegetables
Fruits and vegetables are perfect for the barbecue. Here are a few ideas to try out.
In a bowl, soak asparagus in a bit of oil and salt. Cook them directly on the grill for about 7 minutes.

Slice pineapples or apples, sprinkle the slices with cinnamon and sugar, and grill them.

Make vegetable skewers and grill them. Marinate them beforehand, or simply baste them with your favorite sauce while cooking. Add different flavors to your skewers by inserting mushrooms, tofu, fruit, or halloumi cheese between the veggies.
Bon Appetit
After all these tempting ideas, you'll want to try them out even if you are not a vegetarian. So, start your fires, put your aprons on, and get grilling!