Did you know that the Danish are the happiest, least stressed people in the world? Maybe that's because they wholeheartedly embrace the concept of hygge!
Hygge roughly translates to coziness and contentment, but it's so much more than that! It's a whole lifestyle that focuses on self-care, relationships, and experiencing joy.
Curious about the hygge life? Let's explore ten ways to create hygge moments every single day!
Have an At-Home Spa Experience
There's nothing better than a hot, steamy bubble bath on a cold night. Rather than taking a quick bath, the hygge routine focuses on detail, care, and a slow pace. Remember, you don't need to rush because you're worthy of your own time.
Start by setting the lights down low if you have a dimmer. If not, turn them completely off! Light some relaxing scented candles (keep reading for the best scents).
Drop a luxurious bath bomb into your tub or opt for essential oils or bath salts. Grab a good old-fashioned book or if you prefer to rest your eyes, put on a relaxing podcast. There are even hygge playlists on Spotify to explore!
Ease into your tub and enjoy this decadent experience. No rush, no social media, only peace and relaxation.
Cook a Meal From Scratch
With our busy lifestyles, we tend to often eat on the go. That hygge feeling is all about slowing down and enjoying the cooking process.
Smell your ingredients, enjoy the feeling of them in your hands, and listen to the bubbling stew. Focusing on these tiny details will create a stronger connection with your food. Not only will the food taste better, but you'll also make healthier choices!
Hygge food is anything that creates a feeling of warmth or nostalgia. Think heavy stews, fresh-baked crusty bread, and rich beverages. Cook it low and slow, and let the delicious smells fill your home!
Disconnect From the World
Research shows that most Americans check their phone over 96 times a day. That amounts to once every ten minutes!
Hygge is all about putting down the technology, stepping away, and taking a deep breath. Social media, emails, notifications, and text messages dominate our life. But not anymore!
If you want to hygge up your mental health, turn your phone on "do not disturb" after a specific time. Let's say 5 p.m, every day. Then you can enjoy a few blissful hours without staring at that blue light and feel your brain relax!
Hygge Up Your Space
Creating a hygge home is one of the central themes of living a hygge lifestyle. You probably already have many of the main components of hygge scattered around your space.
Soft throw blankets and textured pillows
Thick rugs to keep your feet toasty
Soft colors like grey, light pink and green, and white
Natural materials like wood, bamboo, and cotton
Mood lighting with candles, twinkle lights, and a fireplace
But hygge doesn't have to mean stopping indoors. You can also upgrade your outdoor space. Fill your garden with winter plants like pansies, Christmas roses, and snowdrops. Consider adding an outdoor fireplace for those chilly winter nights!
Practice Self-Care
Self-care can mean different things for everyone. It doesn't have to be face masks and bubble baths. Focus on what you love and what makes you feel content.
Curl up with a good book and spend the day in a fantasy world. Enjoy a few hours baking cookies from scratch. Throw your favorite record on the record player and dance with your partner.
The hygge version of self-care means focusing on your happiness, even if it's a 30-minute walk during your lunch break!
Create Wonderous Moments
Creating small, magical moments of delight and surprise increases happiness. And it's a big part of the hygge mentality.
Try making a calendar that only contains exciting events. No work meetings or dentist appointments allowed! Leave yourself uplifting little notes around the house to find. Dive into the world of journaling and look back at your past self years later.
By focusing on positive experiences rather than mundane errands, you'll feel more wonder and joy!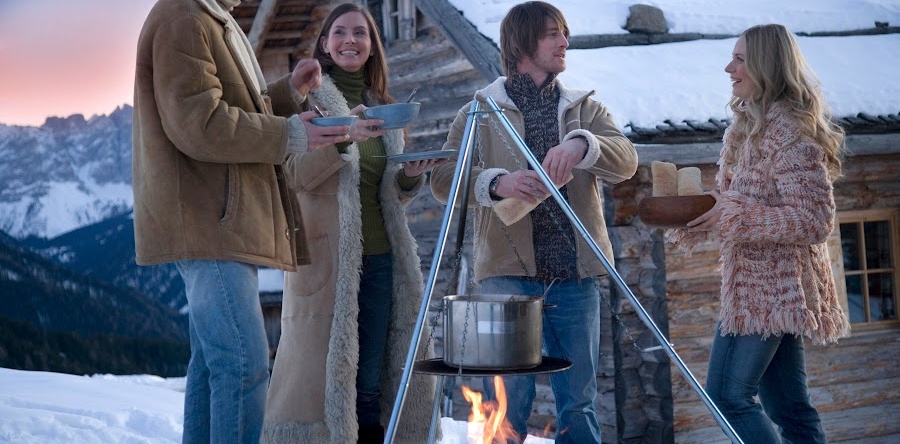 Embrace Cozy Fashion
Now your home has all the hygge vibes, but what about you? It's time to get cozy!
Keep in mind that hygge is all about comfort, which also translates to clothes. Throw on your softest sweatpants or pajamas and add a pair of comfy, knit socks. If you don't like the idea of wearing your ratty old pajamas, invest in some luxe loungewear.
Celebrate Relationships
What is life without the comfort and joy of close relationships? The hygge lifestyle embraces celebrating your friends and loved ones. So make some time to focus on your near and dear by:
Having a cozy movie night at home
Enjoying winter group activities like skiing and skating
Cooking a meal together
Playing board games or doing puzzles
Trying a wine and paint night
There's a big emphasis on social activities and building stronger bonds in the hygge lifestyle.
Soothe Your Olfactory Senses
De-stressing is one of the main tenets of a hygge lifestyle. Soothe your sense of smell by creating an environment filled with pleasant scents.
When choosing scents, stick with lavender, sandalwood, and citrus. Studies have shown that these heavenly smells can increase feelings of comfort. Buy some high-quality scented candles made from natural materials and place them around your home.
You can also head to the great outdoors to get a deep breath of natural scents like pine and cedar!
Enjoy the Great Outdoors
While hygge usually means hunkering down in your cozy home, outdoor activities are also important! To enjoy a truly hygge winter, add these magical activities to your to-do list:
Enjoying a peaceful nature walk in the woods
Ice-skating under the stars
Cozying up by the fire at a ski chalet
Sipping mulled wine at a holiday market
Rounding up your loved ones and having a sledding party
You could also invite your friends and loved ones over for a winter bonfire. Pass out the cozy blankets, make a big pot of hot chocolate, and enjoy the crackling fire sound!
Creating Little Hygge Moments Every Day
If everyday modern life has you feeling stressed and wound up, you need to embrace the hygge life!
Enjoying daily hygge moments will help you feel the full benefits of this charming Scandinavian tradition. If you're ready to dive into the world of hygge, the first step is setting up your haven! A roaring, crackling fireplace is the centerpiece of a hygge home.
Browse our entire collection of cozy, stylish fireplaces and start your hygge adventure!