Your living space is cozy and inviting, your kitchen inspires lavish dinners, and your bedroom is an oasis. But what about your backyard? Outdoor spaces can often become an afterthought when decorating a home.
Don't let your beautiful outdoor space go to waste. Use these six tips to transform your backyard into a magical hygge outdoor space!
1. Hygge Outdoor Fireplace
Fire is a central theme throughout the hygge design. It evokes cozy, warm feelings and creates a perfect ambiance for gatherings. Two great options for outdoor decor are fireplaces and fire pits.
Imagine your dream garden; is it rustic, modern, or whimsical? Outdoor fireplaces are available in different finishes and designs, so you're bound to find the perfect fit for you. We think a wood-burning fireplace would upgrade a rustic theme.
For something a little sleeker, opt for a gas or electric fireplace. A grand electric fireplace can make your space feel like an extension of your home. On the other hand, gas fireplaces are perfect for small spaces and are often portable.
Fire pits are an easy option for something a little more low-key. Make sure to follow the fire codes in your municipality when constructing or assembling your pit. Then gather your favorite people for an evening of s'mores and storytelling.
2. Choosing Patio Furniture
Two staples hygge outdoor space features are conversation seating and a dining area. The idea of gathering together and celebrating magical little moments is a significant part of the hygge lifestyle. No matter how big or small your space is, you can create cozy nooks and gorgeous dinner settings.
Since hygge emphasizes soft textures and fabrics, look for plush, comfortable seating. Enjoy the outdoors in the colder months by gathering faux fur throws and plush pillows to settle in by the fire. Spring brings cool nights and rainy weather, so consider adding a pergola to protect your space.
Plan the most legendary dinner parties in your hygge outdoor space! Try combining natural materials like wood and stone to create an earthy vibe. We love the look of an old rustic wooden table on a stone terrace, surrounded by lush plants.
For intimate gatherings, tuck a small round table into a secluded spot. Accessorize with lanterns, candles, and wildflowers for a timeless, magical evening. Ditch the plastic items and hit your local thrift store to pick up some unique decor.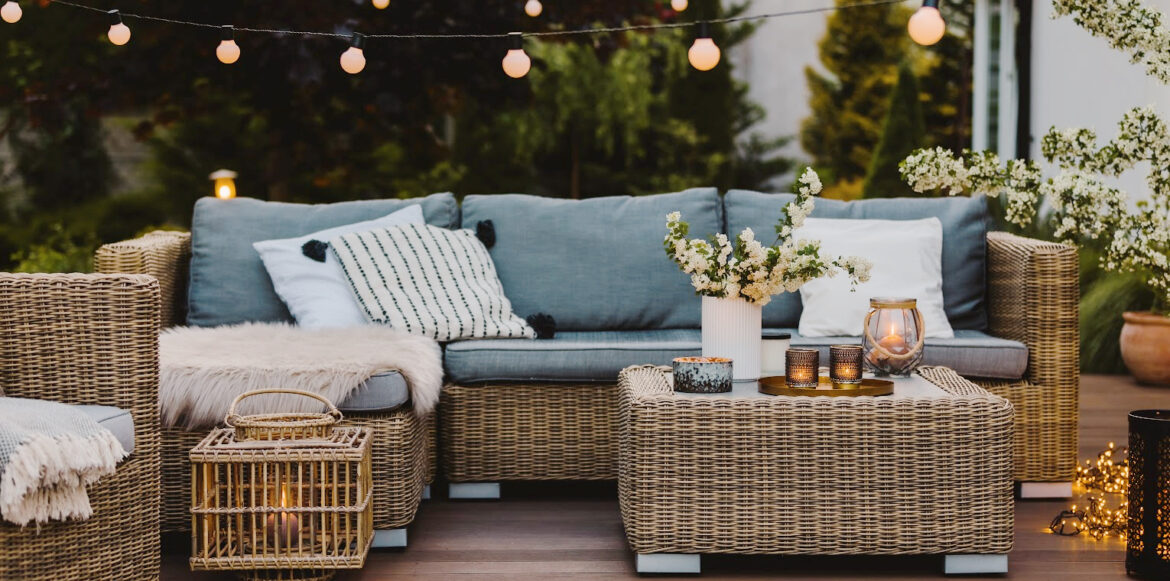 3. Cooking Outdoors
The next thing to think about is where you plan to cook for your friends and family. A serving table or bar is perfect for small backyards. You can even incorporate a tiny pizza oven for delicious, fragrant fresh-baked pies!
Larger backyards can handle an entire outdoor kitchen. Picture a warm summer evening spent cooking with your loved ones outdoors! Outdoor kitchens can be a great way to strengthen bonds and promote togetherness.
4. Hygge Water Features
Hygge life isn't all about fire, although it's our favorite part! A magical garden also needs the soothing sounds of water. A significant focus of the lifestyle is relaxation, self-care, and well-being.
Studies find that being in contact with water promotes these feelings. The benefits of water include:
Increased feelings of calm and contentment
A meditative state that boosts creativity
Feelings of awe and wonder
Better mental health
Including a water feature can be something as small as a fountain or as massive as a swimming pool. And rustic little ponds or trickling waterfalls are great options for dreamy gardens.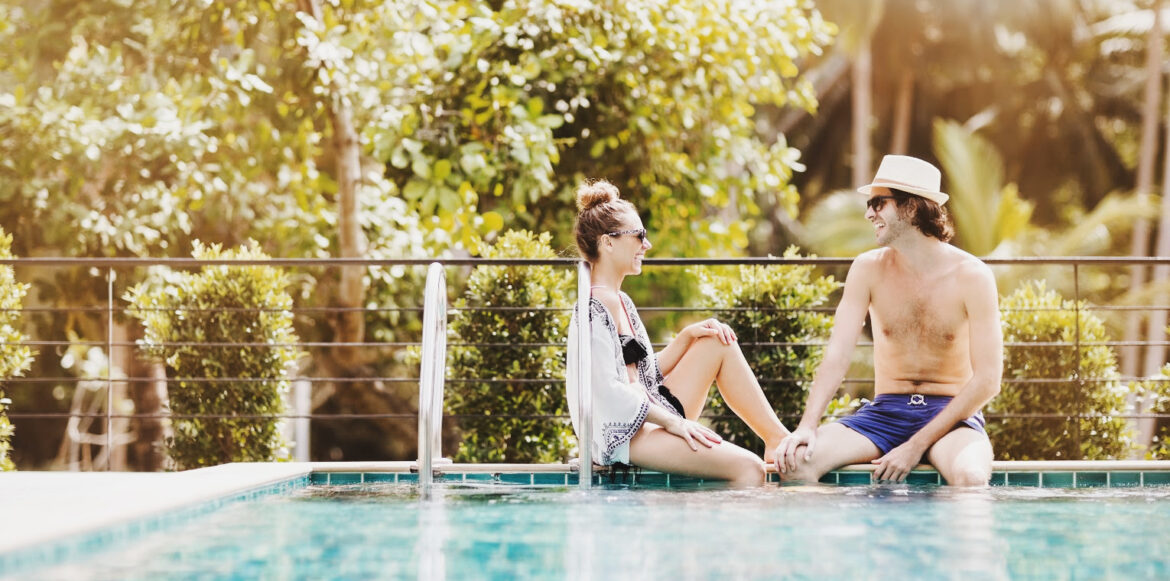 5. Lighting Your Space
The best way to use outdoor space lighting is to combine different sources. That way, you can adjust brightness depending on the activity and the mood you want. Try these brilliant ideas:
String twinkle lights across the yard
Use tiki torches and lanterns to define spaces
Add candles of all shapes and sizes
Install a fire pit or fireplace for soft light
Use portable heaters as light in colder months
Play with different sizes and shapes when choosing lighting sources. Large Edison bulb string lights can flood a space with light for family board game nights. Slim candles and tiny twinkle lights create a perfect glow for a romantic dinner for two.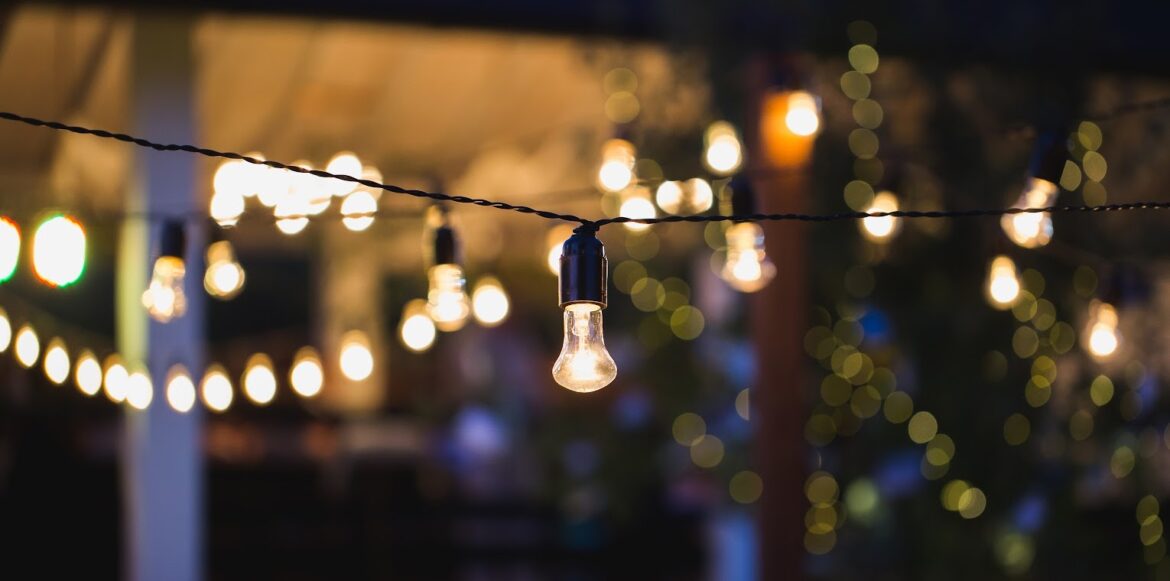 6. Accessorize the Hygge Way
Besides lighting, accessories are the best way to take your space from basic to hygge. Start with plants, nature's magical mood boosters! Studies have shown that caring for plants makes people happier, healthier, and more relaxed.
We love using plants to define spaces, a key theme in hygge. Surround the dining area with tall, lush greens, or arrange tiny wildflowers in your conversation area. Succulents are great on windowsills and around your water feature.
Then it's time to move on to layers! Layering cozy materials will instantly hygge up your space. We're talking throws, outdoor rugs, pillows, and curtains.
Stick to these fabrics in warmer months:
Breezy linen tablecloths, cushions, and seating covers
Gauzy white drapes
Bamboo and cotton woven throws
Rattan baskets and coasters
There's still something special about a faux fur throw or cozy rug in the summer, so don't shy away. But in the winter, incorporate more:
Fuzzy, woolen blankets
Corduroy and velvet cushions
Heavier drapes and thick outdoor rugs
Marble, stone, and wooden accessories
When shopping for accessories like lanterns and fabrics, stick to the hygge color scheme. Earth tones like burnt orange, shades of brown, and muted blues and greens are perfect. Brighten the palette with splashes of deep pinks and purples and streaks of sunny yellows for summer.
Since nature is the basis of hygge decor, stick to natural items. Look for plant-dyed fabrics and handmade pieces. Thrift stores, antique shops, and yard sales are excellent sources for budget-conscious hygge-lovers.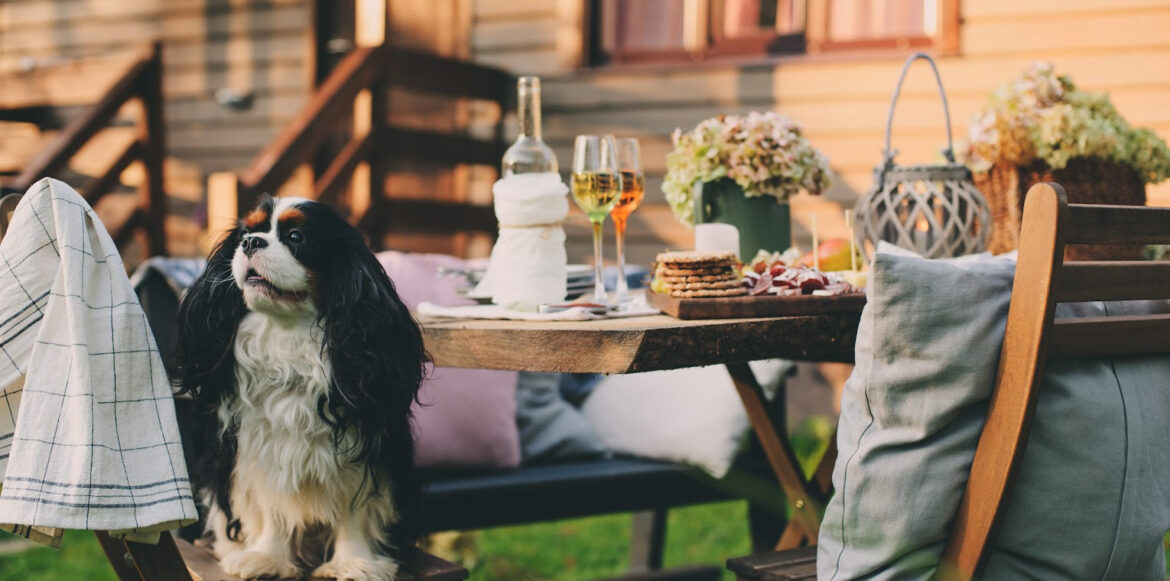 A Hygge Outdoor Space for All Seasons
You might have to do a little planning, but a hygge outdoor space can work for every season. It's as easy as switching out accessories and adding more warmth to transition from balmy nights to frosty mornings.
And our favorite way to add warmth? Fire, of course! Head to our online shop to browse fire pits, fireplaces, and all things warm and cozy.
Want a more personalized shopping experience? Stop into one of our We Love Fire locations and say hello!