Whether you work from home or at the office, focusing for hours on end, staying motivated, and being continuously productive throughout the day can be quite a challenge in and of itself. With the seasonal changes and the weather around us becoming cold, wet, and gloomy, you might feel as if it has become even harder to deliver quality work. Truth be told, outside elements do influence our moods, as does our indoor work environment. To keep the clouds in our minds at bay and to have a positive outlook on the workday ahead, our workspace must become a sort of haven from the outdoor chill. After all, we do spend a huge chunk of our time at work. So how can we make it more enjoyable?
The answer: Hygge!
You might know a little bit about hygge already and are wondering how you can apply it to your office. Isn't hygge essentially about home life? While this is true, hygge can also be applied to every sphere of our lives since it is, at its core, a lifestyle. It does not only have to be about slow-cooked meals, family gatherings, and reading good books by the fireplace. (Although if you are looking for ways to hygge-ify your fireplace décor, go ahead and read this guide!)
With the help of us here at WE LOVE FIRE®, you too can curate your workspace to the standards of this Norwegian lifestyle and bring warmth and relaxation to even the most stressful workdays year-round! Go ahead and gather your favorite pair of woolly socks and your fluffiest blanket; you're about to achieve the hygge office space of your dreams!
Choose Warm Lighting
The first step to a cozier office décor is lighting. Try to stay far away from overhead fluorescents, as they are known to cause eye strain and increase fatigue. If possible, the best way to introduce more natural light to your space is by setting yourself up in front of a window. Not only does it offer a great view and a chance to give your eyes a break from the harsh computer glow, but it also lowers the risk of migraines and is proven to boost serotonin levels in the brain so you can stay happy all day! If a window setup is not possible for you, try a sunrise clock or Himalayan salt lamp. These lighting options diffuse soft, warm light, which is easier on our physical and mental health as they more closely resemble the natural daily shift of the sun. And while candles may not offer the best source of lighting, having them on hand in case of a power outage is always convenient. Also, they smell good and are totally hygge. Win-win-win!
Bring Nature Indoors
The air in the office can sometimes feel stuffy and suffocative. Those who work from home with the door closed will often end the day with a slight headache from the hours of breathing in their own CO2. One way to rid the air of pollutants and bring nature indoors is by adding a few low-maintenance plants to your space. Tov Maren, the Danish-American blogger from Hygge in the Now, suggests getting plants that don't require too much sunlight and that don't need constant watering, like the tenacious lucky bamboo! She also recommends not going for flowering plants, as they usually only flower for a very short period and may bring down your mood when they go back to their rest state. After all, she reminds us that the whole purpose of hygge is to bring us peace of mind, not distress because of overly finicky plants.
As an alternative, if you're not the green-thumb type, or if you have severe allergies, try an air purifier with a washable filter, or go to your local dollar store for decorative plastic plants for year-round greenery.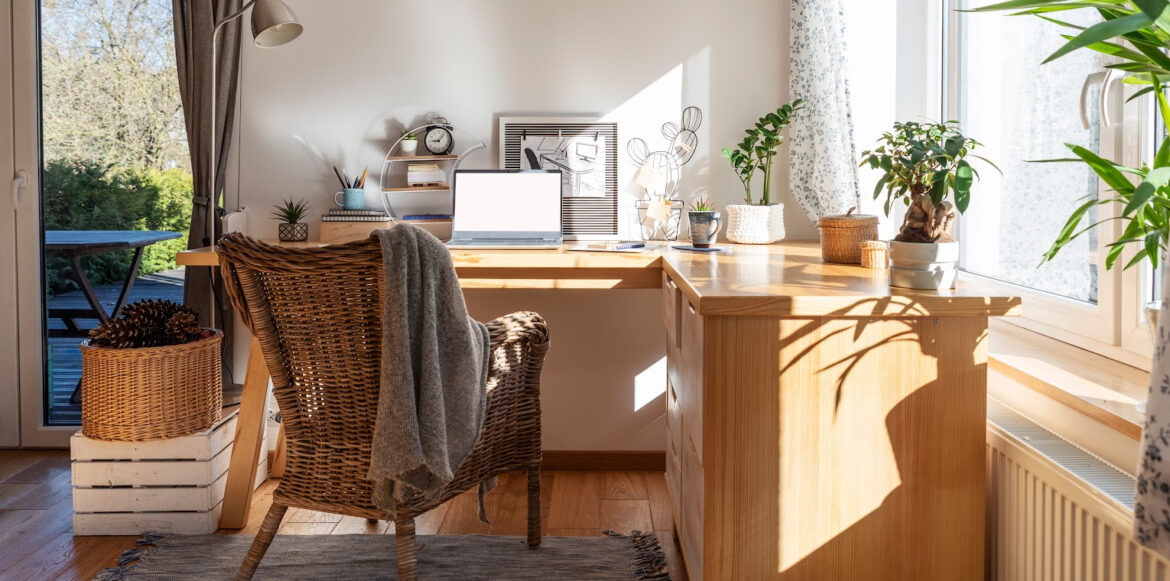 Keep Comforting Items Nearby
The key to hygge comfort is to have things that we love accessible to us. The same goes even when you're at work! Bring things from home to the office that will ground you during a stressful workday, or, if you're already home, schedule some downtime to enjoy the things you love. An example from The Balanced CEO includes adding a snack basket to your space. Pick a variety of nutritious, flavorful snacks to fuel your brain and keep your energy and performance boosted. Another great idea is to bring a blanket basket to work and to keep it close by for when those autumn chills creep up on you. An important value of hygge is the gift of sharing, so don't be shy to offer fluffy blankets or yummy snacks to your favorite coworkers too!
If your office allows it, you could even have your pet join you for the day. Whether it be a dog or a fish in its bowl on your desk, having a pet nearby breaks down your boring daily routine and gives you a satisfying responsibility outside of your list of work-related tasks. There is truly nothing better for morale than having a little office mascot! On the other hand, if you work from home and have pets, don't forget to take those short breaks to give them plenty of cuddles and kisses, which will not only lift your spirits but theirs too!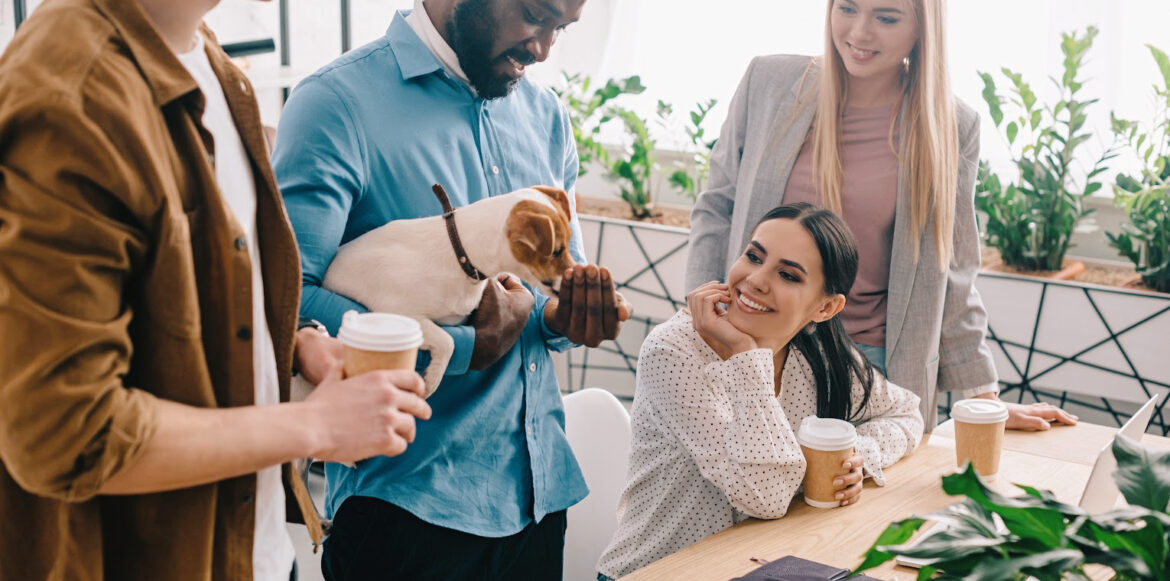 Stay Connected
Lastly, there is nothing more hygge than gatherings amongst friends and colleagues. Try a weekly potluck or Friday evening drinks to end the work week on a high note, and exchange meaningful conversation with those around you. Building and nurturing these bonds ensure that you have a supportive community in every sphere of your life, which is truly what hygge is all about. For those whose jobs might be more solitary, try video chatting with friends and family during your breaks and after work to relieve some of the bottled-up stressors of the day. Remember, surrounding yourself with positivity in and out of the office will keep your heart warm and your productivity high!
We here at WE LOVE FIRE® wish you a wonderful chilly season and remind you to stay cozy and stay hygge, no matter where you are!