The last few years spent indoors have unleashed a never-before-seen boom in the interior design world. People from all around the globe have finally come together on one specific notion: the importance of truly feeling at home in our own space. Creativity has never felt more accessible, especially when it can be done from the comfort of our own little nests and on a budget. One particular aesthetic has flourished recently, and for good reason, as it takes us out of and away from the rush of city life and into the ease of nature. Meet the farmhouse aesthetic, or, as we like to call it: the Joanna Gaines effect.
However, a farmhouse cannot be a true farmhouse without this crucial, central piece in the grand living room of your dreams. Unfortunately, this small area is often overlooked but is quintessential when tying the room's whole look together.
We are talking here about the fireplace mantel!
Learn about all the little tips and tricks for a mantel straight out of an interior design magazine with this helpful We Love Fire guide!
When decorating a mantel, it is important to keep in mind the Seven Elements of the Fireplace: line, shape, form, color, value, space, and texture. (Visual Art connoisseurs just gasped in awe at my obvious reprise) After reading about these concepts and how to implement them in your home decor, you will be able to transform your mantel into your own personal artistic vision, no matter the style you are going for.
Line
Lines play an important role in design. They create an illusion and a visual interest that can trick our eyes into looking exactly where we want them to look. For instance, adding stacks of standing books on either side of the mantel that gradually decrease in size will lead our eyes to our focal piece in the middle of the mantel. For a more rustic look à la Joanna Gaines' Magnolia or by designer-duo Kinwoven, you can find vintage books in most thrift stores or antique shops. However, if you don't want a single focal point smack in the middle of your living room, break up line patterns by choosing asymmetrical objects with different heights that will have guests' eyes going over the whole of your mantel. You can do so with different varieties of potted plants, overlapping picture frames, candlestick trios, or colorful vases of various shapes, sizes, and textures. By playing around with their placements, you will create line patterns that fit best with the atmosphere of your living room.
Shape
Geometrical shapes in design can be simple or complex. Place round, rectangular, square, or oval picture frames or mirrors on your mantel for a more simple, classical look that can fit any décor or go complex with beautiful free-form macrame wall-hangings or tapestries. Bonus points if they are hand-woven! If you have a home theater and therefore have a rectangular screen perched atop your fireplace, don't fret. Instead, go read this fabulous article by Lydia Geisel on how to conceal the screen when it's off.
Form
Whereas shape is all about focusing on two-dimensional designs, form is everything three-dimensional. Find well-defined geometric pieces like candles, plates, baskets, or books to keep the space simple. Or, if you would prefer more complex pieces, go for aged terracotta pottery, clay vases, or ceramic sculptures to add a touch of organic to your space. Designer Nate Berkus also suggests using objects from our own personal interests and hobbies to decorate our mantel, which is a great way to add free-form, complex designs to an otherwise sometimes lackluster room area. It's the perfect place to exhibit one of your cute, wooden farm animal sculptures, display one vintage milk jug from your collection, or showcase your travels by placing a one-of-a-kind memory straight atop the fireplace.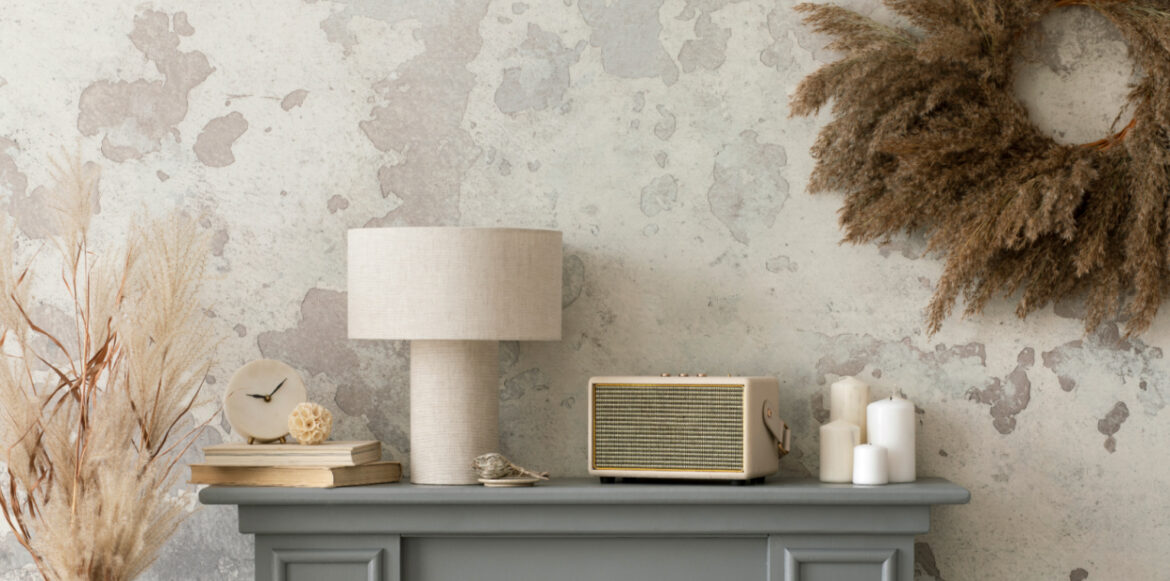 Color
The most crucial aspect of art and design is color. The human eye can see millions of variations of color, making it a powerful tool. The color palette you chose for your living room are a good starting point when decorating your mantel. Choose similar or contrasting colors to really brighten up the area. For a chicer, farmhouse style, go with creams and tones pulled from nature, like sea salt, repose gray, or hale navy. Remember, colors can also be seasonal, so make sure you adapt the pieces on your mantel to the current season to add variety to your décor. After all, there is nothing more heartwarming than seeing a luscious green wreath atop a fireplace during wintertime or an array of orange or cream-colored pumpkins for fall decorating.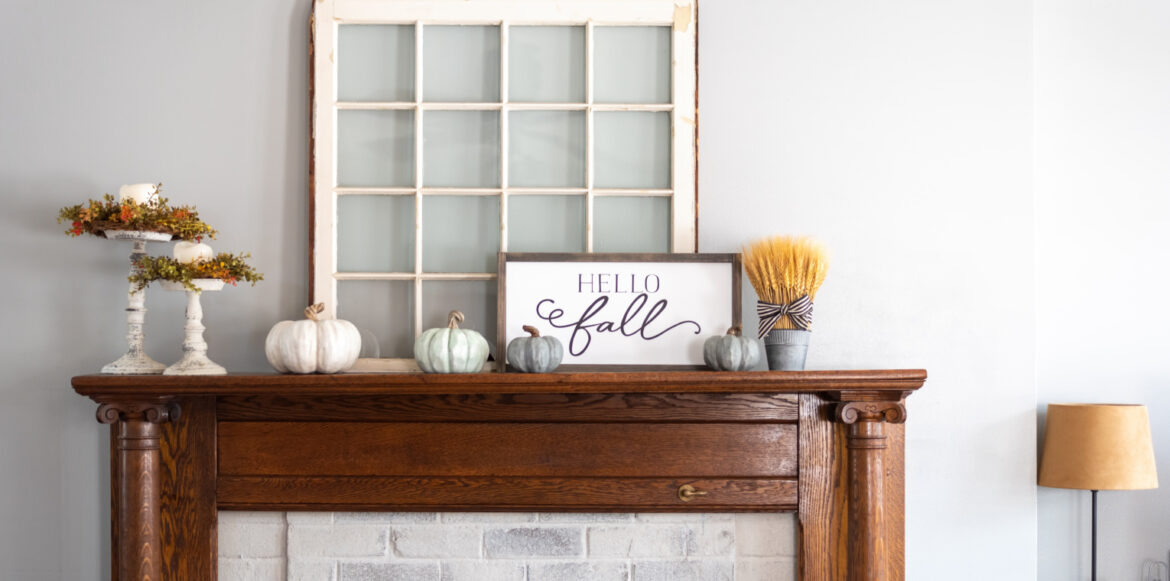 Value
Value refers to the contrast between colors, with white being the lightest and black being the darkest. If you have a specific color you would like to include on your mantel, choose surrounding pieces in a lighter or darker shade of that color. For an even bolder look, choose white or black supporting objects to really showcase gradience. That way, you still have an ongoing theme going but are not stuck with a mantel that looks monotone, and that lacks nuance.
Space
Depicting depth on a fireplace mantel is a great way to create the illusion of more space. By overlapping, stacking, leaning, layering, and using perspective, we can make the mantel seem even grander than it already is. Place the pieces you are most fond and proud of at the forefront of your mantel and use the rest as a backdrop. Just make sure that the elements in the back are still visible so that nothing gets overshadowed.
Texture
A great way to add a bit of flair to any atmosphere is by adding various contrasting textures to your mantel. With the addition of flowers, plants, feathers, woods, stones, or crystals, you can invite natural elements into your home that all have intricate consistencies. These are ideal for DIY designers on a budget! Simply go on a beach or forest walk to find inspiration from nature and pick up items that you think would fit well amongst your other decorative pieces.
For more styling guidance for your fireplace mantel, read through We Love Fire's 8 Trendy Products for Your Fireplace In 2022, and for tips on how to decorate and clean your mantel in preparation for the summer, go ahead and take a look at Summer Fireplace Decor Ideas To Prepare For A New Season.