We're officially announcing that 2022 is the year of cozy! That's right, grab your softest throw blanket, load up on candles, and make your home into a haven.
And the pièce de résistance of a cozy retreat? A beautiful, glimmering fireplace, of course! Feel like royalty as you lounge in front of a marble fireplace with stone decoration.
And speaking of decoration, we need to discuss how to accessorize your new fireplace.    Read on to see which trendy products we've included in our list of favorites!
2. Potted Plants
An adorable assortment of potted plants on your mantel can turn any boring room into a sanctuary. Go for large, dramatic broad-leaf plants for massive fireplaces. Or dainty ferns and succulents for small fireplaces.
Succulents, cacti, ivy, and Dracaena thrive in heat and will do well on top of a mantel. Just be careful if you have a wood-burning fireplace. There's always a risk of burning your plants if the sparks are not well contained.
3. Fireplace Tool Set
A fireplace tool set can add a vintage look to any fireplace. Tools like pokers, shovels, and tongs are essential for wood fireplaces. Of course, gas and electric lovers don't actually need them.
But we think that sometimes beauty trumps function! Place a rustic, wrought-iron tool set near your fireplace for drama. If your style is modern and minimalist, you can also find the perfect tools sets to suit your look!  Shop here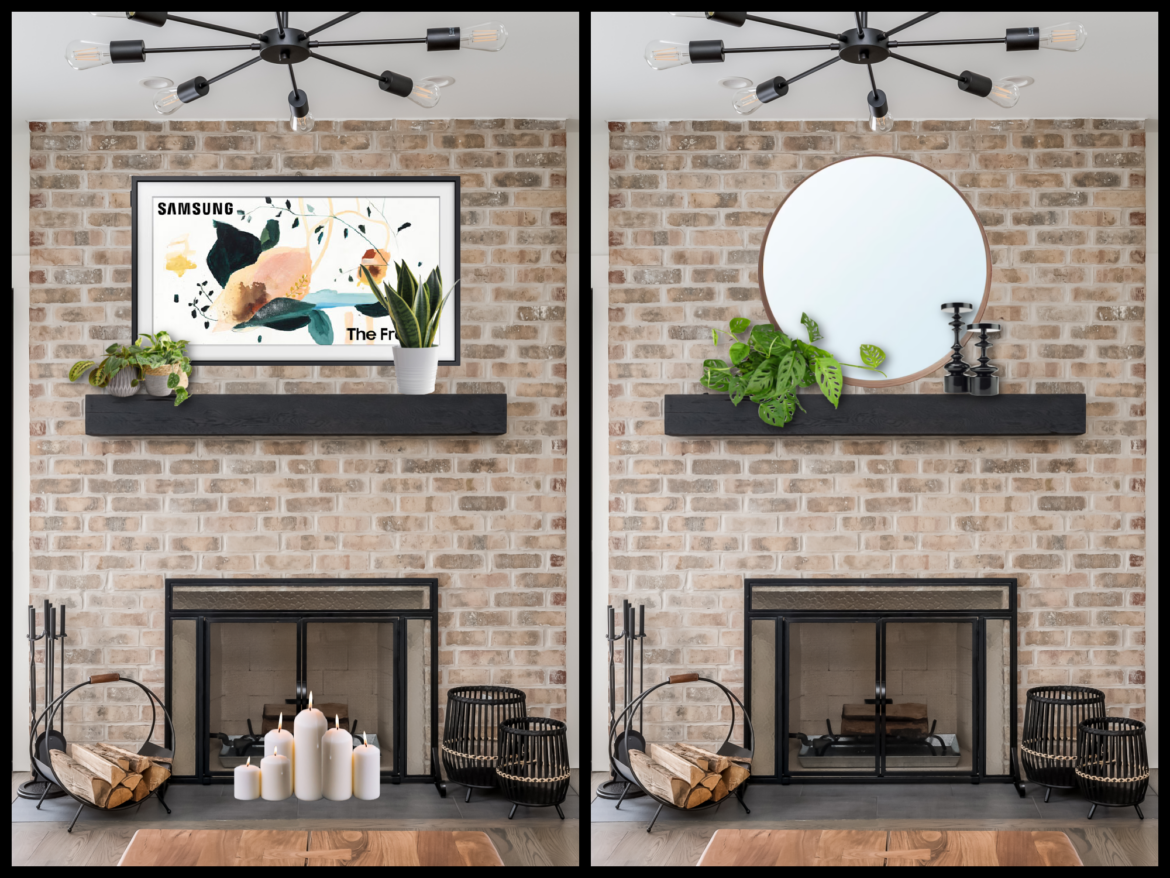 4. Oversized Mirror
A classic fireplace accessory is an oversized mirror, mounted, or placed on the mantel. If your fireplace product budget is minimal, you're in luck! Most thrift stores and vintage shops have a wide array of old mirrors.
You can even turn it into a DIY project by painting, staining, or tiling the frame to match your decor. Plus, mirrors open up small spaces and make them look more spacious than they are!
5. Log Rack
Once again, you only really need this if you have a wood fireplace, but a log rack can elevate any space! Stack a few logs, authentic or imitation, on your rack to give off a vintage library feel.
And if you do have a wood-burning fireplace, this is both an attractive and practical trend! There are countless styles available, ranging from traditional to modern and funky.  Shop here
7. Candle Arrangement
Nothing goes better with fire than more fire. We may be a little fire-obsessed, but we also know that candle arrangements are on-trend for 2022!
To create visual interest, use candles of different heights and diameters. You can try grouping sets of candles together or making symmetrical arrangements. The beauty of using candles to decorate is infusing your personal style into it!
Choosing a Fireplace
Of course, before you jump on the latest fireplace trends, you need a fireplace! Choosing the perfect fireplace isn't easy, but we're here to help.
Trendy Products to Up Your Fireplace Game!
Now is the time to invest in your space and make your home as cozy as possible. A charming fireplace is an excellent addition to any room! And with trendy products to style your space, you'll be falling in love with it every day.
At We Love Fire, we take pride in our knowledge and expertise when it comes to fireplaces. If you're ready to upgrade your indoor or outdoor space, contact us today! Our friendly experts can guide you through the whole process.